Golden smiles!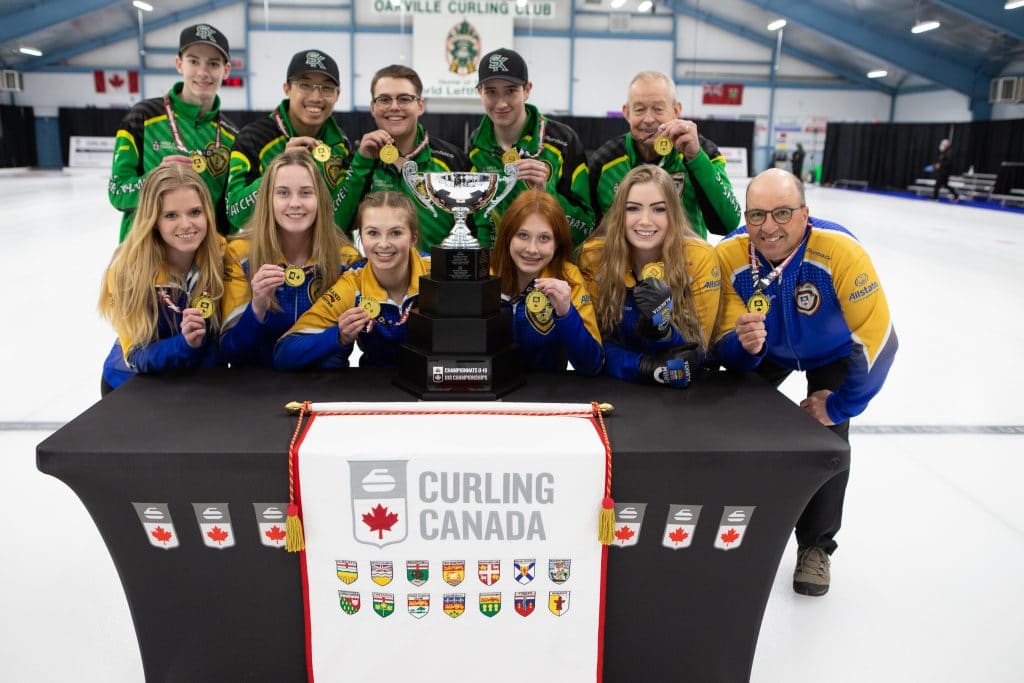 Saskatchewan #1 boys and Alberta #1 girls take home gold at 2022 Canadian Under-18 Curling Championships
It was a golden Saturday from the 2022 Canadian Under-18 Boys and Girls Canadian Championships, hosted by the Oakville Curling Club in Ontario as U18 national champions were crowned.
On the boys side, Nova Scotia #2's Nick Mosher of CFB Halifax Curling Club would take on Saskatchewan #1's Matthew Drewitz of the Nutana Curling Club in Saskatoon in the final.
The match, which was an absolute barn burner, saw plenty of high calibre execution and momentum swings as the Saskatchewan rink of Drewitz, third Michael Hom, second Carter Parenteau, lead Jared Tessier and Coach Dale Neufeld would earn a 5-4 victory and the gold medal.
It was a well earned win as Nova Scotia #1 gave Saskatchewan all they could handle, seeing the game tied at 3-3 after five ends.
In the sixth, Nova Scotia #1's Mosher had a double available to force Saskatchewan, but the skip's hit attempt ran straight and only removed one Saskatchewan stone from play. Drewtiz then had an open house to draw to for his second point, but ended up heavy as his attempt slipped through the house, marking a 4-3 lead.
End seven would see both teams displaying some exemplary shot making as they'd trade clutch draws and double takeouts. Nova Scotia looked to be threatening early for a multiple score, but would end up forced to a single on a clutch draw by Mosher to the side of the button against three Saskatchewan stones, knotting the game at a 4-4 score.
Saskatchewan would only need a single point with hammer to claim the national title and played a clean final end, setting up Drewitz with an open hit and stick on his final stone. Drewitz made no mistake throwing a controlled weight hit, scoring a single and securing a 5-4 victory and the boys gold medal.
"It's amazing," said Drewitz of his national title win. "It's just a dream come true. It's something I was never really expecting to happen. Yeah, it feels really cool."
Drewitz felt like he was in control, even with the winning stone in his hand as he settled into the hack with the game on the line.
"I was pretty confident going in," said Drewitz. "I was just trying to calm myself down, make sure I didn't overthrow it."
Drewitz knew his team was going to be challenged against strong opposition in the final, but kept it cool.
"We waited for our opportunities," said Drewitz. "We know they're a great team and we'd need to capitalize on the opportunities that we got"
Ontario #1's Kyle Stratton (London) defeated Nova Scotia #2's Calan MacIssac (Truro) 3-2 to earn the boys bronze medal.
It was an all Alberta affair in the girls gold medal match as Alberta #1's Myla Plett of the Airdrie & Sherwood Park Curling Clubs met Alberta #2 represented by Claire Booth of the Calgary Curling Club.
The match would be a clinic in scoreboard management from both teams but Alberta #1, represented by Plett, third Rachel Jacques, second Alyssa Nedohin, lead Lauren Miller, alternate Chloe Feduik and coach Blair Lenton would go on to be crowned gold medallists and U18 Canadian Curling champions after a 5-1 victory.
To open the final, Alberta #2 would earn hammer by virtue of their pre-game draw to the button and employed patient play as both Alberta teams would be content with clean ends in the early goings, blanking three consecutive.
It wouldn't be until the fourth end when some traffic would develop, where Alberta #1 would apply pressure and steal a single for a 1-0 lead going into the break.
The pressure from Alberta #1 would be unrelenting however, as they continued to find ways to score posting a steal in the fifth and sixth ends to broaden their lead to 3-0.
Alberta #2 managed to turn the tide in the seventh end with a wide draw opportunity through a tight port on Booth's final stone for a score of two, but would end up being heavy and have to settle for a single.
Booth and Alberta #2 would do everything in their power to generate a steal of two in the final end, but could not stick Booth's final stone hit in the house to force Plett to throw her final stone.
Plett says the gold medal result is a welcome surprise.
"We're super pumped," said Plett shortly after their victory. "We looked forward to making it to nationals but winning it is a bonus. Our team played really well."
The patience in strategy displayed by Plett and her rink was deliberate, as they wanted to only get aggressive when the situation necessitated.
"We waited for opportunities to come around and cover it with everything we had, and we executed," said Plett. "It was a good game. A really close one."
As for the future, Plett isn't sure about the details but plans to continue pursuing curling.
"Next, we'll try get to U18 nationals again," said Plett. "But we'll continue pursuing our curling careers and see how far we can go."
In the girl's bronze medal match, British Columbia #1's Gracelyn Richards (Comox Valley) downed Québec's Jolianne Fortin (Jonquière) by a 6-4 score.
For teams, results, and other event information, CLICK HERE.