Changes on horizon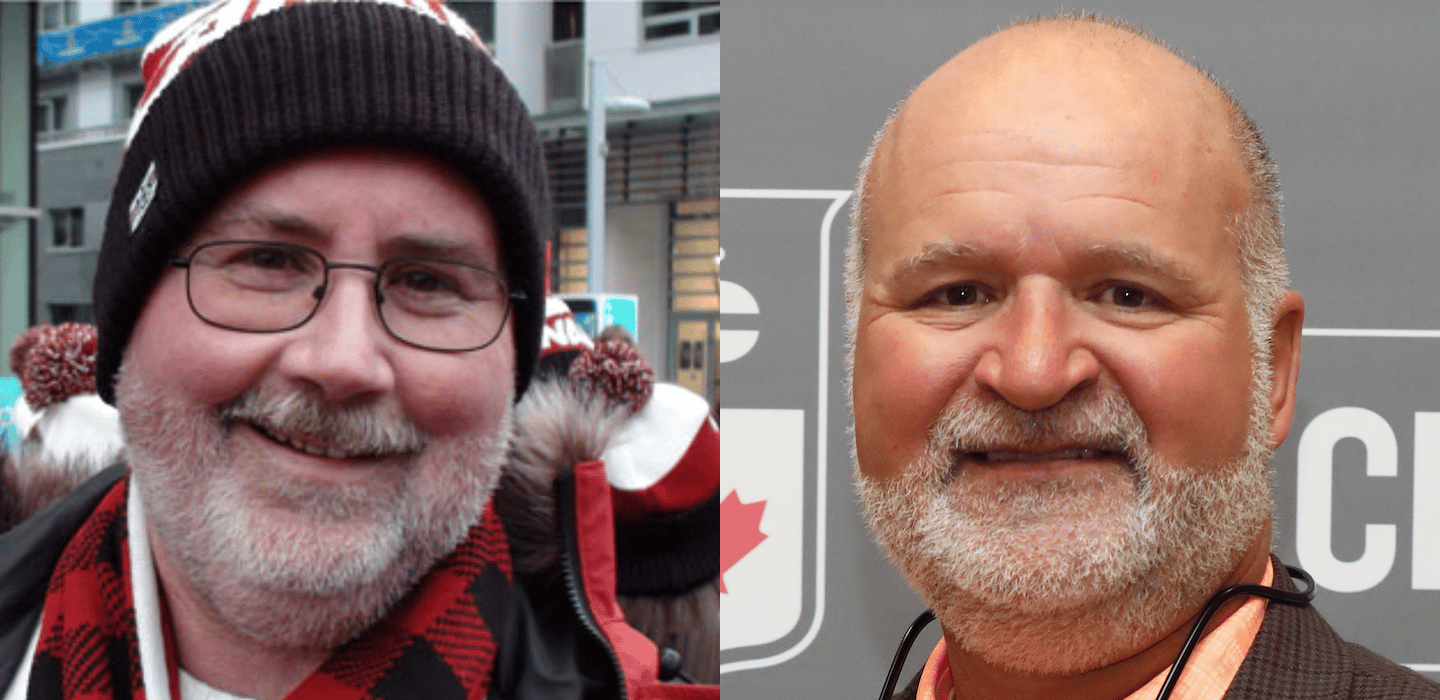 Longtime Curling Canada directors transitioning to retirement
It's with mixed emotions that we announce that two valued staff members have confirmed that they will begin their transitions to retirement after making unparalleled contributions to our sport and our organization.
Director of High Performance Gerry Peckham and Executive-Director of Curler Experience & Curling Club Development Danny Lamoureux have worked tirelessly since joining Curling Canada on making our sport better at every level, and their contributions will continue to have impact long after their departures.
The good news is that both will be spending a significant amount of time over the next 12 months continuing to work with staff, and also ensuring that a sustainable, viable and ultimately beneficial succession plan is in place in their respective areas of responsibility.
After almost 32 years with Curling Canada, Gerry will begin a new role on Sept. 1, helping to guide and shape the next phase and generation of leaders in Canada's curling high performance program.
Gerry came to Curling Canada in 1990 and has overseen the growth and development of one of Canada's and, indeed, the world's pre-eminent high performance programs.
As the High Performance Director, Gerry holds a world-leading record for the production of international medals for Canada including World Championships: 26 for Men (15 gold), 28 for Women (11 gold), 54 for M/W U21 (26 Gold), six Wheelchair Curling (three gold) as well as multiple medals for Mixed, Seniors, and Mixed Doubles. Additionally he has overseen the Olympic/Paralympic program that has produced 12 Olympic medals and five Paralympic medals, with podium finishes in every quadrennial since he joined the program.
Gerry has been part of the increasing sophistication and excellence of high performance sport in Canada. At Curling Canada, he has developed a team of experts who work with Canada's best curling athletes in our collective pursuit of Canadian podium performances. He also is a recognized leader by our partners at Own the Podium, Sport Canada and the World Curling Federation, as his intelligence, values and integrity, and in-depth knowledge of systemic excellence make him a widely respected thought leader.
At Curling Canada, Gerry not only delivers constantly on his HP goals but is a trusted voice and leader at the management table. His broad thinking on sport, his understanding of the interconnectedness of our programs and our organizational structures have contributed not only to the success of our athletes but to the health and growth of the organization as a whole.
Gerry's holistic and long-term thinking, and his continued focus on Next Generation programs, ensure that Canada will continue to demonstrate excellence in every discipline for years to come.
A trusted advisor to his colleagues, athletes, sport leaders, and curling stewards, Gerry's influence on the growth and health of our sport cannot be underestimated. But, it is friendship, his compassion, his intuitive and gentle style of leadership that among those who know him best set him apart from many other leaders.
Gerry is also an accomplished curler himself, having represented British Columbia at the national level six times, including appearances at two Briers.
And as great as his contributions were in meeting rooms with members of his High Performance team mapping out paths to the podium for national teams, his all-time favourite place to be, up to and including present day, is on a sheet of ice with an athlete or a team working on delivery or sweeping mechanics. "It's what," he has said on more than one occasion, "I was born to do."
Beginning on Sept. 1, Gerry will reduce his role to 50 per cent, and will be an integral part of guiding Curling Canada's next leaders to continued curling and sport greatness. A review and search for new high performance leadership will begin this summer.
"Since joining Curling Canada in 2016, I've come to realize just how impactful Gerry's presence on our sport, and our Canadian sporting community truly is," said Katherine Henderson, Chief Executive Officer of Curling Canada. "Words from Gerry don't come casually; they have meaning and offer so much insight and lived experience, and I consider it a privilege to have worked alongside him. Gerry approached me early this past season with an overview of his future intentions and I requested that we delay formalizing any transitional plans and corresponding announcement until the completion of the 2021-22 competitive season."
Danny joined Curling Canada on Halloween Day in 1998 after spending the previous 15 years as the club manager, bartender and, in his words, janitor of the Ottawa Curling Club, which he helped turn into one of the most successful clubs in the country, with full leagues and a renowned cashspiel, the Welton Beauchamp Classic, that drew competitors from around the world.
Danny took on the role of Manager of Curling Club development, which gave him the opportunity to pursue his passion of helping clubs do things better. He worked closely with Member Associations to develop best practices for clubs as they adapted their business models.
Nothing made Danny happier than hearing a good news story from a club about a successful Learn to Curl program that added new members, or a new grassroots league that focused on newcomers to Canada.
Danny also was involved with the logistical work relating to Curling Canada's national championships, and he took on many of the Championship Services responsibilities that were left behind when Neil Houston left Curling Canada to join the Vancouver 2010 Winter Olympics Organizing Committee.
Last year, he was named Executive-Director of Curler Experience & Curling Club Development, and has continued his long-standing practice of recruiting and training club development and event specialists.
A tireless advocate for curlers and curling clubs, Danny was not one to sit around and wait for a solution to present itself; he worked the phones, consulted subject-matter experts and sent letters or emails until a matter was resolved to his satisfaction.
The Business of Curling symposium was an initiative he helped develop that travelled coast to coast, giving club representatives a chance to gather under one roof and listen and talk about new ways to do business and attract curlers.
And when there were issues facing Canadian curling clubs, Danny took the lead in providing an advocate as he played a significant role in the successful Not A Sports Bar campaign that helped clubs that were facing huge hikes in their cable-TV fees.
He also took the lead in helping clubs develop Return to Play safety protocols for the 2020-21 curling season as Canada was still mired in the COVID-19 Pandemic, and on the championships side, he and Nolan Thiessen put in countless hours to successfully put together the 2021 Bubble in Calgary, where three Canadian championships, two world championships and two Grand Slam events were staged successfully without a single participating curler testing positive.
And most recently, he took a lead role in putting together the highly successful, provocative and productive Changing the Face of Curling symposium last month that put the issues of Diversity and Inclusion at the forefront in the Canadian curling community.
Danny always put the sport first, and always aspired to share his love and passion for curling with as many people as possible.
He was a member of the World Curling Federation's Competition and Rules Commission since its inception in 2013, and was always open for a good discussion about the merits of a potential rule change.
Danny will continue to work full-time until June 30, 2023.
"I've often said that Danny has forgotten more about curling than I could ever begin to learn, and it's that experience — as a player, as a manager, and as a Curling Canada staff member — that made him so valuable to our sport," said Henderson. "Danny never sought the spotlight; he wanted it on the athletes, the club managers, the ice technicians, the umpires and the volunteers — the people who make our sport special. That speaks volumes about what Danny means to our sport."