Into the Elite 8!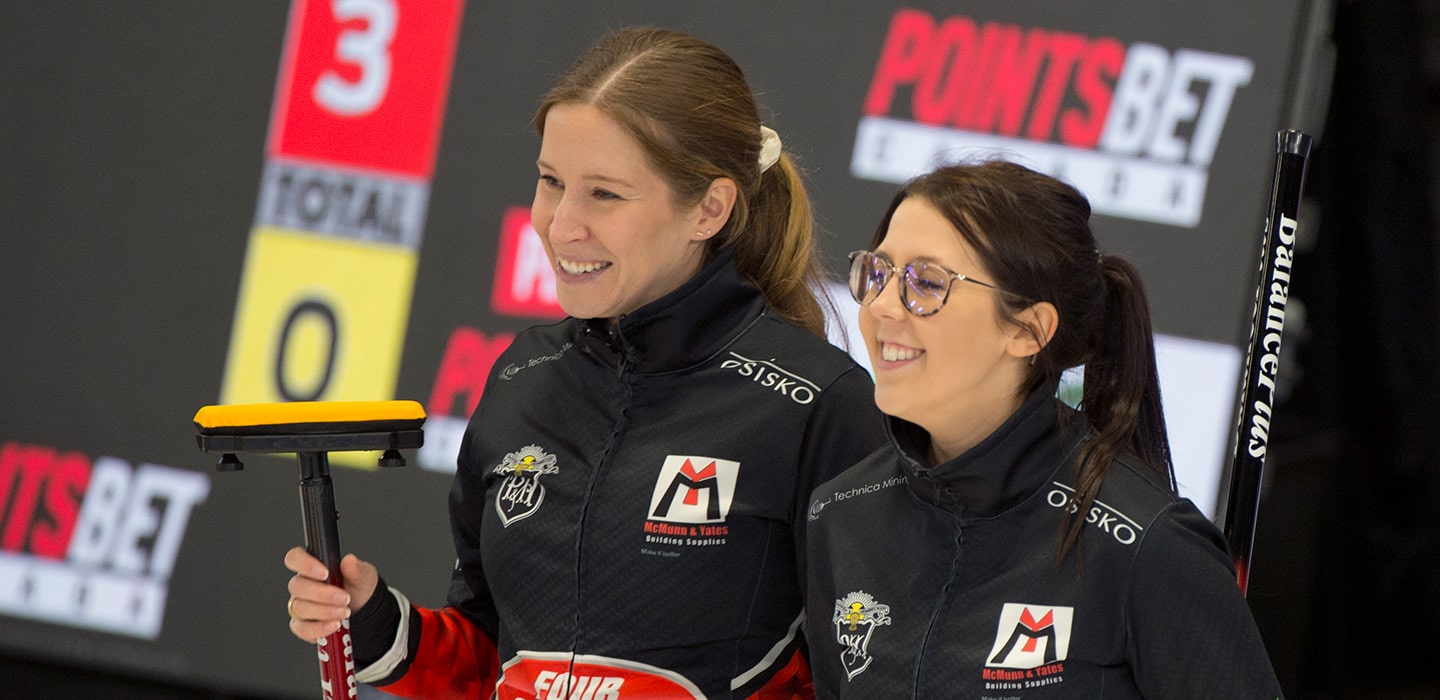 Team Lawes holds off challenge from junior champs at PointsBet Invitational
It wasn't so long ago that Kaitlyn Lawes was in much the same position as her opponent on a soggy Thursday afternoon at Willie O'Ree Place in Fredericton.
Fresh off winning a Canadian junior women's championship and preparing to represent Canada at the 2009 World Juniors, Lawes was looking for any and all competition against experienced teams, even if it meant absorbing some tough losses.
Thirteen years later, at the 2022 PointsBet Invitational, it was Lawes and her new Winnipeg team in the role of the experienced opponent against reigning New Holland Canadian Junior Women's champs Team Emily Deschenes of Halifax. That's the team that will wear the Maple Leaf at the 2022 World Junior B Championships in December in Finland, where they will attempt to qualify for the 2023 World Junior Championships in Fussen, Germany.
The end result — a 10-8 win for No. 2-seeded Lawes, vice-skip Selena Njegovan, second Jocelyn Peterman and lead Kristin MacCuish — may have been predictable based on the experience factor, but it was a valuable result for both teams.
For Team Lawes, it meant a berth in the Elite 8 on Friday morning, $3,000 for winning their Sweep 16 game, not to mention the chance to pad that payout significantly with a few more wins, and another chance to adjust to a new lineup.
"It's kind of strange to be playing 10 ends in September but it's great for us to figure out how we're managing the scoreboard and timeclocks," said Lawes, who didn't need to throw her final stone in the 10th end when Deschenes was heavy with her final delivery, a draw attempt behind a centre guard. "We haven't played with timeclocks with this (new) team so it's a bit of an adjustment but we had a lot of fun out there."
For Deschenes, meanwhile, it was a validating result for a team that arrived in Fredericton seeded 15th in the 16-team field. Taking Team Lawes to the 10th end certainly is a confidence-builder as the junior squad prepares for its important trip to Finland.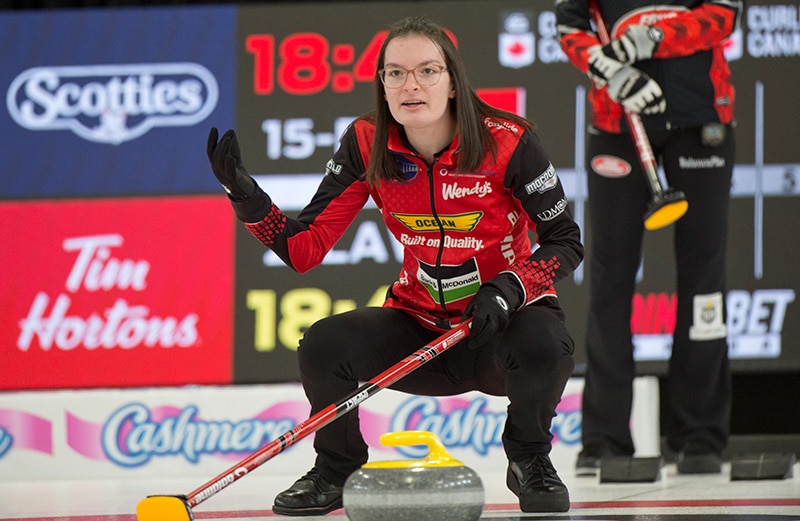 "That game was a lot of fun, being in front of an East Coast crowd and representing Nova Scotia, the atmosphere, playing in an arena — overall, it was a lot of fun," said Deschenes, whose team is rounded out by vice-skip Lauren Ferguson, second Alison Umlah, lead Cate Fitzgerald, alternate Taylour Stevens and coach Mary Mattatall. "I think we blew past our expectations in this game; there were lots of positives to take away from it and learn from. It's a great stepping stone for Finland and for our whole season."
Lawes came away with plenty of admiration for the youngsters, who rallied from an early 4-0 deficit by cracking back-to-back deuces in the third and fourth ends, and simply wouldn't go away.
"That's the nice thing about 10 ends; you still have lots of game left," said Lawes. "We got up early but it's hard to keep a lead, especially against a great young team. We knew had to be patient and try to capitalize as much as we could.
"When you're young, you feel like you have nothing to lose and you have no fear. I expected that game to go 10 ends because I know they're fierce competitors. I'm glad we were able to go right down to the wire and it was an exciting finish."
In other games that completed the women's Sweep 16 on Thursday, No. 3 seed Team Rachel Homan (Ottawa) raced to a 5-0 lead through three ends and sailed home to an 8-4 victory over No. 14 Team Suzanne Birt (Charlottetown); Kristie Moore (skipping No. 6 Team Casey Scheidegger of Lethbridge, Alta.) drew to the full four-foot in the 10th end to complete an 8-7 win over No. 11 Team Kerry Galusha (Yellowknife); and No. 10 Team Penny Barker (Moose Jaw, Sask.) scored three in the 10th end to beat No. 7 Team Hollie Duncan (Woodstock, Ont.) 10-9.
The 2022 PointsBet Invitational continues Thursday with Sweep 16 men's play at 7 p.m. (all times Atlantic)
On Friday, the Elite 8 gets underway, with women's games at 11 a.m. and men's games at 4 p.m., followed by the inaugural PointsBet Celebrity Invitational at 8 p.m.
Live scoring, standings and statistics for the 2022 PointsBet Invitational are available at curling.ca/scoreboard.
TSN and RDS2 (streamed on ESPN3 in the United States) will provide complete coverage of the 2022 PointsBet Invitational. CLICK HERE for the complete schedule.
For ticket information for the 2022 PointsBet Invitational, go to www.curling.ca/2022pointsbetinvitational/tickets/
This story will be available in French as soon as possible at www.curling.ca/2022pointsbetinvitational/nouvelles/?lang=fr