Playoff Matchup Set!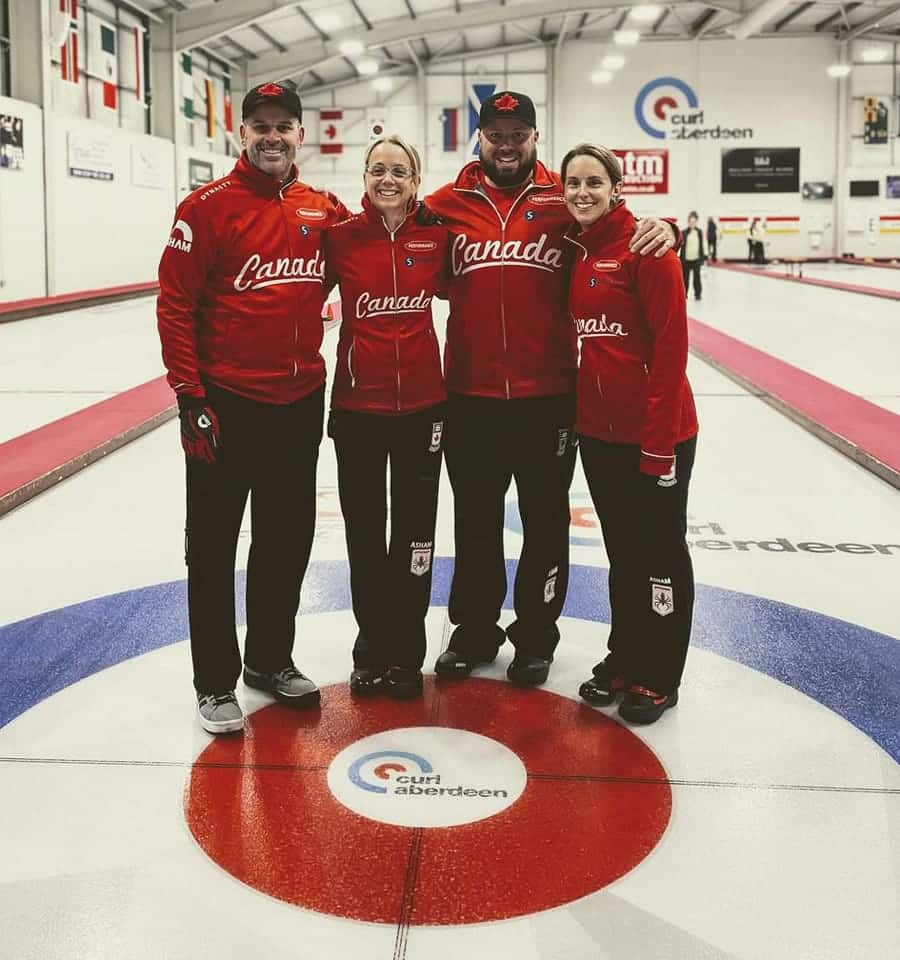 Winners of six straight, streaking Canadians set sights on Italy in playoffs at 2022 World Mixed Curling Championship
After starting the event with a 1-1 record, Canada found its stride and capped a six game winning streak with a 12-2 win over Slovenia (2-6; Stefan Sever) on Thursday at the 2022 World Mixed Curling Championship in Aberdeen, Scotland.
The Canadians finished with a 7-1 round robin record locking up second place in Group A.
Canada's final round robin game was a short one, marking a 12-2 victory over Slovenia for skip Jean-Michel Ménard, third Marie-France Larouche, second Ian Belleau, lead Annie Lemay and coach Eric Sylvain (7-1; Etchemin/Des Collines, Québec).
Canada, who outscored their opposition 64-26 over the duration of eight round robin matches, stuck to their successful offense opening Thursday's match against the Slovenians with an early score of three with hammer.
The Canadians' pressure would be incessant forcing Slovenia to a single in the second before finding purchase again in the third for a score of 5, making the score 8-1 after three ends of play.
Slovenia would find themselves forced to a single again in the fourth before Canada would drive the final nail with an additional score of three in the sixth end. Slovenia would then concede, marking a 12-2 victory for the Maple Leaf.
With momentum on their side, Canada now turns its attention to the playoffs. All teams qualified for the playoffs are ranked one to 12 in a merged group ranking system. The four group winners have advanced directly to the quarterfinal games.
By virtue of finishing second overall in Group A behind Finland (7-1; Markus Sipila) due to a 5-3 loss to the Finns in draw 5, Canada will now face Italy (5-2; Denise Pimpini) Friday at 5 a.m. (all times Eastern) in an elimination qualifier match.
Qualifier winners will advance to the quarterfinals, where they'll face the group winners from round robin play.
The winners of the quarterfinals will play in the semifinals on Saturday at 4:30 a.m with the medal games following at 9:30 a.m.
Draw, live scoring, rosters and more information are available here: https://worldcurling.org/events/wmxcc2022
World Curling TV will provide static camera coverage of all games on the Curling Channel.
This story will be available in French as soon as possible here: https://www.curling.ca/category-all-posts-fr/?lang=fr