History made at mixed!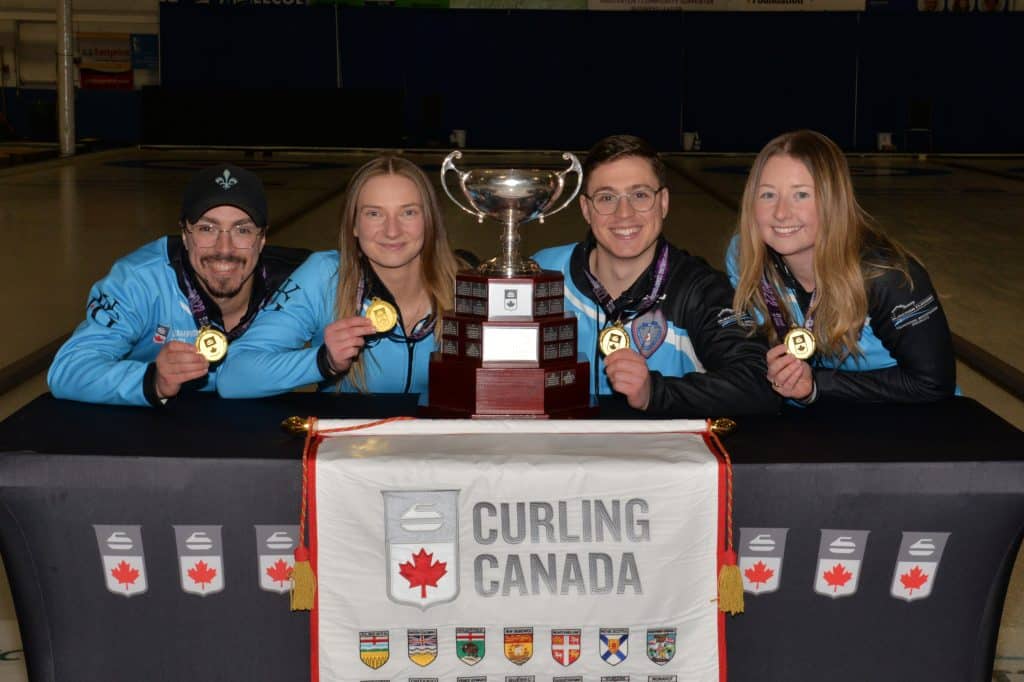 Third straight Canadian mixed title lands Québec in the history books at 2022 Canadian Mixed Curling Championship
Team Québec wrote a fresh chapter in the annals of history on Saturday winning its third consecutive Canadian Mixed crown at the 2022 Canadian Mixed Curling Championship, hosted by the Prince Albert Golf and Curling Centre in Saskatchewan.
The Glenmore Curling Club's Felix Asselin, rounded out by vice-skip Laurie St-Georges, second Émile Asselin, Emily Riley and coach Michel St-Georges earned the Canadian Mixed gold medal defeating Northern Ontario's Trevor Bonot (7-5; Thunder Bay) in the final by a 10-3 score.
Team Québec now becomes team Canada and will represent the Maple Leaf at the 2023 World Mixed Curling Championship at a time and location to be announced. 
Meanwhile, Québec's week-long performance was nothing short of dominant. The representatives from la belle province posted an impressive 10-2 overall record to claim the mixed crown, all while being one of the youngest teams in the field.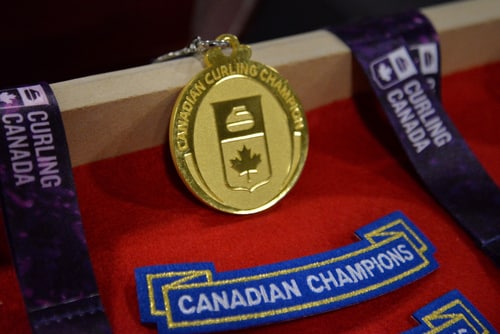 "A great week from start to finish," said Asselin about his team's gold medal performance. "We started really well and sort of slowly came to a stop at one point and we weren't playing as well. We squeaked through those and then we turned it back on and it was the perfect ending to a good week"
That perfect ending was accented by a final that was never really close. Québec ramped up the pressure quickly in the first end capturing a score of three with hammer. Northern Ontario would then be stymied by incessant pressure from Québec as they'd steal two in the second and then four in the third to collect an early, and ultimately insurmountable, nine point lead after 3 ends.
Northern Ontario would concede the gold medal match after six ends, marking a 10-3 final.
"Obviously we were expecting a close game," remarked Asselin about the final. "We had some strong opponents. Just a couple rocks went our way early, especially on Trevor's rocks that gave us really timely steals early in the game and obviously after that, it's hard to come back. But we were ready for the big grind today"
There's no question about who currently rules the roost in the Canadian Mixed curling scene. The gold medal for Québec marks a historic third consecutive Canadian Mixed championship – all with completely different lineups. No province or territory has won three straight Canadian championships with totally different teams since Manitoba did it at the 1929, 1930 and 1931 Briers.
"It's good for curling in Québec, that's for sure." mentioned Asselin about this historic third straight victory for his home province. "It's going to push young kids to play and adults to compete. We did not want to be the ones to break the streak. We'll see what happens from then on"
Asselin and company will have big boots to fill on the world stage after 2021 Canadian mixed champs Team Jean-Michel Ménard captured the gold medal for Canada at the 2022 World Mixed Championship last month in Aberdeen, Scotland. Team Jean-Sébastien Roy started the Québec win streak with his victory at the 2020 Canadian Mixed in Saguenay, Qué, but saw their world championship event cancelled due to COVID-19 precautions..
"That's always been the goal," said Asselin about their chance at representing Canada. "As much as we love the baby blue, trading in for the Maple Leaf is always going to be good. We can't wait for that regardless of where that's going to be. We'll be ready for that."
Asselin's foursome has a history of success at the Canadian Mixed, as this same lineup earned a bronze medal at the 2019 iteration of the mixed championship in Winnipeg, Man.
This gold medal performance closes some unfinished business for the team.
"A part of the reason we wanted to come back, you know it's great to compete, but it felt like it was an unaccomplished job," said Asselin about the redemption his team sought after. "So we wanted to come back and do better. We came back here and we had the goal to win knowing it was a tough field. Maybe the strongest field there's even been at the mixed. We knew we had a chance though so it's great to take the whole thing."
The win is a little extra sweet for Asselin as he and his vice-skip Laurie St-Georges are partners and through both their rigorous curling schedules, it can be difficult to make time for one and other.
"It kind of all started at the mixed in 2018," said Asselin about his partner Laurie. "We've been dating since and it's great to win with her. There's nobody else I'd want to be out here with more than Laurie. Curling can bring tough times for us. We're not at home very often so to be here this week, to play with her and get the job done, it's really great."
In the bronze medal game, the Northwest Territories' Jamie Koe (8-4; Yellowknife) defeated British Columbia's Craig Miles (6-6; Victoria) 10-3, earning their second consecutive bronze medal at the Canadian Mixed.
For event, team and draw information, visit www.curling.ca/2022mixed.
Draw scores/standings will be immediately available on Curling Canada's scoring website.