Seeking more!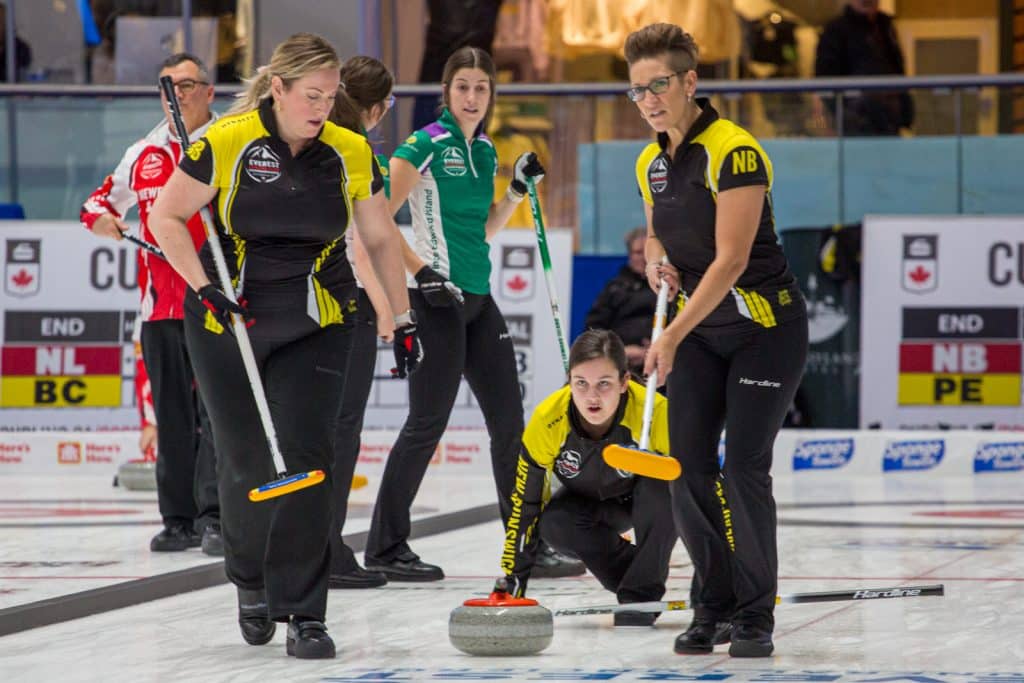 New Brunswick rolling at 2022 Everest Curling Club Championship
Shaelyn Park and Krista Flanagan are nearing the finish line of marathon curling at national curling championships. But the New Brunswick duo, along with their two teammates hope to have at least two more games on their calendar this weekend.
Park and Flanagan, along with second Lynn LeBlanc and lead Shannon Tatlock, are seeking New Brunswick's first gold at an Everest Canadian Curling Club Championships.
The team from Curl Moncton in Moncton, N.B., has rhymed off four straight wins at this year's event and have qualified for the women's semifinal on Saturday at the Ice Palace in West Edmonton Mall.
The New Brunswick skip and vice-skip are competing in their second national championships in as many weeks, having finished 5-5 at the Canadian Mixed Curling Championship in Prince Albert, Sask., just two weeks ago.
"It took a couple days to adjust from the back and forth from New Brunswick to Saskatchewan to New Brunswick and back to Alberta over the last two weeks, but we're feeling really good now," Park said before the team's quarterfinal win on Friday against Ontario's Chrissy Cadorin.
"We're really thriving in this venue and having a ton of fun so we'll just go back out there, do our best and see what happens," Park added.
New Brunswick started to pull away from Ontario in Friday's quarterfinal thanks to a stolen point in the fourth end and added another steal of two points in the fifth end to take a 6-1 lead. Ontario rebounded with a single point in the sixth and a two point steal in the seventh end but it was not enough to complete the comeback before handshakes and a 6-4 New Brunswick win.
The women's field was narrowed down from eight teams to six after the Friday afternoon draw.
Joining New Brunswick in the other women's semifinal on Saturday will be Nova Scotia after a 10-8 extra-end win over Quebec.
Ontario and Quebec will drop into the women's second-chance quarterfinal on Friday night along with Manitoba and Alberta. The winners of those games will advance to Saturday's semifinal..
Fourteen men's teams and 12 women's teams (Nunavut and Yukon did not send a women's team) started play at the annual event on Monday. The men's field was divided into two pools of seven teams and the women's had two pools of six. On Friday the top four teams in each pool began the modified double-knockout playoffs. The event concludes with the gold- and bronze-medal games on Saturday.
In men's action Ontario and Northern Ontario secured spots in Saturday's semifinal at 10 a.m. (all times Mountain)
Quebec will play New Brunswick and Alberta will take on Manitoba in the last chance men's quarterfinal on Friday at 9 p.m.
On Saturday between the semifinals and medal games, a variety of curling disciplines will be on display to mall-goers, including stick curling and wheelchair curling. Learn to curl opportunities will also be available for those passing by through opportunities with Curling Alberta.
Games from the 2022 Everest Canadian Curling Club Championships are live-streamed on Curling Canada's YouTube channel and features commentary from world men's champion Randy Ferbey, Olympic gold-medallist and world women's champion Jennifer Jones and Olympic silver-medallist Cheryl Bernard. The event is also streamed on the TSN app. For the up-to-date broadcast schedule, click here.
Scores and standings from the event are available at by clicking here.
For draw times, team lineups and other event info, click here.