Five Straight for Sherry!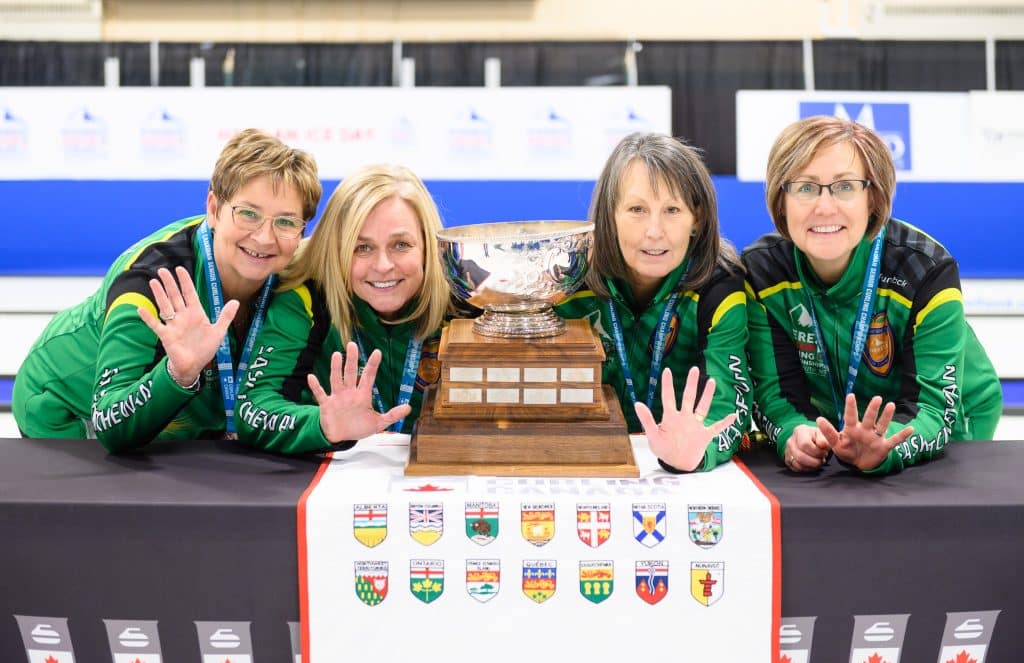 Saskatchewan women, Ontario men top the field at 2022 Everest Canadian Senior Curling Championships
There was already little room for debate about who the greatest senior curling team in Canadian history is.
Sherry Anderson and her Nutana Curling Club rink of vice-skip Patty Hersikorn, second Brenda Goertzen and lead Anita Silvernagle entered the 2022 Everest Canadian Senior Women's Curling Championship as the defending champion and winners of four consecutive senior national titles.
But four national titles simply wasn't enough for the Saskatchewan foursome as Anderson and company went on to win an unprecedented fifth straight national senior women's title on Saturday afternoon, defeating Québec's Chantal Osborne in the final by a 7-3 score.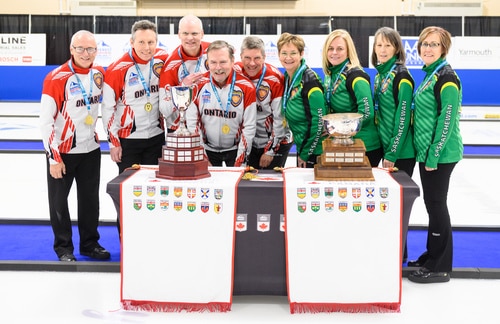 "It's freakin' awesome", said an elated Anderson after winning her fifth consecutive senior women's gold. "It feels so good. The girls brought their best. They played really well and just to have the opportunity to be in the final, and now represent Canada, it's quite an honour."
The final was a thriller with twists and turns at every end. Both team's traded opportunities in a game that almost got out of hand for Saskatchewan in the early goings. After Québec scored a single in the first, Anderson was left facing two Québec counters with a double takeout attempt for three on her last stone of the second end. The shot would end up over curling, bouncing off two guards before miraculously having the shooter spill into the four foot for shot stone and a score of one for Saskatchewan.
"It's a steal of two and we're down three," said Anderson reflecting upon a hypothetical worst case scenario for Saskatchewan in the second end. "Instead, we're tied up. I kind of set my first hit and it hung out, then I took tight ice thinking I might set it again. It was a fairly easy double for three but it was a big relief to see that yellow one cream in there and get one."
Saskatchewan would settle after the second end scare, posting back to back steals in the third and fourth ends to extend its lead to 4-1 at the break. Québec would rally back with momentum of their own in the second half of the game, but a steal of two in the seventh end to make the score 7-3 for Saskatchewan would prove to be the knockout blow.
"You just have to stay focused on the shot ahead," said Anderson about controlling her emotions after the steal of two in the seventh end. "Just really not let your emotions take over because it's easy to start thinking 'Oh, we've won it' and stuff can happen pretty fast."
Emotions fully in check, Saskatchewan would go on to run Québec out of rocks in the eighth end to secure the Canadian senior women's national title.
"We were fortunate," said Anderson about the eighth end of the final. "They slipped into the rings with their first guard so we were able to hit and roll out, and then it's just about eliminating rocks. Make the red rock go away, every shot. That's basically what we did."
Being no stranger to the international senior curling scene having won gold at the 2018 and 2019 world seniors, Anderson understands just how difficult it is to earn the right to wear the Maple Leaf and represent Canada.
"There's some good competition in the seniors," mentioned Anderson. "A lot of women I've curled against over the years; Chantal (Osborne) being one of them."
Though the legacy of five straight Everst Canadian Senior Women's titles may never be replicated, Anderson says her team still has plenty more in the gas tank.
"It's exciting to get on a roll like that," said Anderson about the five-peat. "It'll be in the history books for a while, I hope. Maybe we can challenge it next year. Why not? We'll try our best."
Anderson's win is the 11th Canadian senior women's title for Saskatchewan since the event's conception in 1973, leaping them to the overall top spot leaving Ontario at second at 10 total.
Nova Scotia's Theresa Breen of Halifax would earn the bronze medal defeating Ontario's Jo-Ann Rizzo by a 7-6 score.
On the men's side, Ontario's Howard Rajala claimed the gold medal defeating Alberta's James Pahl 7-6 in Saturday afternoon's final, completing what was quietly a great week for the Rideau Curling Club rink of vice-skip Rich Moffatt, second Chris Fulton, lead Paul Madden and alternate Phil Daniel.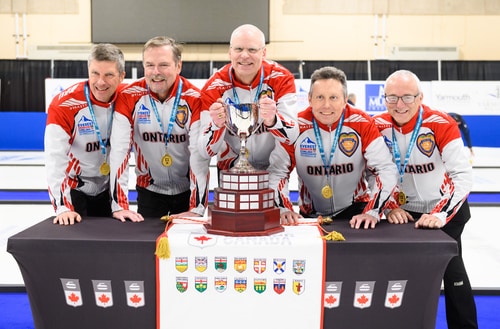 It's a redemption arc finally completed for Rajala, who lost the men's senior national final in 2013 to New Brunswick's Wayne Tallon and again in 2017 to Alberta's Wade White.
Needless to say, Rajala is thrilled to switch out some of his silver hardware for a gold medal at the front of his trophy case.
"It's truly amazing," said a jovial Rajala after the gold medal performance. "We've lost a couple of those senior finals so to win this time around is just perfect."
And though Ontario carried a solid but not unblemished 7-3 record through the Championship Pool, that's exactly the style that Rajala and his Ottawa rink like to play.
"We're not the type of team to go 11-0 and not lose a single game during the entire event," mentioned Rajala about his team's performance. "We know that, so we just keep plugging away. We'll lose a couple here and there but we've got a lot of battle in us."
That desire to battle came through for Rajala, who was tested on multiple occasions in the playoffs on the way to being crowned Canadian champion.
"We saved our best two games for the last two," said Rajala about his team's mettle. "Nova Scotia played great in the semi and the final was a tough battle. Alberta played well."
The win marks Ontario's 13th senior men's national title since the event's conception in 1965, and the first for Ontario since being won by Bryan Cochrane of the Russell Curling Club in 2018.
Manitoba's Randy Neufeld of the La Salle Curling Club would win the bronze, defeating host team Nova Scotia by a 10-7 score.
Both Anderson and Rajala will now represent Canada at the 2023 World Senior Curling Championships from April 22-29 in Gangneung, South Korea.
Archived scores for the 2022 Everest Canadian Seniors are available by clicking here. For event information, click here.