Famous names at U-18s!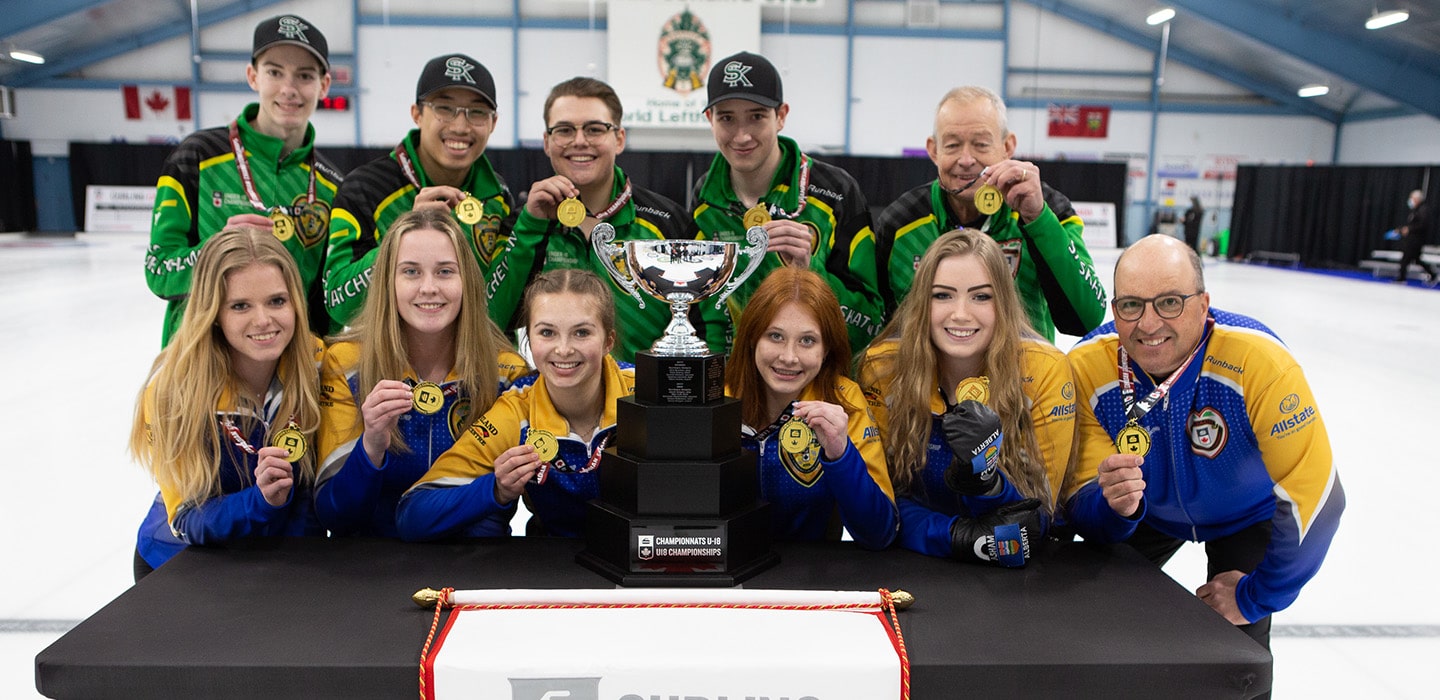 Next generation of championship curlers compete at Canadian U-18s starting Sunday
With names such as Nedohin, McCarville, Galusha, Ideson and Gushue flying into Timmins, Ont., this weekend, it's no surprise that the Northern Ontario mining town is hosting a national curling championship.
What may shock curling fans, however, is which members of their respective families are hitting the ice.
On Sunday, the 2023 Canadian U-18 National Championships will get underway at the McIntyre Curling Club. It features 42 teams from across the country, and some offspring of some of Canada's most decorated curlers.
"The U-18 is a fantastic event," said four-time Tim Hortons Brier champion David Nedohin. "For younger kids, 15 or 16, 17 years old – to play at a national championship is a great experience."
Aside from being a decorated curler himself, Nedohin (and husband of Scotties champion Heather Nedohin) is the father of the defending U-18 national champion Alyssa Nedohin, part of Alberta's Team Myla Plett.
"After last year's championship in Oakville, they were ready to get right back to work and do it again," said Nedohin. "It's a really unique chance for them to go back and defend the title."
Team Plett also won the U-20 Alberta championship, and will be competing for another national championship in March.
"It's exciting to have a taste of a national championship before juniors (U-20)," said defending Tim Hortons Brier champion Brad Gushue, father of Hayley, 15, part of Newfoundland and Labrador's Team Cailey Locke. The two-time Olympic medalist and four-time Tim Hortons Brier winner wishes he'd had the chance to play at the U-18 level.
"Especially from a smaller province, it's intimidating when you're a younger player trying to battle at the U-20 level," said Gushue. "At the U-18s, you realize there are a lot of young people in other provinces exactly like you, and this sort of event gives them the bug, so they really want to stick with it and pursue competitive curling."
"It allows them to set a new set of goals," said Nedohin. "Starting with U-18 and Canada Games, then they can look ahead to U-20s and beyond."
Aside from Gushue and Nedohin, perennial Scotties Tournament of Hearts skips Kerry Galusha and Krista McCarville are also proud parents of U-18 athletes competing at Timmins. McCarville's daughter Bella will be part of Northern Ontario's entry skipped by Claire Dubinsky, while Galusha's daughter Sydney will be among the younger entrants, having qualified as 12-year-olds last spring.
"Sydney's team will be young and inexperienced but this is where you start," said Galusha, whose daughter is only 13 years old and playing on the Northwest Territories team. "I am happy there is a U-18 championship as I didn't have that when I was in juniors. It's a great stepping stone for them before they start competing for the U-20 championships."
"I didn't get to play in a national championship until I was 16," said Galusha, "and that was against people who were 21!"
The famous parents aren't limited to Brier and Scotties curlers either. Paralympic gold-medallist Mark Ideson will be cheering on his daughter Brooklyn, who is part of one of the Ontario entries for her second consecutive year.
The 21 teams of each gender were distributed to all Member Associations, with additional spots awarded based on a two-year ranking. If any province or territory declined an entry, additional teams were accepted from the next highest ranked Member Association.
As a result, many provinces will be represented by two teams in each gender, with a total of four between the boys and girls events.
For the parents, however, it's just a chance to watch the next generation of competitive curlers experience a national championship; provincial jackets and all.
"Hayley has been a huge fan and supporter of our team for the last several years," said Gushue. "It's going to be really fun for us to have a chance to cheer her on."
"All the parents are really excited," said Nedohin. "A national championship at any level is a big deal!"
Teams are separated into three pools of seven teams and will play a round-robin schedule within each pool. 12 teams advance to the playoffs for an opportunity to win a gold medal on Feb. 11.
Live-streaming coverage of the 2023 Canadian Under-18 Curling Championships will be available on Curling Canada +, Curling Canada's new streaming platform. You can access the broadcast schedule by CLICKING HERE.
For event, team and draw information, visit https://www.curling.ca/2023under18/.
Draw scores/standings will be immediately available on Curling Canada's scoring website.