Flawless Victory!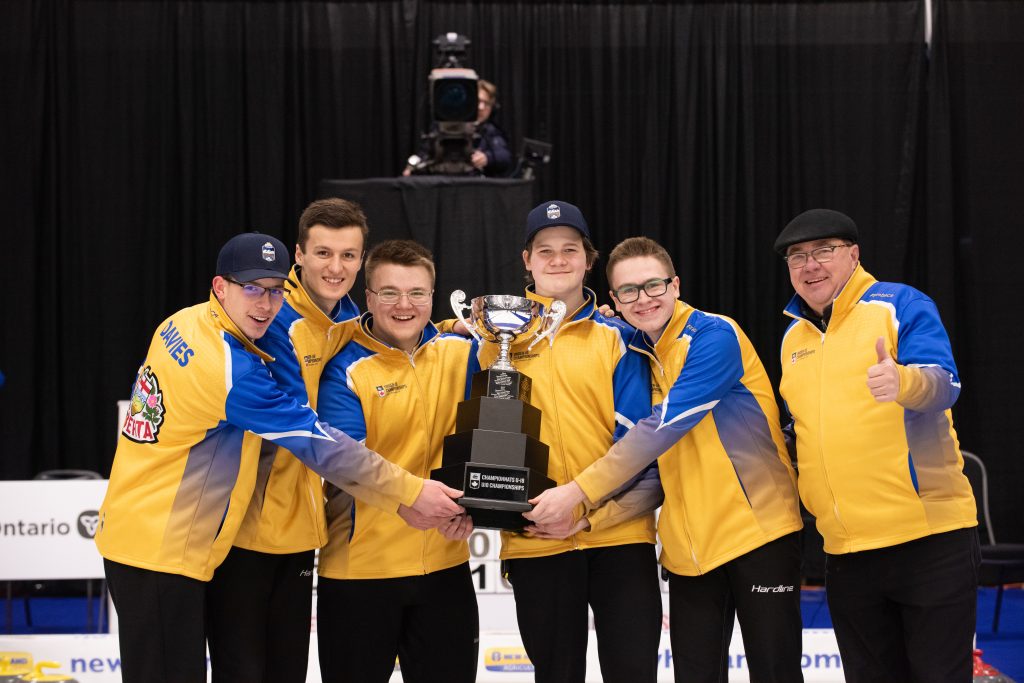 Alberta #2 cements perfect week to claim gold at 2023 Canadian Under-18 Boys Curling Championship
It was a storybook end to a dream week for skip Zach Davies and his Aberta #2 rink at the 2023 Canadian Under-18 Boys Curling Championship at the McIntyre Community Centre and Arena in Timmins, Ontario.
Davies, alongside vice-skip Benjamin Kiist, second Terren Algot, lead Lucas Sawiak, alternate Logan Thomas and coach Byron Jagoe of the Saville Community Sports Centre, Sherwood Parks and Okotoks Curling Clubs carried an undefeated record into the boys gold medal final, where they defeated Nova Scotia #1's Nick Mosher (7-3; Halifax) by a 9-2 score on Saturday afternoon.
The newly crowned Canadian champions from Alberta were head and shoulders above the field for the entire week, completing a 9 game winning streak to earn the gold medal.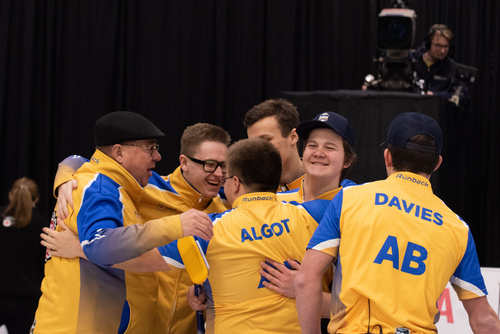 "It feels amazing," said skip Zach Davies just moments after winning the Under-18 Canadian boys championship. "Some of our best curling all season. I'm really happy with the result."
Despite carrying an unblemished record into the Canadian final, Davies still felt the pressure and nerves of being in a winner-take-all final. He credits his ability to control his emotions for the dominant performance.
"I was a little nervous," said Davies about his approach to the final. "They say if you're a little nervous, it means you care. But it wasn't anything crazy. I just tried to stay relaxed out there and it helped."
The Alberta #2 team did look markedly loose for the final, where quality rock placement and opportune shotmaking granted Alberta #2 a 5-1 lead over Nova Scotia #1 after four ends of play.
Hammer efficiency was front and center for the Alberta #2 rink, who blanked the first, took two in the second end, forced Nova Scotia #1 in the third end and followed with a haymaker score of three in the fourth end.
The boys in blue and gold had all the momentum but would not stop there, however.
Alberta #2's pressure would be incessant, as Davies and company would continue to produce brilliant shot making and steal an additional two points in the fifth end.
WIth a commanding 7-1 lead, Davies knew he was poised to become Canadian champion.
"My team was setting me up gloriously," said Davies. "After that, I knew I just had to finish the job."
Davies credits sticking to his team's strengths for the victory.
"We're comfortable with rocks in play and we're really strong drawers," remarked Davies about his team's path to success. " We used that to our advantage. We put on a lot of pressure this game."

The title marks the first ever U-18 boys crown for Alberta since the event's inception in 2017.
In the boys bronze medal match, Nova Scotia #2's Calan MacIsaac (8-1; Truro) breezed to a 8-1 win over New Brunswick's Timothy Marin (6-3; Saint John)
Action from the 2023 Canadian Under-18 Boys and Girls Curling Championships continues Saturday afternoon with the girls final at 4:30 p.m. (all times Eastern).
Live-streaming coverage of the 2023 Canadian Under-18 Curling Championships will be available on Curling Canada +, Curling Canada's new streaming platform. You can access the broadcast schedule by CLICKING HERE.
For event, team and draw information, visit https://www.curling.ca/2023under18/.
Draw scores/standings will be immediately available on Curling Canada's scoring website.

This story will be available in French as soon as possible at https://www.curling.ca/2023under18/nouvelles/?lang=fr