Grandy is dandy!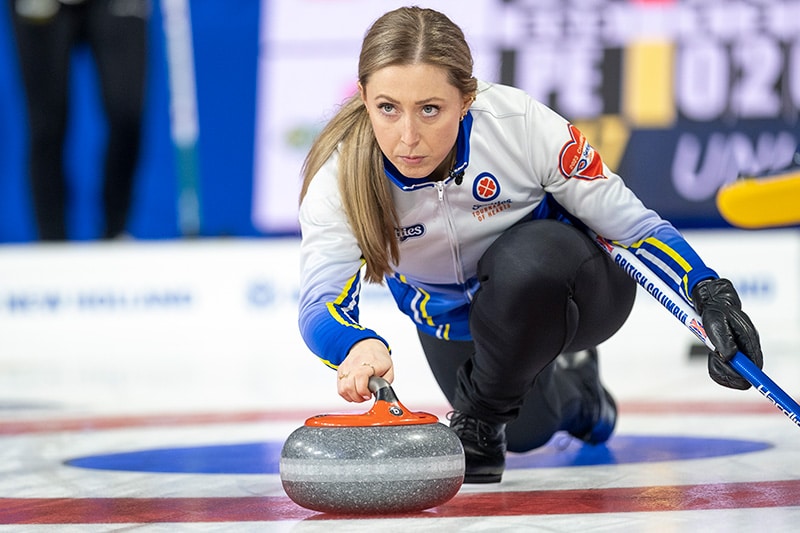 Grandy guides new home province to opening victory
Clancy Grandy always imagined she'd skip at the Scotties Tournament of Hearts wearing the black-and-red of Ontario.
So imagine her surprise this year after winning the British Columbia women's curling crown in her first try, and handed those classic blue-and-white uniforms that go with it.
And, the irony of ironies, finding out she's the 'home team' at the Scotties in Kamloops, B.C.
Grandy did her new province proud Friday evening by winning her opening game of the 2023 Scotties Tournament of Hearts at the Sandman Centre.
"That was an amazing feeling getting that first one under our belt and trying to get comfortable out there" said Grandy.
It wasn't a slam dunk win as Grandy and her new teammates needed every shot to defeat Scotties veteran Suzanne Birt's Team Prince Edward Island (0-1, Cornwall) 10-6 in Pool A action, but it was a win all the same, and an important one to calm the jitters.
The key end came in the sixth when Birt was light on a draw to the button facing two, giving Grandy a comfortable 7-4 lead.
"That was really key, giving us control, especially in an even end," said Grandy. "We felt we had control of the game after that."
It was also a nice present for the hometown crowd, the first time since the COVID-19 pandemic hit the world that the doors have swung wide open for Scotties spectators. Fans were limited for the final last year in Thunder Bay, Ont.
Meanwhile, three-time champion Kerri Einarson got off on the right foot in defending her national title, guiding Team Canada (1-0, Gimli, Man.) to an 11-8 win over a stubborn Team Quebec (0-1, Laval-sur-le-Lac/Glenmore) skipped by Laurie St-Georges.
In the other opening Pool A slate of games to kick off the 2023 Season of Champions schedule, skip Christina Black's Team Nova Scotia (1-0, Dartmouth) scored four in the sixth end en route to a 12-7 win over Team Saskatchewan skipped by Robyn Silvernagle (0-1, North Battleford), while skip Kaitlyn Lawes and her Team Wild Card 1 (1-0, Winnipeg) roared back from a 5-2 deficit to defeat Team Alberta, skipped by Scotties newbie Team Kayla Skrlik (0-1, Calgary).
Team Nunavut (Iqaluit), skipped by Brigitte MacPhail, had the opening bye.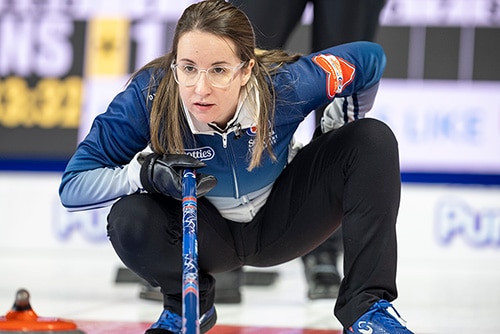 The 18 Scotties teams are split into two pools of nine, and will play a complete eight-game round robin. The top three teams in each pool advance to the playoffs where it will be further reduced to a final four and a Page playoff system.
It's not Grandy's first appearance in the Scotties. She got a taste of the event in 2021 in the Calgary bubble as an alternate for Tracy Fleury's Wild Card team skipped by Chelsea Carey.
Grandy even got on the ice for an end.
But skipping the home side is something else entirely.
"You kind of feel it (jitters) when they announce the teams," said Grandy, who heads the Vancouver Curling Club team that includes vice-skip Kayla MacMillan, second Lindsay Dubue, lead Sarah Loken, alternate Katie Witt and with assistance from none other than reigning Olympic gold-medal men's winner Niklas Edin of Sweden. "You get that feeling that, yeah, we're here and this is our time. We're just trying to embrace that."
Grandy, 32, curled in Ontario until 2022 but in this sport fortunes change quickly. MacMillan, also from Ontario, attends the University of British Columbia and coached with Grandy. The two thought it would be neat to curl together on the west coast and the deed was done.
Grandy found work with one of her new team's sponsors, Langley-based Rebound Sport and Spine, and moved out west.
She plans to stick around until the next Olympic cycle rolls around.
"I'm going to be out there four years minimum," she said. "We'll give it everything we have for those four years."
Canada's Team Einarson hit the ground running with an opening three, but Team Quebec, behind some clutch shooting from St-Georges, refused to cave and had matters even at 7-7 after seven ends. But Einarson had only to draw the eight-foot for four on the next end, and that was the difference.
Einarson admitted the Quebecers gave her a tough fight.
"I didn't expect her to make it easy on me," said Einarson, back with her familiar lineup of vice-skip Val Sweeting, second Shannon Birchard, lead Briane Harris, alternate Krysten Karwacki and coach Reid Carruthers. "It's like every team out there. I know they're going to play tough against us. We have to be sharp"
The win is the first step in what Einarson hopes is a fourth consecutive Canadian women's curling championship title. A fourth straight win would tie the team with Nova Scotia's legendary Team Colleen Jones of Halifax, which won four in a row (2001-2004).
"We had a couple of hiccups like when they got their three," said Einarson. "We got a break in the eighth end and were able to get our four."
The final goes Sunday, Feb. 26.
The 2023 Scotties Tournament of Hearts continues Saturday with draws at 1 p.m. and 6 p.m. (all times PST).
Live scoring, standings and statistics for the 2023 Scotties Tournament of Hearts are available at www.curling.ca/scoreboard/.
TSN and RDS2 will provide complete coverage of the 2023 Scotties Tournament of Hearts. CLICK HERE for the complete schedule.
For ticket information for the 2023 Scotties Tournament of Hearts, go to www.curling.ca/2023scotties/tickets/.
This story will be available in French as soon as possible at www.curling.ca/2023scotties/nouvelles/?lang=fr.