Learning from the best!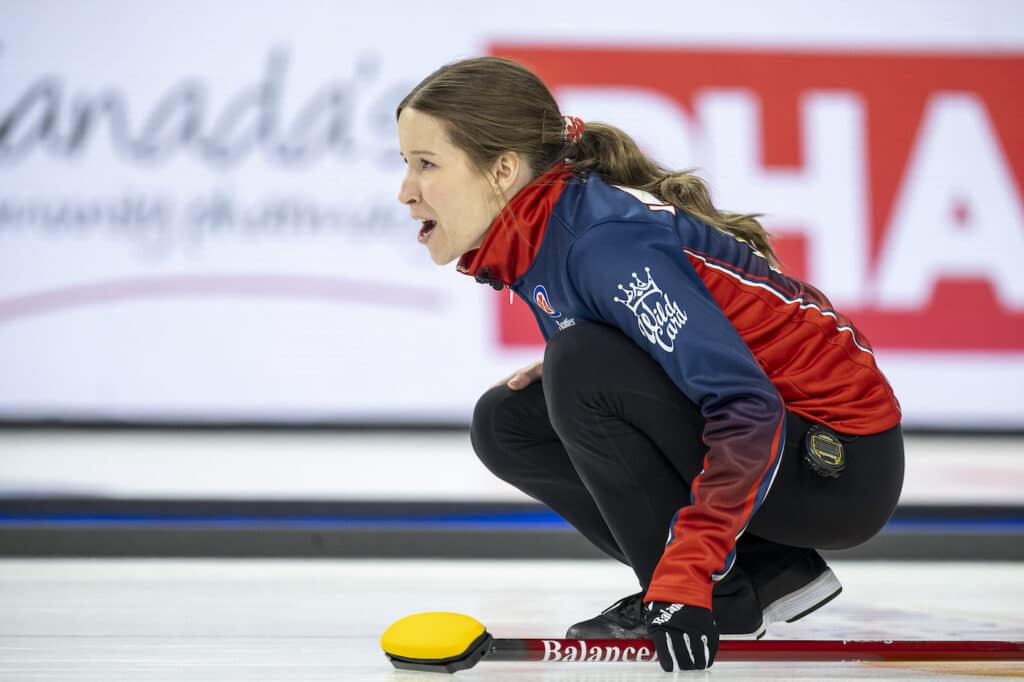 Lawes showing she is a well-schooled curler at the Scotties
If there was such a thing as an Advanced School of Curling, Kaitlyn Lawes surely attended. And earned a PhD.
If you're going to learn from the best, Lawes had the great fortune of playing third for skip Jennifer Jones, perhaps the greatest woman to play the game.
And now Lawes has the opportunity to parlay what she has learned at the 2023 Scotties Tournament of Hearts in Kamloops, B.C., skipping her Wild Card #1 team from the Fort Rouge Club in Winnipeg.
It seems she learned a lot. Lawes has started the Scotties with two straight wins in Pool A play at the Sandman Centre after a tight 6-5 win Saturday evening over Nova Scotia's Team Christina Black (1-1, Dartmouth).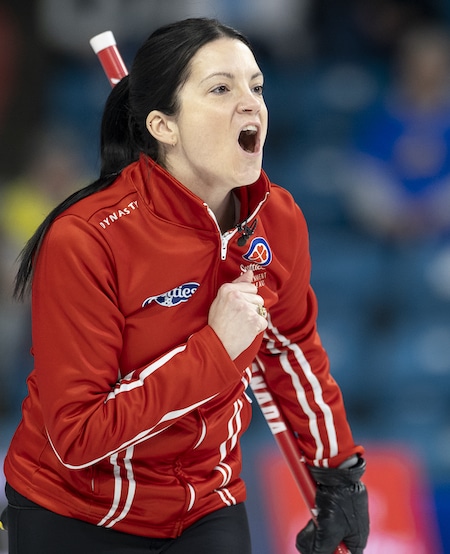 Team Lawes opened the Scotties Friday night with an 8-5 win over Team Alberta, although she needed a dramatic comeback from a 5-2 deficit to save the day.
"It was nice to have a good, close game," said Lawes, a two-time Olympic gold-medal winner, once with Jones in women's team play and once in mixed doubles with partner John Morris. "Every game out here you have to work hard. They played a great game."
Lawes and Jones, after a sensational run together as teammates that netted them an Olympic gold medal and a world championship, parted ways this past off-season, leaving both looking for new vistas. Lawes joined forces with some dynamite talent, including third Selena Njegovan, second Jocelyn Peterman, and lead Kristin MacCuish. Njegovan was granted a parental leave absence for Kamloops and her spot in the lineup has been filled by Edmonton's Laura Walker. Lisa Weagle is the coach.
They have quickly meshed as a team.
"We've played together a few times over the years," said Lawes, "and Laura is an all-around great teammate and player. We're having a lot of fun with her."
Lawes was hoping to get out of the blocks quickly, and she has.
"A strong start is huge in a field like this," she said. "The more wins you can have going into that second round is huge. I'm really proud of my team for grinding out two really gritty games."
Also off to a hot start is the three-time defending champions Team Canada skipped by Kerri Einarson (2-0, Gimli, Man.), who subduing Team British Columbia's Team Clancy Grandy (1-1, Vancouver) 9-4. Einarson is striving to win a fourth consecutive Canadian women's curling championship title which would tie her with Nova Scotia's legendary Colleen Jones of Halifax, who won her four straight from 2001 to '04.
Einarson, who is supported by third Val Sweeting, second Shannon Birchard, lead Briane Harris, alternate Krysten Karwacki and coach Reid Caruthers, dominated play for the most part but had trouble finally dispatching the home province.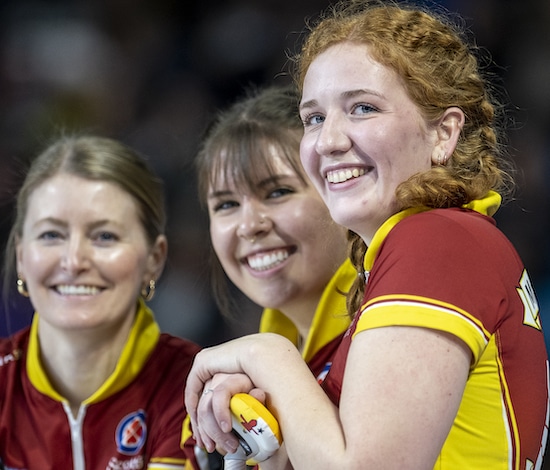 In the other opening Pool A slate of games, skip Marie Christianson got her Team Prince Edward Island into the win column (1-1, Cornwall) after posting a dominating 10-2 win over Team Nunavut (0-1, Iqaluit), skipped by Brigitte MacPhail, and Team Saskatchewan, skipped by Robyn Silvernagle (1-1, North Battleford), needed an extra end to secure a 11-9 win over skip Kayla Skrlik's hard-luck Team Alberta (0-2, Calgary).
Team Quebec (0-1, Laval-sur-le-Lac/Glenmore) skipped by Laurie St-Georges had the bye.
The 18 Scotties teams are split into two pools of nine, and will play a complete eight-game round robin. The top three teams in each pool advance to the playoffs where it will be further reduced to a Final Four and a Page playoff system.
The final goes Sunday, Feb. 26.
The Scotties champion will represent Canada at the 2023 Women's Curling Championship in Sandviken, Sweden, from March 18-26.
The 2023 Scotties Tournament of Hearts continues Sunday with draws at 8:30 a.m., 1:30 p.m. an 6:30 p.m. (all times PST).
Live scoring, standings and statistics for the 2023 Scotties Tournament of Hearts are available at www.curling.ca/scoreboard/.
TSN and RDS2 will provide complete coverage of the 2023 Scotties Tournament of Hearts. CLICK HERE for the complete schedule.
For ticket information for the 2023 Scotties Tournament of Hearts, go to www.curling.ca/2023scotties/tickets/.
This story will be available in French as soon as possible at www.curling.ca/2023scotties/nouvelles/?lang=fr.