JUNIORS BACK ON TRACK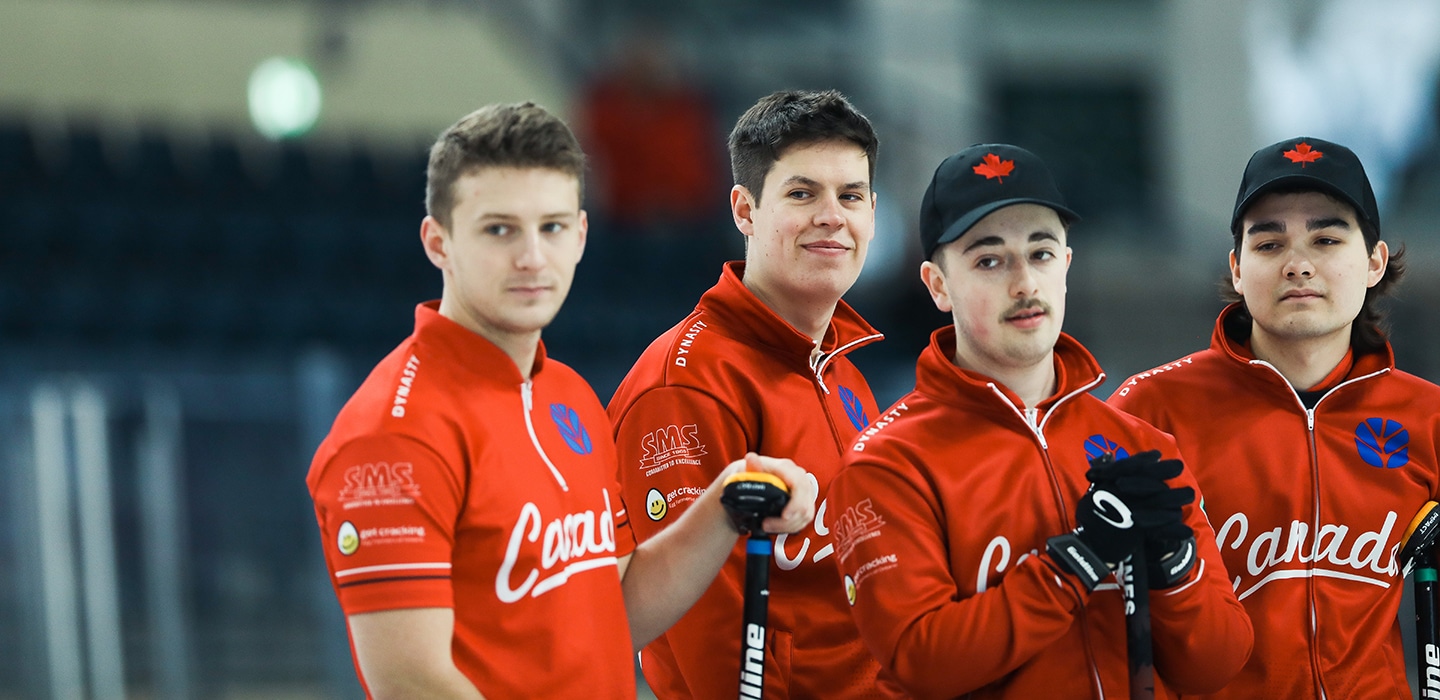 Canadian men win two games at World Junior Championships
While it had been a frustrating start to the week, Canadian fans at the 2023 World Junior Championships in Fuessen, Germany finally got something to cheer about Tuesday.
After starting the competition with four straight losses, the Canadian junior men's team skipped by Landan Rooney righted the ship with two wins over Turkey and Norway.
"Obviously we didn't start the way we wanted," said team leader Jeff Hoffart. "We definitely got a bit more comfortable and started making some more shots."
Prior to the start of Tuesday's action, Canada sat at the bottom of the standings. After a decisive 9-3 win over Turkey in the morning, they were able to start the slow climb up the table.
"We had a good win against Turkey," said Scott Mitchell, who throws third stones for Canada. "We were really excited to keep that momentum going against Norway."
And that's exactly what they did.
After giving up two singles in the first and second, Rooney made a soft weight hit for four in the third, and Canada never looked back. They stole two more in the fourth en route to their second 9-3 win of the day.
With three games left to play, Canada still has a chance to move further up the pack. Tomorrow Rooney, Mitchell, Jacob Jones, and Austin Snyder (along with alternate Connor Deane, coach Collin Mitchell, and team leader Hoffart) will have a single game against Italy. They'll finish the round robin on Thursday against Germany and the United States.
Meanwhile, Emily Deschenes and the Canadian junior women's team had another rough outing against Japan.
Japan started the game with hammer as a result of a good pre-game Last Shot Draw, blanked the first, before taking two and stealing two more. Down 5-1 at the fifth end break, Canada gave up a steal of four, after Japanese skip Yuina Miura made a long runback, forcing Deschenes into a tough draw.
Deschenes, Lauren Ferguson, Alison Umlah, and Cate Fitzgerald will try to get back on track tomorrow with games versus the United States and Germany. Coach Mary Matatall, team leader Lori Olson-Johns, and former skip Taylour Stevens will be on hand supporting the cause.
For scores, schedules and event information, visit: https://worldcurling.org/events/wjcc2023
For broadcast information and schedules, visit: https://worldcurling.org/2023/02/broadcast-schedule-wjcc2023/