Buffalo Boys ridin' high!
Team Manitoba making some noise at Tim Hortons Brier
It's been 11 years of swings and misses by Team Manitoba at the Tim Hortons Brier, presented by AGI, an eternity for a province so steeped in curling history.
But the clouds may be lifting for the Keystone Province at the 2023 edition of the Canadian men's curling championship in London, Ont. Team Manitoba skip Matt Dunstone has been red hot over the first few days of play, piling up three straight wins and establishing his new crew from the Fort Rouge Curling Club in Winnipeg as serious contenders for the Brier Tankard.
A Manitoba victory would be the first since Jeff Stoughton turned the trick in 2011, ironically also in London at Budweiser Gardens.
Dunstone kept a clean slate Sunday afternoon, bumping off skip Jamie Koe's Team Northwest Territories (0-3, Yellowknife) 10-4 in one of two Pool A games.
The win elevates the Buffalo Boys to 3-0 and one game behind Pool A leaders Team Alberta (4-0, Calgary) skipped by four-time national champion Kevin Koe.
Dunstone has outscored his opponents 33-9 in his three games, but says he has been pushed, at least in the early going. The Polars had him down 3-1 after three ends until the roof caved in on the boys from the North.
"The game with Saskatchewan was close after five and we were able to pull away late," said Dunstone. "So I wouldn't say we haven't been pushed."
The appearance of Dunstone on the radar should be no surprise. He's been close to the title before, finishing third on two occasions wearing Saskatchewan colours, so he knows the ropes. He's also enjoyed a super season backed by a very experienced lineup (vice-skip B.J. Neufeld, second Colton Lott, lead Ryan Harnden and coached by Adam Kingsbury) he assembled this offseason.
"When we put this team together we knew the talent was there," said Dunstone. "It was a matter of trying to make it all happen and obviously nice to have coach Adam to help us along in that process. We brought together a very talented group."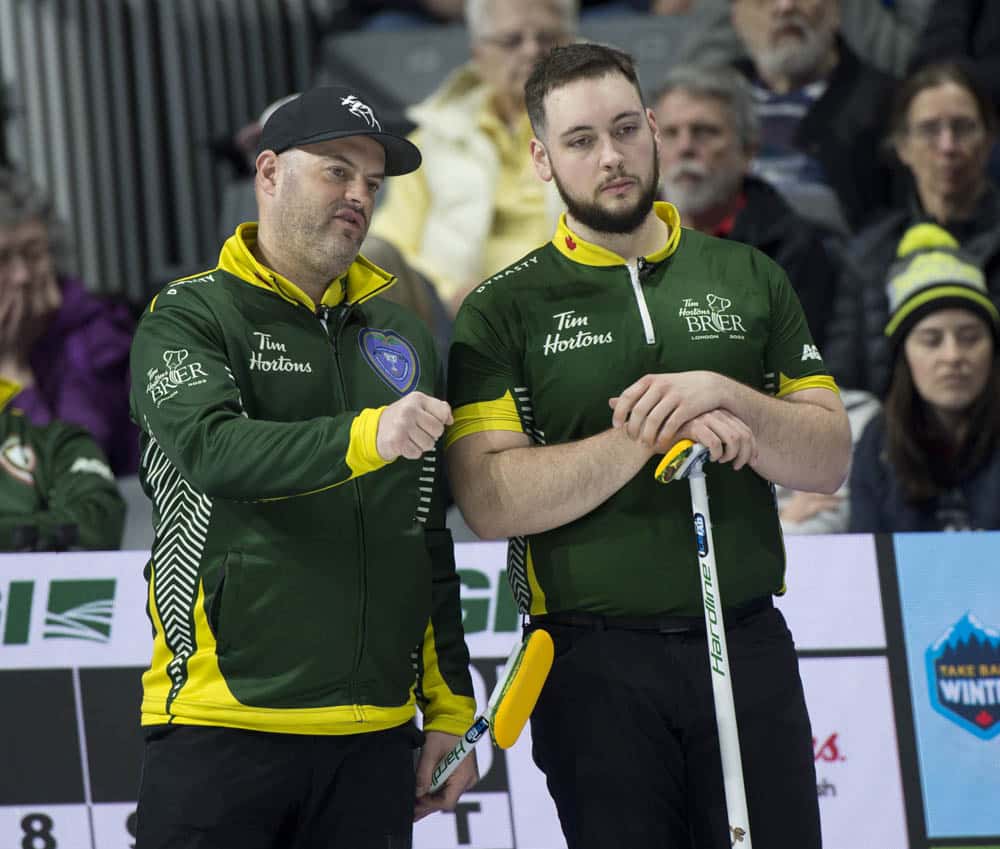 Dunstone, a two-time Canadian junior champ, says the addition of Tim Hortons Brier champs Neufeld (2019 with Kevin Koe) and Harnden (2013 with Brad Jacobs) has made a big difference. Both Neufeld and Harnden won world championship silver medals, and Harnden won an Olympic gold medal in 2014.
"They're two phenomenal teammates and I'm proud to be on this journey with them, to see and learn about how they go about their business," said Dunstone. "It's made me a better curler."
In the other Pool A game, Team Northern Ontario (3-1, Sudbury), needed fourth Tanner Horgan to make his last shot to pull out a 6-4 win over the junior-aged Team Newfoundland and Labrador (0-4, St. John's) skipped by Nathan Young.
Team Wild Card 1, skipped by Brendan Bottcher kept rolling merrily along, winning its fourth game without a defeat to move atop the Pool B standings. Team Bottcher, from The Glencoe Club in Calgary, dispatched young Jacques Gauthier's Team British Columbia (0-3, Victoria) 9-3 in a game with teams headed in opposite direction.
Bottcher's third Marc Kennedy admitted first place is a nice neighbourhood right now, but the team isn't looking ahead to finishing first at the end of the round robin.
"Even if you start thinking about it you reel yourself back in," he said. "Every team here can beat you. The idea of first place slips away really quick if you lose your concentration."
Team Canada skip Brad Gushue (3-1, St. John's, N.L.) continued to face fierce opposition at the Tim Hortons Brier, and Monday had to fend off a determined Team Quebec (2-2, Glenmore/Belvédère/Etchemin/Valleyfield) skipped by Félix Asselin. The Quebecers had the defending champs down 3-0 right off the bat but couldn't hold the lead in the other Pool B game. The game went the full distance to the 10th end, where Gushue needed a slash with the hammer to nail down the win.
Gushue and Kevin Koe are attempting to win their record-breaking fifth Tim Hortons Briers as skips. Both have four Tim Hortons Brier victories, putting them in a group with Ernie Richardson, Randy Ferbey and Kevin Martin.
The 18 Tim Hortons Brier teams are split into two pools of nine, and will play a complete eight-game round robin. The top three teams in each pool advance to the playoffs where it will be further reduced to a Final Four and a Page playoff system.
The final goes Sunday, March 12.
The Tim Hortons Brier champion will wear the Maple Leaf at the 2023 BKT Tires & OK Tire World Men's Curling Championship, April 1-9 in Ottawa.
The 2023 Tim Hortons Brier continues with draws Monday with a draw at 7 p.m. ET.
Live scoring, standings and statistics for the 2023 Tim Hortons Brier are available at curling.ca/scoreboard.
TSN and RDS2 will provide complete coverage of the 2023 Tim Hortons Brier. CLICK HERE for the complete schedule.
For ticket information for the 2023 Tim Hortons Brier, go to www.curling.ca/2023brier/tickets/
This story will be available in French as soon as possible at www.curling.ca/2023brier/nouvelles/?lang=fr