Win on the last shot!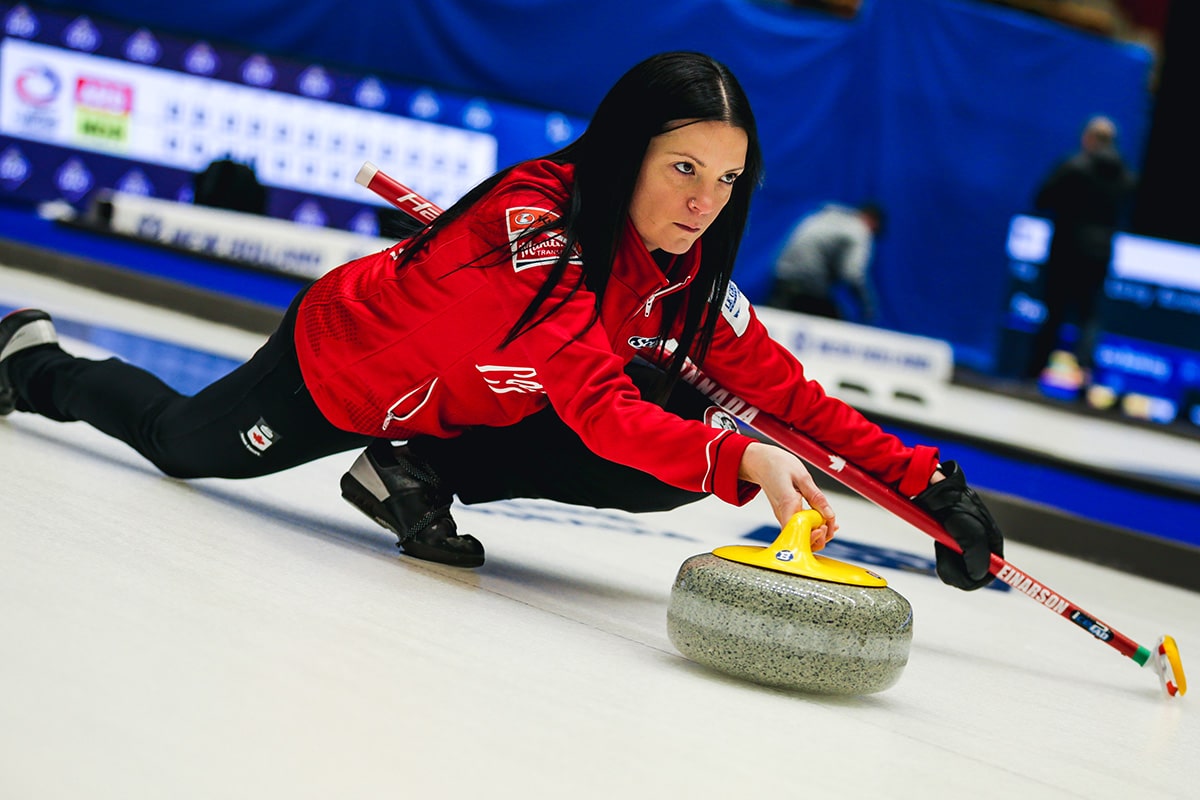 Canada's Team Einarson bounces back with a last-end steal to win at world women's
All Canada's Team Kerri Einarson could do twice on Sunday was watch its opponents throw the decisive last shot of the game.
While it resulted in a loss earlier in the day, Canada rebounded with a win during the evening draw at the 2023 LGT World Women's Curling Championship, presented by New Holland, in Sandviken, Sweden, at Goeransson Arena.
Tied 6-6 and without hammer, skip Einarson, vice-skip Val Sweeting, second Shannon Birchard and lead Briane Harris made a perfect tap back to count one and left the two Canadian rocks lined up nicely to make for a difficult double takeout. Norway's Team Marianne Roervik missed and Canada stole three to win the game.
Canada, backed by alternate Krysten Karwacki, coach Reid Carruthers and national coach Renée Sonnenberg, were in a similar situation earlier in the day against the United States, but the Americans made the shot for the win.
"Ideally, we want to be throwing that last one and have control, but both games today were super tight. Sometimes they're going to make it and sometimes they're not. All we can do is force them into the toughest shot possible and that's what happened today," said Sweeting. "The competition is so tight out there that a little half shot here and there can make a big difference."
Sweeting said the game against Norway was much more on-brand for the Canadians. Canada took advantage of some Norwegian misses and grew its lead to 5-2, including a steal of one in the fourth end.
Norway chipped away at Canada's margin and took a 6-5 lead after eight ends of play. Canada had an opportunity to score as many as three in the ninth but was forced to a single. That left Team Einarson in a position of once again needing to steal away a victory.
"I thought we got off to a better start and had a good handle on the ice. We just coughed up a couple of steals, but that's going to happen because they were tough shots. Overall, it was a better game and Kerri made a pistol on the last one to line it up like that. We never gave up and we kept plugging away. Lots of games are going back and forth out there and you never know what will happen in the end," Sweeting said.
Canada improves to 2-1 and is in a five-way tie for second place with Denmark's Madeleine Dupont, Germany's Daniela Jentsch, Italy's Stefania Constantini, and Norway's Roervik.
Switzerland's Team Silvana Tirinzoni leads the standings with a 4-0 record.
Team Einarson's spot in the standings is comfortable, but there is no time to rest on its laurels as it continues to find advancements in each game played.
"We definitely keep things in our own hands and that's what we want to do," Sweeting said of the latest win. "We've had the slow record start before and we don't want to dig ourselves into that hole again. Every win is super important and I'm really happy we ground that one out," Sweeting said.
In 2021, Canada's Team Einarson started the women's world championship with a 1-5 record before rallying and qualifying for the playoffs.
Canada has two games on the docket on Monday. First, it takes on Italy's Team Constantini at 4 a.m. (all times ET), followed by Team Rebecca Morrison of Scotland (1-2) at 2 p.m.
For Team Canada updates, go to www.curling.ca. Follow us on Twitter, Instagram and Facebook.
TSN/RDS2, the official broadcast partners of Curling Canada's Season of Champions, will provide live coverage of Canada's round-robin games and all playoff games. CLICK HERE for their complete broadcast schedule.
The list of teams, schedule information and live scoring can be found on the event website.
The French version of this story will be posted as soon as possible at www.curling.ca/?lang=fr