Best one yet!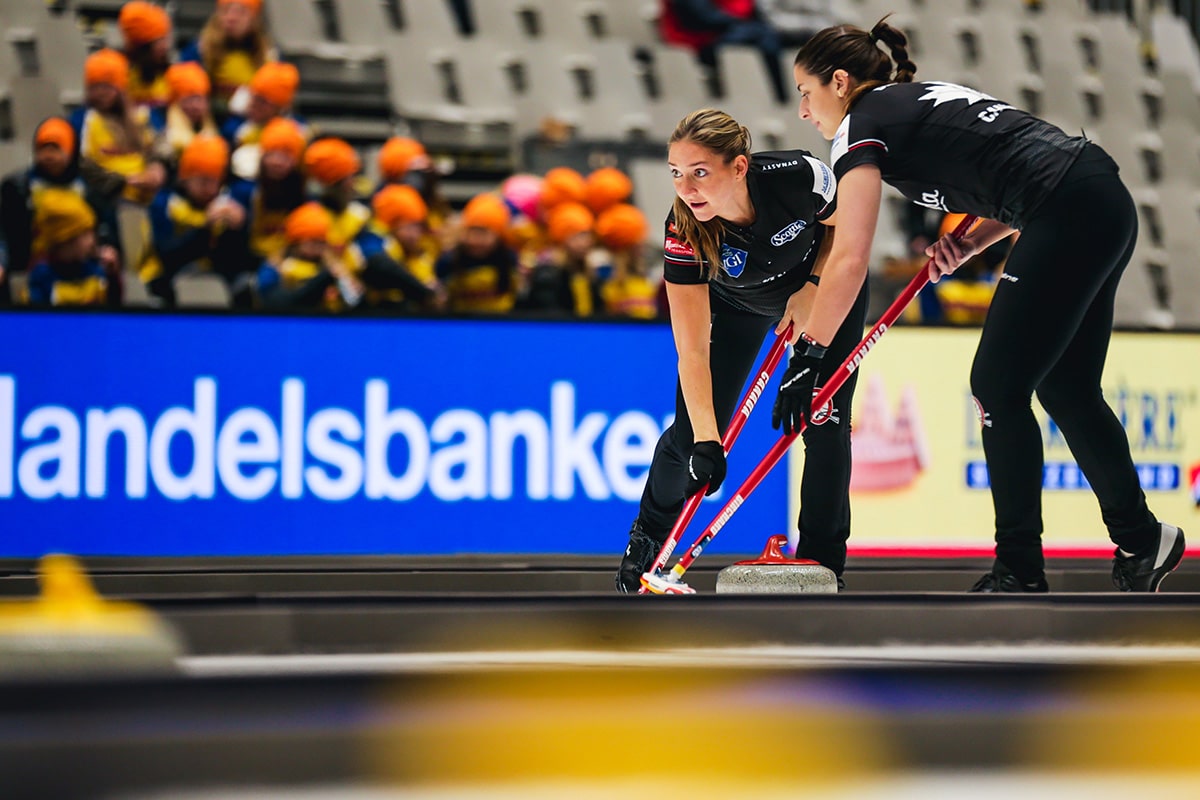 Canada's Team Einarson puts together complete game in victory against Italy at world women's
SANDVIKEN, Sweden — After a pair of exciting – maybe too exciting – games yesterday, Canada got back to basics with a win against Italy on Monday morning at the 2023 LGT World Women's Curling Championship, presented by New Holland.
Canada's Team Kerri Einarson of Gimli, Man., bested Italy's Team Stefania Constantini 7-2 on Monday morning at Goeransson Arena in Sandviken, Sweden.
The win improves Canada's record to 3-1 as the round-robin's halfway point looms for the 13 teams competing for the world women's championship.
Italy, skipped by the 2022 mixed doubles Olympic gold-medallist Constantini, dropped to 2-2 through four games played.
Yesterday, Canada did not have the last stone in either of its games and left its fate in the hands of the opposition. Today, skip Einarson, vice-skip Val Sweeting, second Shannon Birchard, lead Briane Harris, alternate Krysten Karwacki, coach Reid Carruthers and national coach Renée Sonnenberg kept a firm grasp on the game and dictated how it unfolded.
Einarson, in particular, played her best game yet with a sparkling 94 per cent shooting efficiency. As a unit, Canada had its best game of the week with 86 per cent shooting efficiency and built a solid base for the remaining seven days of competition.
"It felt good to come out, have a solid game, and get some confidence back. Even before, I was throwing them really well, there were just some unfortunate spots in the ice, and I wasn't believing what I was seeing. It felt good and I want to keep that rolling. If we can build off of this game and get better and better, I think we have a good chance going forward," Einarson said.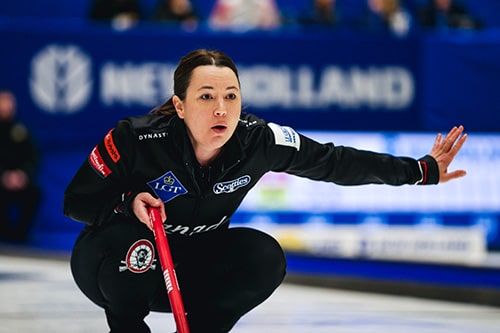 There was no need for heroic angle taps or precise hit-and-rolls to earn the win—quite the opposite, as simplicity was vital. Canada didn't have to overextend its strategy and played with its cards close to the chest. When there were opportunities to strike, Canada took them.
"We took advantage of any misses when we had them, and we didn't have any back-to-back misses for ourselves as a team. That was key in this game because we found in previous games we just had too many back-to-back misses and we got into trouble. I thought we adjusted to the ice really well and figured it out fast," Einarson said.
Canada broke open the game in the second half. Tied 2-2, Team Einarson scored five consecutive points and kept Italy off the scoreboard, including steals of one in the eighth and two in the ninth.
Italy faced a triple-raise double to score in the ninth and while it was a close attempt, Canada took the points. Italy offered handshakes.
For now, Canada has sole possession of second place in the standings. Team Einarson can build off the win later today at 2 p.m. ET against Scotland's Team Rebecca Morrison (1-2).
The top six teams qualify for the playoff round, with the top two receiving a bye while the remaining four play in the first round. The medal game will be played Sunday.
For Team Canada updates, go to www.curling.ca. Follow us on Twitter, Instagram and Facebook.
TSN/RDS2, the official broadcast partners of Curling Canada's Season of Champions, will provide live coverage of Canada's round-robin games and all playoff games. CLICK HERE for their complete broadcast schedule.
The list of teams, schedule information and live scoring can be found on the event website.
The French version of this story will be posted as soon as possible at www.curling.ca/?lang=fr