Mixed doubles starts Tuesday!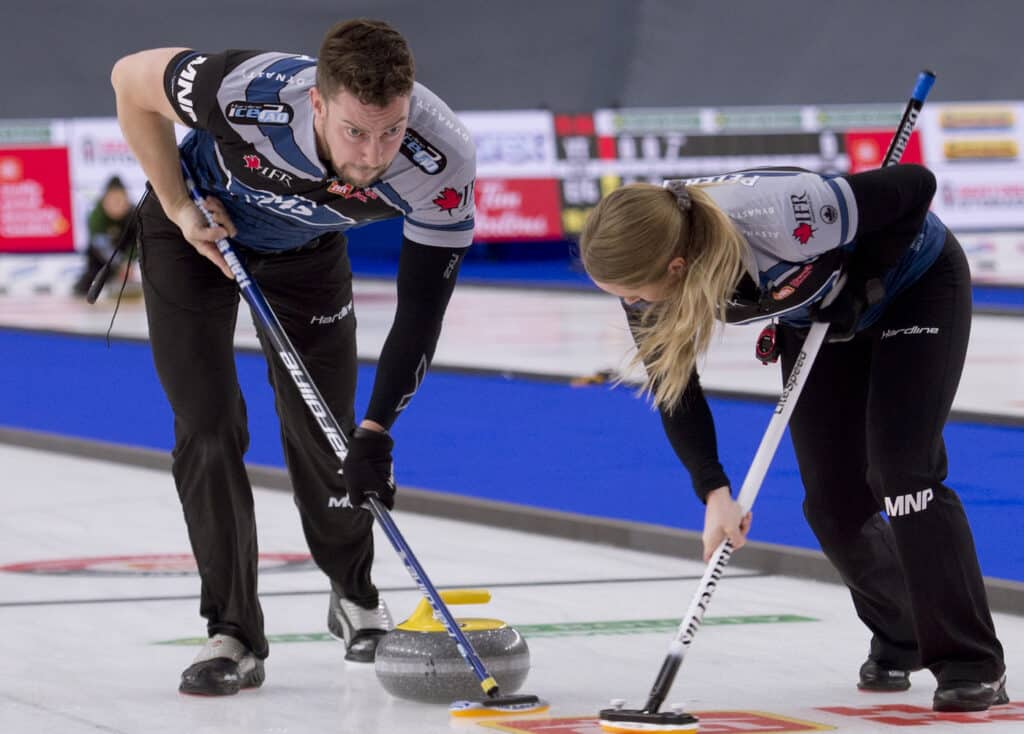 Canadian mixed doubles championship kicks off Tuesday in Sudbury
Many of the top players in the country will open play Tuesday at the 2023 Canadian Mixed Doubles Curling Championship in Sudbury, Ont.
The first draw is scheduled for Tuesday at 6 p.m. (all times Eastern) at the Gerry McCrory Countryside Sports Complex, which will have two arenas in use for the 32-team championship.
Heading the field will be the No. 1 team in the Canadian Mixed Doubles Rankings (CMDR), the Chestermere, Alta., pairing of Jocelyn Peterman and Brett Gallant, who will be in pursuit of their third Canadian mixed doubles crown after previous victories in 2016 and 2019. Peterman and Gallant also represented Canada at the 2022 World Mixed Doubles Championship in Geneva, Switzerland, after the 2022 Canadian championship was cancelled due to the COVID-19 pandemic.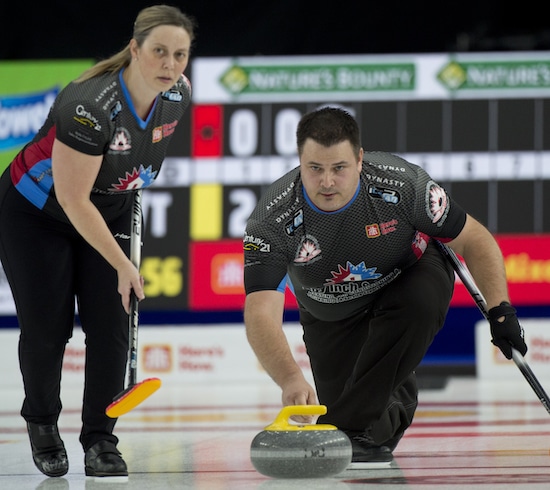 The 32-team field will be split into four pools of eight, and will feature 13 provincial/territorial champions alongside 19 teams that qualified through the CMDR, which takes into account performances in mixed doubles events as well as results from the players' respective four-player women's or men's teams.
Teams will play a seven-game round robin within their pools Tuesday through Friday, with 12 teams advancing to the single-knockout playoffs, which begin Saturday. The four pool winners will get byes directly into the quarter-finals, which take place Saturday at 7 p.m., while the teams with the next eight best records overall, regardless of the pool they're in, will be matched up in the playoff opener at 1 p.m. Saturday.
The semifinals will take place Sunday at 9 a.m., followed by the gold-medal game at 1 p.m.
There will be no tiebreaker games, and ties will be broken based firstly on head-to-heads results, and if that doesn't resolve the tie, the pre-game Last Shot Draw totals will be used to rank teams.
Peterman and Gallant aren't the only former champions in the field. 2014 champs Kim Tuck and Wayne Tuck of Strathroy, Ont., also are in the field, as are 2018 champs Laura Walker of Edmonton and Kirk Muyres of St. Gregor, Sask, along with half of the 2013 championship pairing, as Robert Desjardins of Chicoutimi, Que., now plays with his daughter Émilie.
And there will be no shortage of support for the hometown hopefuls as the sibling duo of Tracy Fleury and younger brother Jacob Horgan will wear Northern Ontario colours in Sudbury.
It will be the first Canadian Mixed Doubles Championship contested since the 2021 event, which took place inside the bubble in Calgary, and it will be the ninth edition overall.
The duo that wins Sunday's championship game will take home $40,000, and will represent Canada at the 2023 World Mixed Doubles Curling Championship, April 22-29 in Gangneung, South Korea.
The silver-medal team will take home $20,000, while teams that lose in the semifinals will earn $12,500 apiece. Quarter-final teams will get $9,000 apiece, while teams that finish ninth through 12th will collect $6,000 each.
Here is the makeup of the four pools:
Pool A
Jocelyn Peterman/Brett Gallant, Chestermere, Alta.
Émilie Desjardins/Robert Desjardins, Chicoutimi, Que.
Clancy Grandy/John Morris, Coquitlam, B.C./Canmore, Alta.
Patty Hersikorn/Steve Laycock, Saskatoon
Rachel Homan/Tyler Tardi, Beaumont, Alta./Peachland, B.C,
Team British Columbia, Sarah Loken/Cody Tanaka, White Rock, B.C./Richmond, B.C.
Team Alberta, Ashley Kalk/Craig MacAlpine, Edmonton
Team Yukon, Patty Wallingham/Ben Robinson, Whitehorse
Pool B
Nancy Martin/Tyrel Griffith, Saskatoon/Kelowna, B.C.
Chaelynn Kitz/Brayden Stewart, Saskatoon
Lauren Cheal/Greg Cheal, Sherbrooke, Que.
Kim Tuck/Wayne Tuck, Strathroy, Ont.
Paige Papley/Evan Van Amsterdam, Leduc County, Alta./Edmonton
Team Ontario, Lynn Kreviazuk/David Mathers, Ottawa
Team Nova Scotia, Karlee Everist/Bryce Everist, Bedford, N.S.
Team Newfoundland/Labrador, Jessica Wiseman/Trent Skanes, Torbay, N.L./St. John's, N.L
Pool C
Laura Walker/Kirk Muyres, Edmonton/St. Gregor, Sask.
Laurie St Georges/Felix Asselin, Laval, Que./Montreal
Jennifer Armstrong/Brad Jacobs, Saint John, N.B./Sault Ste. Marie, Ont.
Veronique Bouchard/Jean-François Charest, Chicoutimi, Que.
Brittany Tran/Aaron Sluchinski, Calgary/Airdrie, Alta.
Team Quebec, Emily Riley/Jesse Mullen, Pincourt, Que./Jesse Mullen, Jonqière, Que.
Team P.E.I., Jenny White/Edward White, Summerside, P.E.I.
Team New Brunswick, Leah Thompson/Charlie Sullivan, Quispamsis, N.B./Saint John, N.B.
Pool D
Lisa Weagle/John Epping, Ottawa/Toronto
Jennifer Jones/Brent Laing, Horseshoe Valley, Ont.
Melissa Adams/Alex Robichaud, Hanwell, N.B./Fredericton
Lauren Wasylkiw/Shane Konings, Stouffville, Ont.
Team Manitoba, Kadriana Lott/Colton Lott, Winnipeg Beach, Man.
Team Northern Ontario, Tracy Fleury/Jacob Horgan, Sudbury, Ont.
Team Saskatchewan, Stephanie Bukurak/Adam Bukurak, Regina
Team Northwest Territories, Margot Flemming/Jamie Koe, Yellowknife
Selected games from the 2023 Canadian Mixed Doubles Championship will be streamed live on Curling Canada's new streaming platform, Curling Canada+.
Schedule information can be found on the event website, www.curling.ca/2023mixeddoubles/.
For ticket information, CLICK HERE.