Fifth win in the books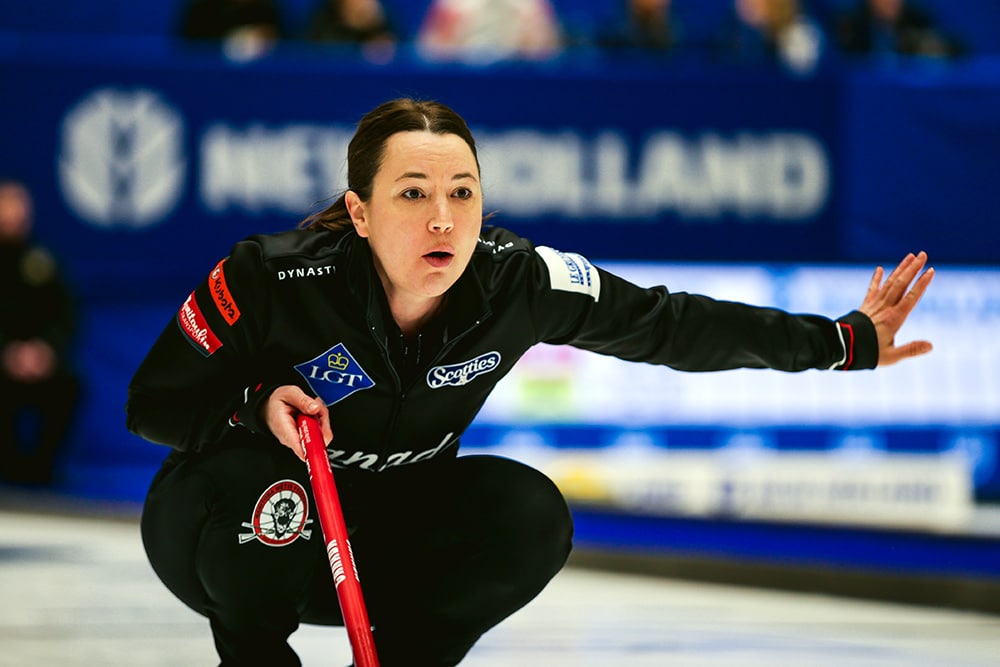 Canada defeats New Zealand to remain tied for second at world women's championship
SANDVIKEN, Sweden — Canada found its fifth win in the standings at the 2023 LGT World Women's Curling Championship, presented by New Holland.
On Tuesday night, Canada's Team Kerri Einarson of Gimli, Man., bested New Zealand's Team Jessica Smith 10-4 at Goeransson Arena in Sandviken, Sweden.
With the win, skip Einarson, vice-skip Val Sweeting, second Shannon Birchard, lead Briane Harris, alternate Krysten Karwacki, coach Reid Carruthers and national coach Renée Sonnenberg split a pair of games today against polar opposite opponents.
Canada, now 5-2, lost to undefeated Switzerland's Team Silvana Tirinzoni (6-0) during the afternoon draw and bested the winless New Zealand squad (0-7) this evening.
For a team still searching for its first win, New Zealand – combined with managing some tricky ice conditions – gave Canada a challenge early in the game.
"We were looking to string some shots together. I still don't think this was our best game, though. It's nice to get a win anyway but we need to make a few more shots going forward. I think we're going to have a better day tomorrow," Harris said.
Canada broke open the game in the third end. New Zealand wrecked on a guard during its last shot of the end, which opened a wide path for Team Einarson to make a draw for three and take a 5-2 lead.
An unpredictable chain of events in the fourth end led to New Zealand nearly scoring three and tying the game to settling for a single point. New Zealand had a hit to score big but was too thin on contact. The shot ran the Canadian stone into another New Zealand counter and the Kiwis had to take one.
"It's a little challenging out there and it's taking a little longer to buy into and adapt to the changes in the game. We had a better day yesterday and then today was just a little off again. Hopefully we can build tomorrow and have our best day yet," Harris said.
After trading a handful of points, Canada got on the board with a two-ender in the seventh.
Canada ended the game in the eighth. Team Einarson split the house on its last shot to force its opponents to one. However, New Zealand flashed the hit and gave up two. Now trailing by six, Team Smith conceded.
Canada is tied with Italy's Team Stefania Constantini (5-2) in the standings for second place behind Switzerland.
Team Einarson has a stretch of challenging games coming up against playoff contenders. On Wednesday, Canada has back-to-back games against Germany's Team Daniela Jentsch (3-3) at 9 a.m. (all times ET), followed by South Korea's Team Seungyoun Ha (4-2) at 2 p.m.
The top six teams qualify for the playoff round, with the top two receiving a bye while the remaining four play in the first round. The medal games will be played Sunday.
For Team Canada updates, go to www.curling.ca. Follow us on Twitter, Instagram and Facebook.
TSN/RDS2, the official broadcast partners of Curling Canada's Season of Champions, will provide live coverage of Canada's round-robin games and all playoff games. CLICK HERE for their complete broadcast schedule.
The list of teams, schedule information and live scoring can be found on the event website.
The French version of this story will be posted as soon as possible at www.curling.ca/?lang=fr