Short against the Swiss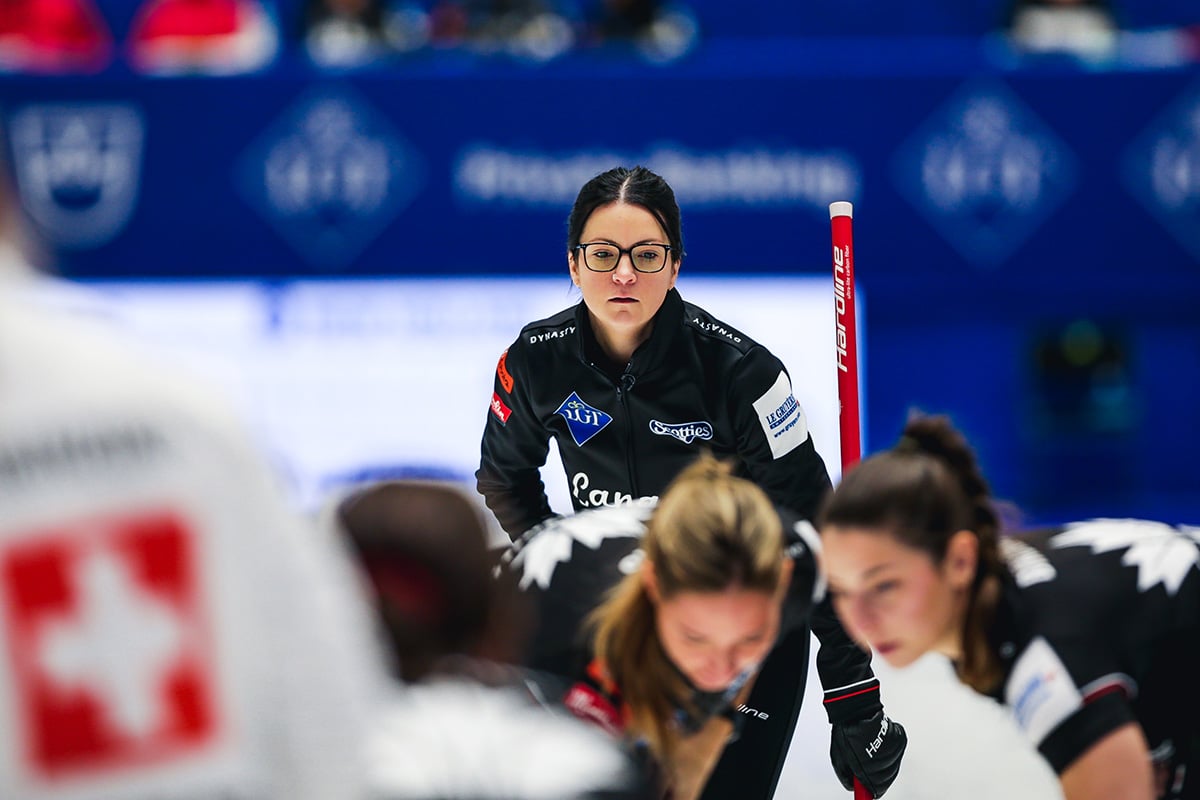 Canada falls short in game against top-ranked Switzerland at women's worlds
SANDVIKEN, Sweden — Canadian skip Kerri Einarson and her team couldn't quite get the job done against top-ranked Team Switzerland on Tuesday afternoon at the 2023 LGT World Women's Curling Championship, presented by New Holland.
Canada's Team Einarson of Gimli, Man., succumbed to Team Silvana Tirinzoni by a score of 7-6 at Goeransson Arena in Sandviken, Sweden.
Once in sole possession of second place in the 13-team field, Canada drops into a four-way tie for the second spot with a 4-2 record.
Switzerland remains the class of the field with an unbeaten 6-0 record following the one-point win.
With the game tied in the 10th end, Canada's Einarson, vice-skip Val Sweeting, second Shannon Birchard, lead Briane Harris, alternate Krysten Karwacki, coach Reid Carruthers and national coach Renée Sonnenberg had a tough shot to force Switzerland to throw its last. Canada had to come deep around a guard and tap the Swiss shot stone off the button.
"The weight was pretty close. It ended up being a back-four weight; we just needed less ice. I thought we could carve it in there. It was a difficult shot because [Switzerland] buried about a rock and a half in there," Einarson said.
Canada took advantage of the hammer in the first end with a score for two.
Switzerland showed why it has been the most efficient team in the field in the second, with Team Tirinzoni scoring two of its own, largely on the back of fourth-rock thrower Alina Paetz. Switzerland was in trouble during its second to last shot of the end, but Paetz cemented the perfect freeze onto Canada's shot stone, which led to a two and tied the game.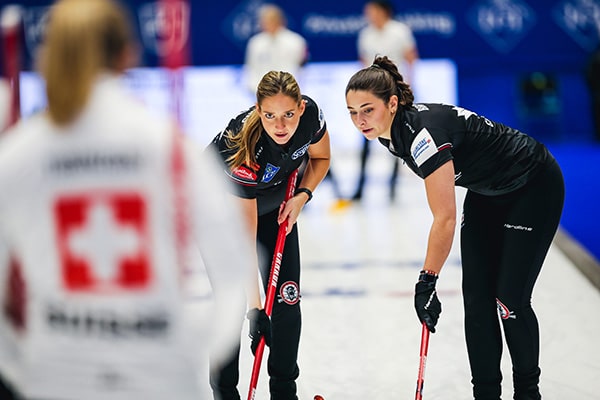 Scoring in bunches has been Switzerland's bread and butter all week. Team Tirinzoni leads the field with a 67 percent last-stone efficiency, the stat for how often a team scores two or more points with hammer. Switzerland is well above the field with a 34 percentage point difference over the second-ranked Canadians.
The game still featured a share of misses from both teams, but timely misses from Canada in the fifth end led to Team Tirinzoni scoring three. Canada had a chance to respond with a tap back for up to three points in the sixth, but it didn't catch enough of the target and Switzerland stole one.
"We didn't play well. We had our opportunities and we missed those opportunities. I took a little more ice in the hack on that last shot for three. It was difficult and I didn't see much, but it was there. I should have just left the broom and thrown the right weight instead of questioning it. We just have to adjust a little better," Einarson said.
Canada was forced to one in the eighth and stole a point in the ninth to tie the game. It marked the first time any team had stolen a point on Switzerland all week.
"The sheet was definitely a little trickier than any sheet we'd played. There were some tendencies that were coming out in it. But we just have to shake this one off and come out strong again tonight," Einarson said.
Canada plays its second in back-to-back games today at 2 p.m. ET against New Zealand's Team Jessica Smith (0-6).
The top six teams qualify for the playoff round, with the top two receiving a bye while the remaining four play in the first round. The medal games will be played Sunday.
For Team Canada updates, go to www.curling.ca. Follow us on Twitter, Instagram and Facebook.
TSN/RDS2, the official broadcast partners of Curling Canada's Season of Champions, will provide live coverage of Canada's round-robin games and all playoff games. CLICK HERE for their complete broadcast schedule.
The list of teams, schedule information and live scoring can be found on the event website.
The French version of this story will be posted as soon as possible at www.curling.ca/?lang=fr