Much needed win!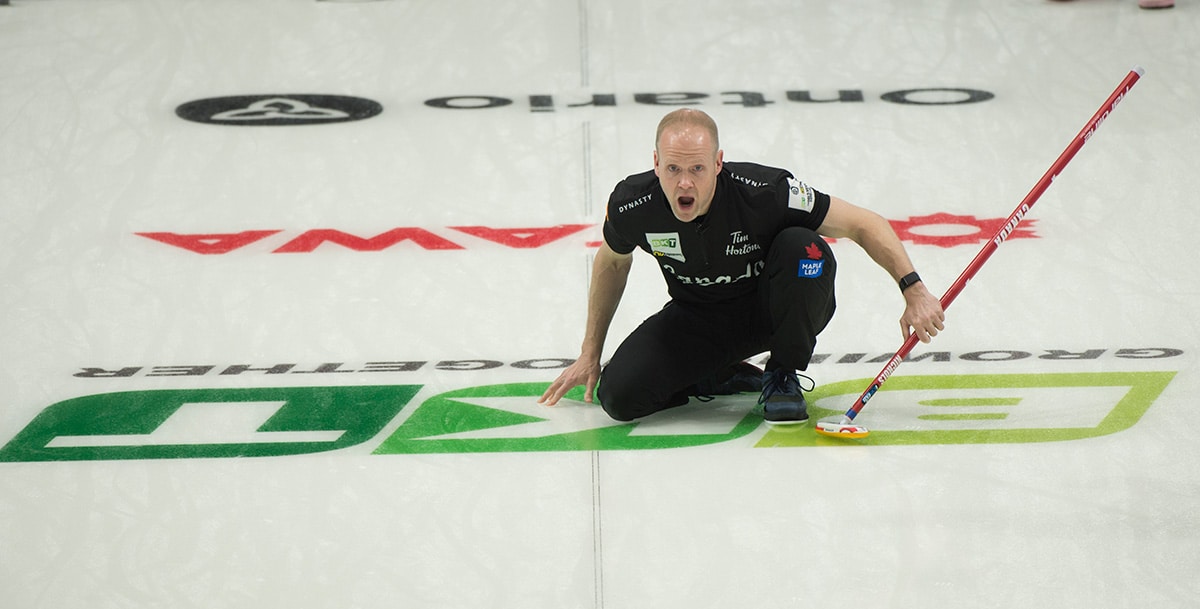 Team Canada raises game in 'must-win' over Japanese at worlds 
Team Canada was handed a tough opening schedule at the 2023 BKT Tires & OK Tire World Men's Curling Championship, but there's been no lamenting from skip Brad Gushue.
Instead, a quiet resolve to get through it relatively unscathed.
The Canadians – from the RE/MAX Centre, St. John's Curling Club, didn't get the results they wanted through the first four games, but a 6-3 victory over skip Riku Yanagisawa's Team Japan (3-1) on Monday afternoon at TD Place in Ottawa sure helped raise the confidence level. The win boosted Team Canada's record to 3-2 and within sight of the round-robin leaders with plenty of time to go in the 13-team event.
It also wiped out the memory of the night before when the Canadians let an early 4-0 lead slip away in an eventual 8-6 loss to Team Norway.
It was Team Canada's lone game of the day, with byes in the morning and evening draws.
"I think it was a must-win," said Gushue, who is supported by vice-skip Mark Nichols, second E.J. Harnden, lead Geoff Walker, alternate Ryan Harnden, team coach Caleb Flaxey and national coach Jeff Stoughton. "We're in that position for a little while now. The next two or three games are kind of in that boat. You don't want to get too far behind the eight-ball knowing the teams we have left."
To refresh, Canada had to deal with teams from Switzerland, Norway and Italy before taking on the previously undefeated Japanese. That's a rough start. The only 'soft' spot could potentially be considered Team New Zealand, still a developing nation in men's curling, which made Canada earn its win.
There's still some tough sledding ahead for the Canucks, but two losses at this point of the event are not the end of the world.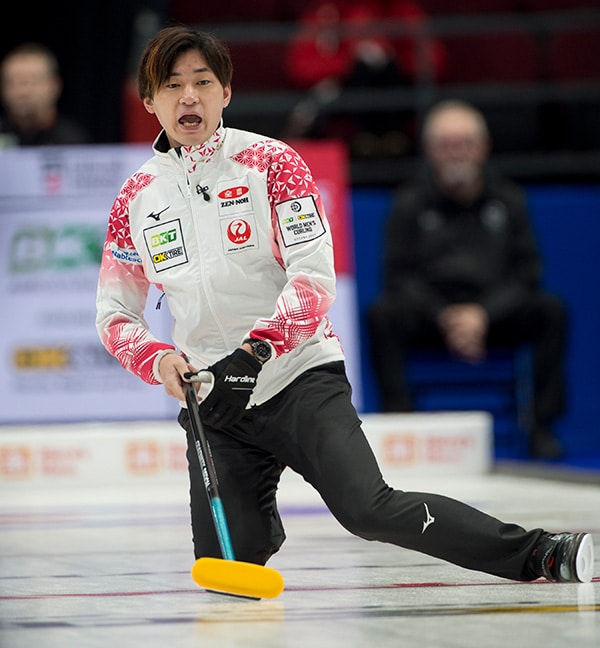 But Gushue knows he can't take his foot off the gas.
"We just have to go out there and do the same thing tomorrow," he said.
The Canadians came in with something resembling their 'A' game against a young Team Japan. Skip Yanagisawa is only 21 years old and second Takeru Yamamoto is a fresh-faced 16 years old.
Gushue, especially, was on his game and was a thorn in the side of the Japanese all game. He made an end-saving freeze in the second to force Team Japan to take one, and made another draw to the face of an enemy stone in the back eight in the fourth, again forcing Yanagisawa to draw for one.
Gushue said his final shot in the second end gave him a boost of confidence.
"I kinda put us in trouble in my first shot. I didn't quite get to the nose," he said. "To come back and make that draw and make it as perfect as we did, it was definitely a confidence boost. You could just feel the building (ice) was going to hold up better."
Team Canada finally got some separation on the scoreboard with a well-earned deuce to grab a 5-2 lead after seven ends.
Nichols also came through with a splendid triple takeout in the eighth to clean things up, and later in the end Gushue made a spectacular — but risky — double to force Team Japan to hit for one.
"Mark and I made some big shots to get out of that," said Gushue. "Outside of those two ends I thought we played really well and really controlled the game."
Team Canada took one in the ninth, then ran Japan out of rocks in the 10th.
The rich kept getting richer in the afternoon draw. Team Sweden skip Niklas Edin, back to defend his title and trying to win an unprecedented seventh world championship, kept on chewing up the opposition. The Swedes moved into sole possession of first place with a 5-0 record after a 10-3 win over skip Ugurcan Karagoz's Team Turkey (0-4).
Team Norway (4-0) stayed right on the heels of the Swedes with a convincing 9-2 victory over Team New Zealand (0-4), skipped by Anton Hood.
In the other game on the afternoon schedule, skip Bruce Mouat's Team Scotland, the reigning European champions, stayed among the leaders with an 8-6 victory over Team Germany (1-3), skipped by Sixten Totzek. The Scots, Japanese and idle Swiss (led by skip Yannick Schwaller) are all deadlocked in third place with 3-1 marks.
The top six teams qualify for the playoff round, with the top two receiving a bye while the remaining four play in the first round. The medal games will be played Sunday, April 9.
The 2023 BKT Tires & OK Tire World Men's Curling Championship continues Monday with a draw at 7 p.m. (all times ET).
Live scoring, standings and statistics for the 2023 BKT Tires & OK Tire World Men's Curling Championship are available by CLICKING HERE.
TSN and RDS will provide coverage of the 2023 BKT Tires & OK Tire World Men's Curling Championship. CLICK HERE for the complete schedule.
For ticket information for the 2023 BKT Tires & OK Tire World Men's Curling Championship, go to www.curling.ca/2023worldmen/tickets/
This story will be available in French as soon as possible at www.curling.ca/2023worldmen/nouvelles/?lang=fr