Glass half full!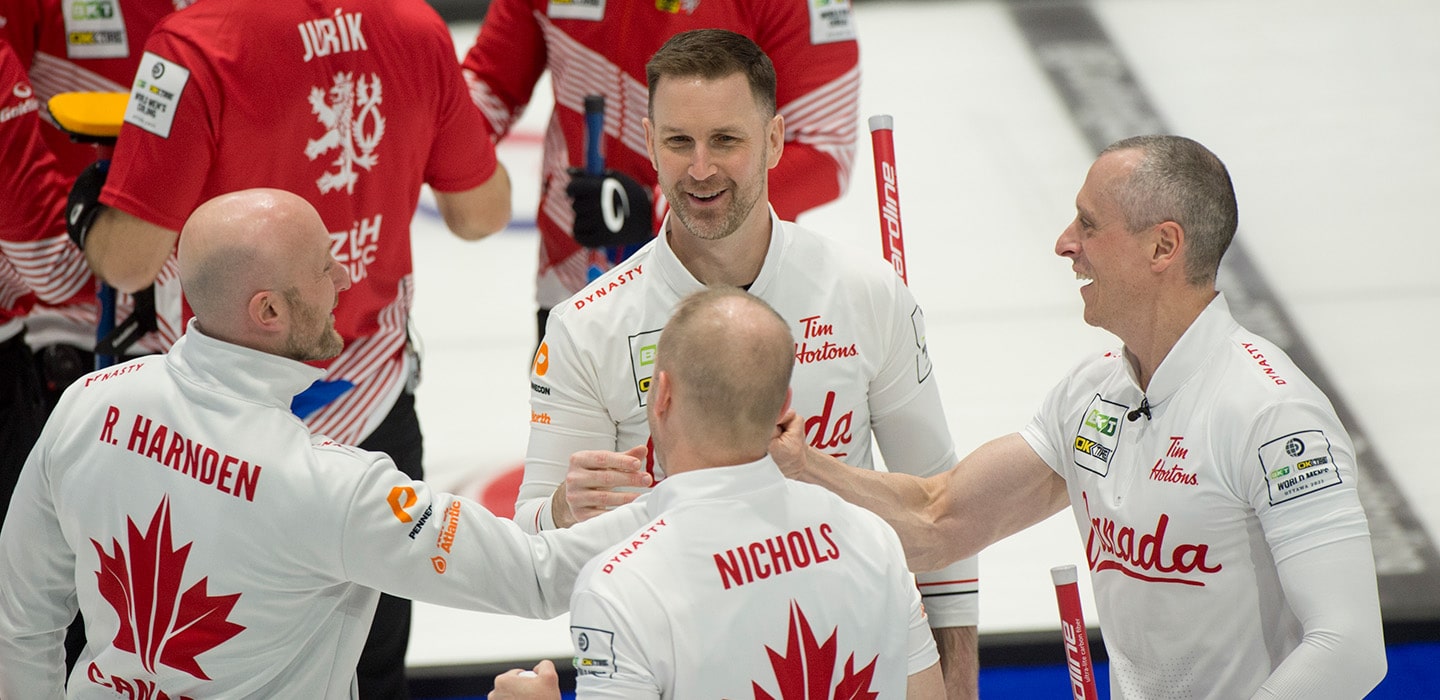 Team Canada in good position after first half of world schedule
Team Canada reached the half-way point of its schedule Tuesday afternoon at the 2023 BKT Tires & OK Tire World Men's Curling Championship in Ottawa, and despite a 4-2 record and fifth place in the round-robin standings, skip Brad Gushue will gladly take it and run.
The world championship is like tip-toeing through a field of landmines — no easy task — so with the second half still to play, and their game starting to round into shape, the Canadians from St. John's, N.L., are nicely positioned to make a run for the playoffs.
"It was a good game by all of us," said Gushue, who picked off win No. 4 with an 8-3 victory over skip Lukas Klima's Team Czech Republic (2-4) at TD Place. "We got ourselves in a little bit of trouble in one end, and I got to make a triple, which I don't get to do or say very often. When I can make those, they're nice. But overall a good team performance."
Gushue said it was a 'must-win' considering his team's place in the standings and a few of the heavy-hitters still to play, including six-time world champion Niklas Edin and Sweden and 2022 Olympic silver-medallist Team Scotland (4-1), skipped by Bruce Mouat.
A third loss at this stage, while not lethal, would put the Canadians in some difficulty to make the weekend playoffs.
So 'must-win' it was.
It didn't take long for Gushue and Co. — vice-skip Mark Nichols, second E.J. Harnden, lead Geoff Walker, alternate Ryan Harnden, team coach Caleb Flaxey and national coach Jeff Stoughton — to get the motor running. A beautiful deuce in the third — Gushue needed to draw to a good chunk of the four-foot with his last shot — gave the Canucks a quick 3-1 lead.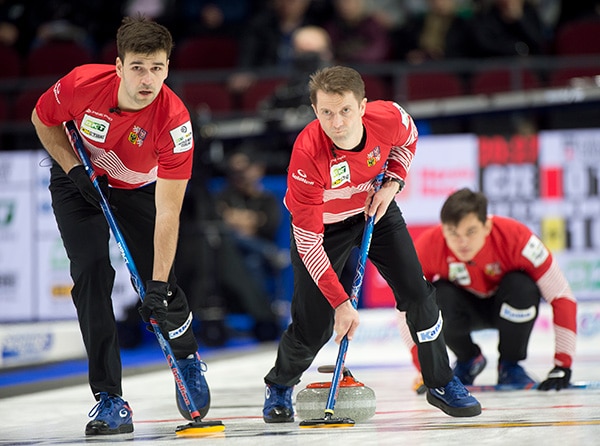 Team Canada took a firm grip on the game in the fourth end. The Czechs just missed back-to-back runbacks to clear out some Canadian granite, and with his last Klima was forced to a difficult out-turn draw to the four-foot. He rubbed a front stone and Canada stole a huge three points.
Gushue was brilliant throughout the game, shooting a sparkling 93 per cent.
The Canadian skipper admitted he would have liked to come out of the first half of the schedule with a better record, but looked at the glass as half full.
"Not exactly where we want to be but the last two games I've liked what I saw," he said. "If we can continue to play like that, and pick up on the ice, it bodes well for the second half of the week.
"We had some hiccups in the first part of the week. I'd love to have a couple back but at this stage you can't worry about it. We're still in a position where we control our own fate and get one of those top two spots."
The top six teams qualify for the playoff round, with the top two receiving a bye while the remaining four play in the first round.
Two other games on the afternoon draw had major consequences. Front-runners Team Sweden (6-0), skipped by Niklas Edin, continued to roll up the victories, knocking off Team Japan (4-2), skipped by Riku Yanagisawa. The Swedes, looking for their fifth straight title, had a battle on their hands and Edin needed to draw the eight-foot with his final shot, facing three, to win 9-6.
The loss dropped the Japanese into a fifth-place tie with Team Canada.
Meanwhile, Team Norway put the brakes on Team Italy which had won three in a row after a slow start. The Norwegians, skipped by Magnus Ramsfjell, climbed into a second-place tie with idle Team Switzerland, both with 5-1 records, with a 9-8 extra-end victory. The Italians, skipped by Joel Retornaz, dropped to 3-3 and into seventh place.
In another game, Team Germany (2-4), skipped by Sixten Totzek, managed a 9-6 win over skip Ugurcan Karagoz's Team Turkey (0-6).
The 2023 BKT Tires & OK Tire World Men's Curling Championship continues Tuesday with a draw at 7 p.m. (all times ET).
Live scoring, standings and statistics for the 2023 BKT Tires & OK Tire World Men's Curling Championship are available by CLICKING HERE.
TSN and RDS will provide coverage of the 2023 BKT Tires & OK Tire World Men's Curling Championship. CLICK HERE for the complete schedule.
For ticket information for the 2023 BKT Tires & OK Tire World Men's Curling Championship, go to www.curling.ca/2023worldmen/tickets/
This story will be available in French as soon as possible at www.curling.ca/2023worldmen/nouvelles/?lang=fr