Canadians inch closer to top!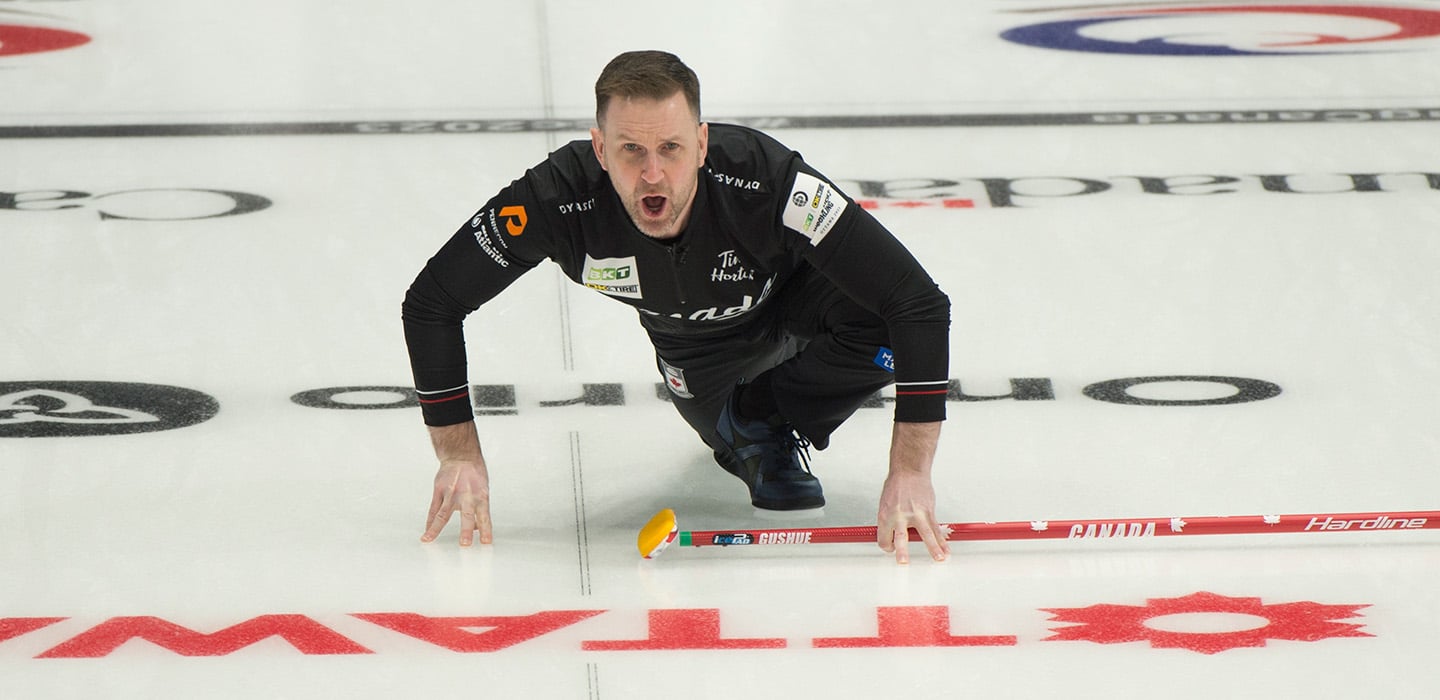 Canadians move closer to top-two spot at world men's curling championship
An icy rain descended over Ottawa on Wednesday, creating havoc for residents on the streets and sidewalks, but inside TD Place, skip Brad Gushue and his Team Canada mates had no such problems with ice.
On a morning draw in which fans may have witnessed the greatest shot in curling history from Team Sweden's Niklas Edin, the Canadians used good conditions to their advantage in a dominant 9-4 win over Team South Korea (1-7) at the 2023 BKT Tires & OK Tire World Men's Curling Championship.
The victory was the fourth in the last five games for the Canadians and was huge on so many levels. It moved them into a two-way tie for fourth place with Team Scotland with 5-2 records, and further increased their confidence as the second half of the schedule began to play out.
Despite a slow 2-2 start, the Canadians are now within sight of finishing in the top-two spots and earning a first-round bye in the weekend playoffs.
The top six teams qualify for the playoff round.
Canada's hopes of finishing first was buoyed when front-runners Team Sweden (6-1) dropped it's first of the week, losing 8-7 to Team Norway (6-1).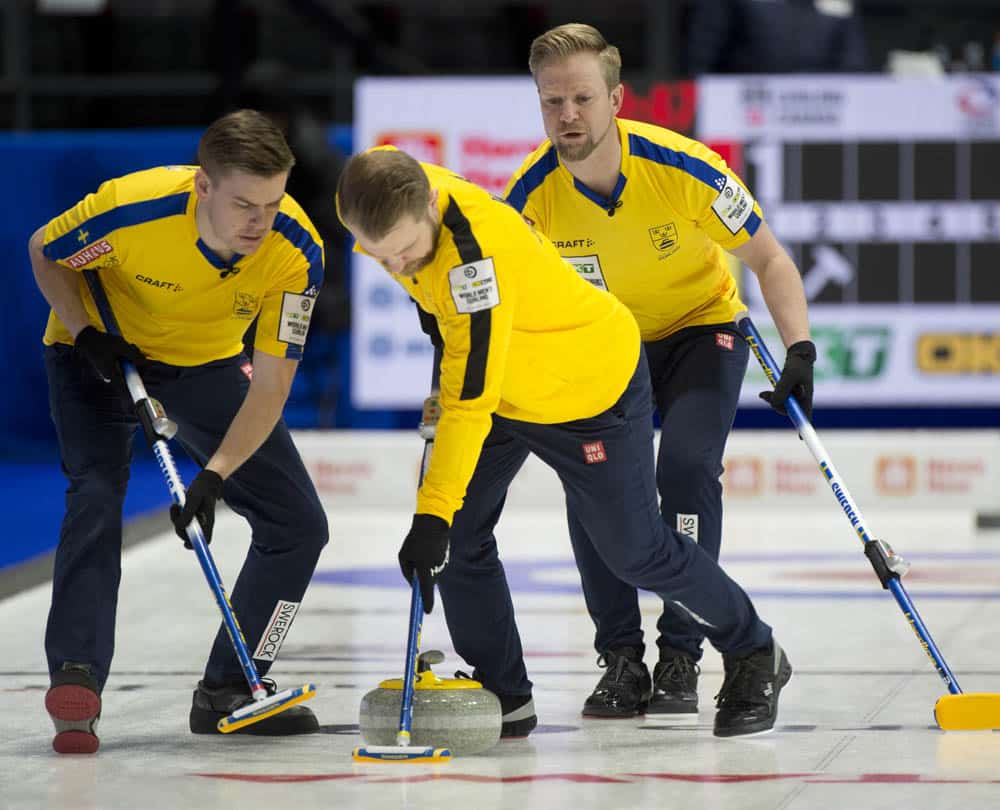 "That's (top two) still the goal, for sure," said Gushue, who is supported in Ottawa by vice-skip Mark Nichols, second E.J. Harnden, lead Geoff Walker, coach Caleb Flaxey and national coach Jeff Stoughton from the RE/MAX Centre, St. John's Curling Club, in Newfoundland & Labrador. "I think we may need some help, but I think it's very realistic if we win out."
Top spot became crowded after Team Sweden's loss. Edin, back to defend his title and win an unprecedented seventh world championship, looked in good shape to win, but made a huge mistake in the ninth end, sliding through the house with his last rock to give up a steal of three.
But he more than made up for that with a bizarre — funhouse mirror weird — shot in the 10th. Needing two points to tie, he spun his shooter like a top, hoping it would bounce off an opposing stone locked onto one of his own in the 12-foot and spin it just enough to lie two.
He made it spectacularly to tie the game 7-7.
Team Norway skip Magnus Ramsfjell, however, recovered in the extra end to hit and stick for the win.
Team Switzerland, led by skip Yannick Schwaller had the morning bye, also sports a 6-1 record atop the table.
Team Scotland climbed up the ladder with a key win. Skip Bruce Mouat's Scots, the 2022 Olympic silver medallists, continued to impress after walloping 21-year-old skip Riku Yanagisawa's Team Japan 9-2 in a battle of 4-2 teams. The Scots cracked a five-ender in the sixth end and that was enough punishment for the Japanese, which dropped down into sixth place with idle Team Italy (4-3).
In the only other game on the morning draw, Team New Zealand (1-6), skipped by Anton Hood, won its first game with an 11-8 upset over skip Sixten Totzek's Team Germany (2-5).
The Canadians were locked in a tight battle with South Korea over the first five ends, and needed a few get-out-of-jail shots to stay close. The big hits started in the second end when Nichols made a super raise double takeout. Then came a pair of triple takeouts, first by Harnden in the third end and another by Nichols in the fourth.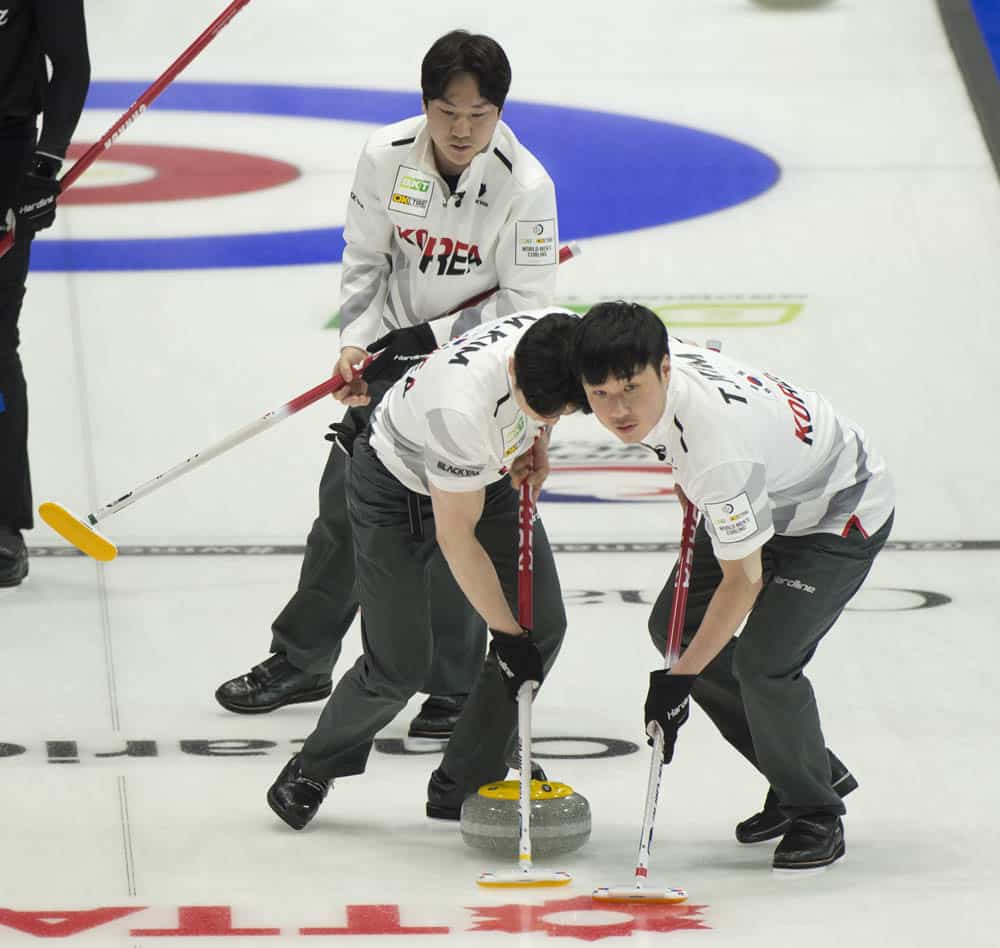 It took until the sixth end for the Canadians to take control with a three-ender to grab a 5-2 lead. The triple was set up when South Korea skip Byeongjin Jeong made a mental error with his final shot, trying to double up a couple of side-by-side Canadian counters.
"We didn't execute as well as we have in the last couple of games," said Gushue. "We hung in there and kept applying some pressure and obviously he made a pretty big mistake out there in the sixth end. The shot he played wasn't there. I was just wishing he'd get in the hack as quick as possible because I think we'd score three every time.
"Fortunately for us he threw it and we got our three. From there on it was smooth sailing."
The 2023 BKT Tires & OK Tire World Men's Curling Championship continues Wednesday with draws at 2 p.m. and 7 p.m. (all times ET).
Live scoring, standings and statistics for the 2023 BKT Tires & OK Tire World Men's Curling Championship are available by CLICKING HERE.
TSN and RDS will provide coverage of the 2023 BKT Tires & OK Tire World Men's Curling Championship. CLICK HERE for the complete schedule.
For ticket information for the 2023 BKT Tires & OK Tire World Men's Curling Championship, go to www.curling.ca/2023worldmen/tickets/
This story will be available in French as soon as possible at www.curling.ca/2023worldmen/nouvelles/?lang=fr