Swiss claim bronze!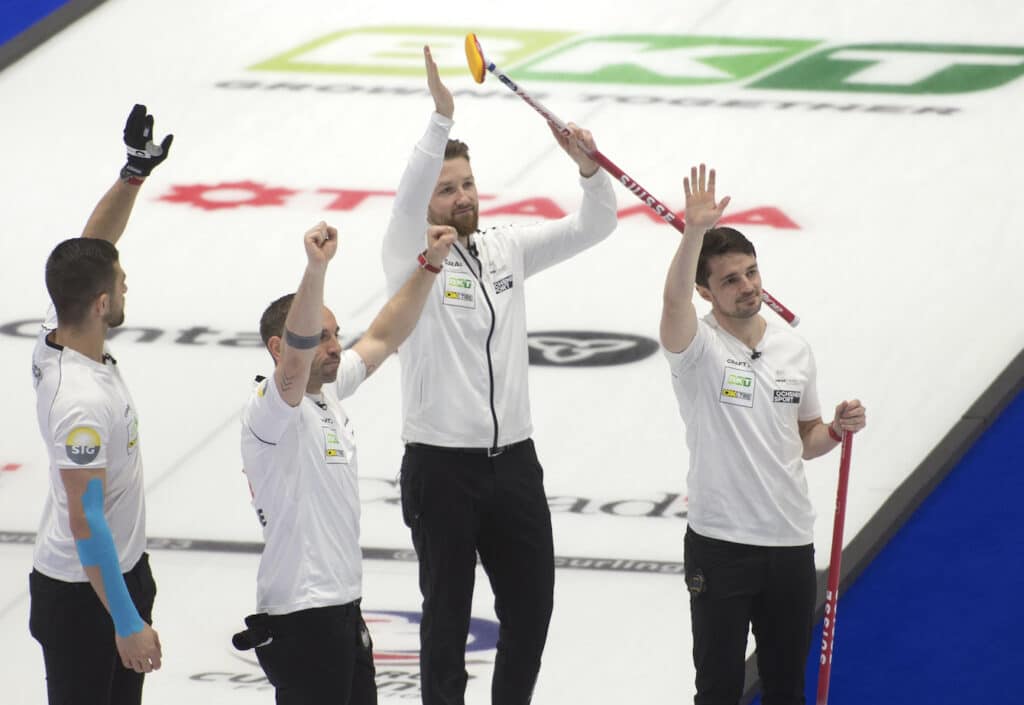 Team Switzerland heading home with world championship bronze medal
Team Switzerland has not won a world men's curling championship since 1992, ancient history, really, but skip Yannick Schwaller believes his time will come.
Not this year, but a bronze medal earned by Schwaller's Swiss team at the 2023 BKT Tires & OK Tire World Men's Curling Championship in Ottawa means he's close.
"After yesterday's semis it still stings a bit, but to medal in a field like this with so many teams that are very in-form feels great," said Schwaller, who defeated skip Joel Retornaz's Team Italy 11-3 in the bronze-medal game Sunday at TD Place. "A medal is a medal."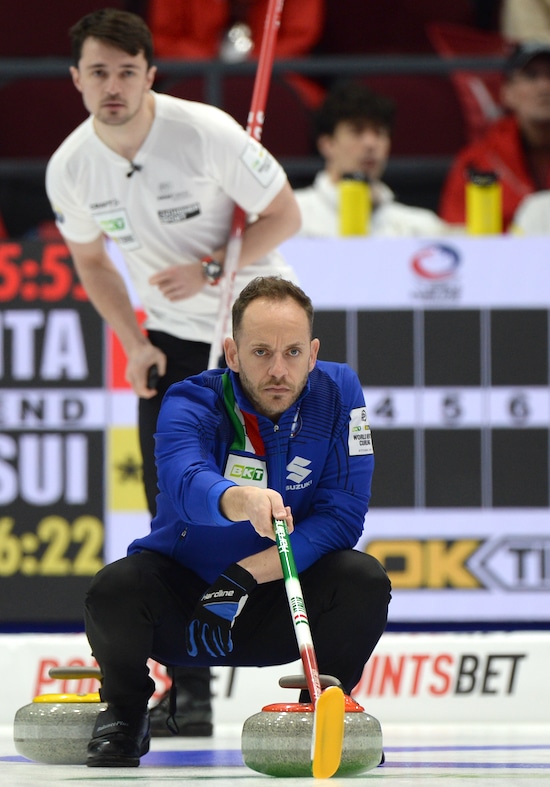 It was the 12th bronze medal won by Switzerland at the world men's event, and 21st overall.
Schwaller, 27, took over the Swiss team that was previously skipped by Peter De Cruz prior to this season. The team features Benoit Schwarz throwing fourth stones, Sven Michel at second and former alternate Pablo Lachat at lead, along with team coach Haavard Vad Petersson and national coach Thomas Lips.
The revised team had visions of bigger things this year in Ottawa, and was well on its way to achieving them. The Swiss slam-banged their way to an 11-1 round-robin record, but came up short Saturday in the semifinals against skip Brad Gushue's Team Canada.
The Canadians face skip Bruce Mouat's Team Scotland for the gold medal later in the day.
The loss to Canada relegated the Swiss to Sunday's bronze game, and while disappointed, Schwaller wanted a medal and a top-three placing.
It was the fifth bronze medal for Schwarz at the worlds, but he still looked at it as a positive experience.
"I'd be lying if I said I'm not disappointed from yesterday," said Schwarz. "But it's a medal at the worlds in this field, and I have a lot of respect for that. We have two guys (Schwaller, Lachat) that never had a medal. You never know when you have a chance for medals, so when you do you have to take them."
It was a tough assignment for the Italians, who came within a whisker of defeating the Scots the night before for a place in the gold-medal final.
Retornaz guided Team Italy to a bronze last year in Las Vegas, the first world medal in men's curling for his country, but a second was not to be.
The Swiss, as they have done often this week, jumped into the lead with a deuce in the second, and stole another in the third when Retornaz just missed a slash into the four-foot that could have netted a bundle.
Things got worse for the Italians in the fourth and fifth ends when Team Switzerland stole five more points.
Gushue, supported by third Mark Nichols, second E.J. Harnden, lead Geoff Walker, alternate Ryan Harnden, team coach Caleb Flaxey and national coach Jeff Stoughton, will be looking for his second world title. He went undefeated in Edmonton to win gold in 2017.
Live scoring, standings and statistics for the 2023 BKT Tires & OK Tire World Men's Curling Championship are available by CLICKING HERE.
TSN and RDS will provide coverage of the 2023 BKT Tires & OK Tire World Men's Curling Championship. CLICK HERE for the complete schedule.
For ticket information for the 2023 BKT Tires & OK Tire World Men's Curling Championship, go to www.curling.ca/2023worldmen/tickets/
This story will be available in French as soon as possible at www.curling.ca/2023worldmen/nouvelles/?lang=fr