A winning start!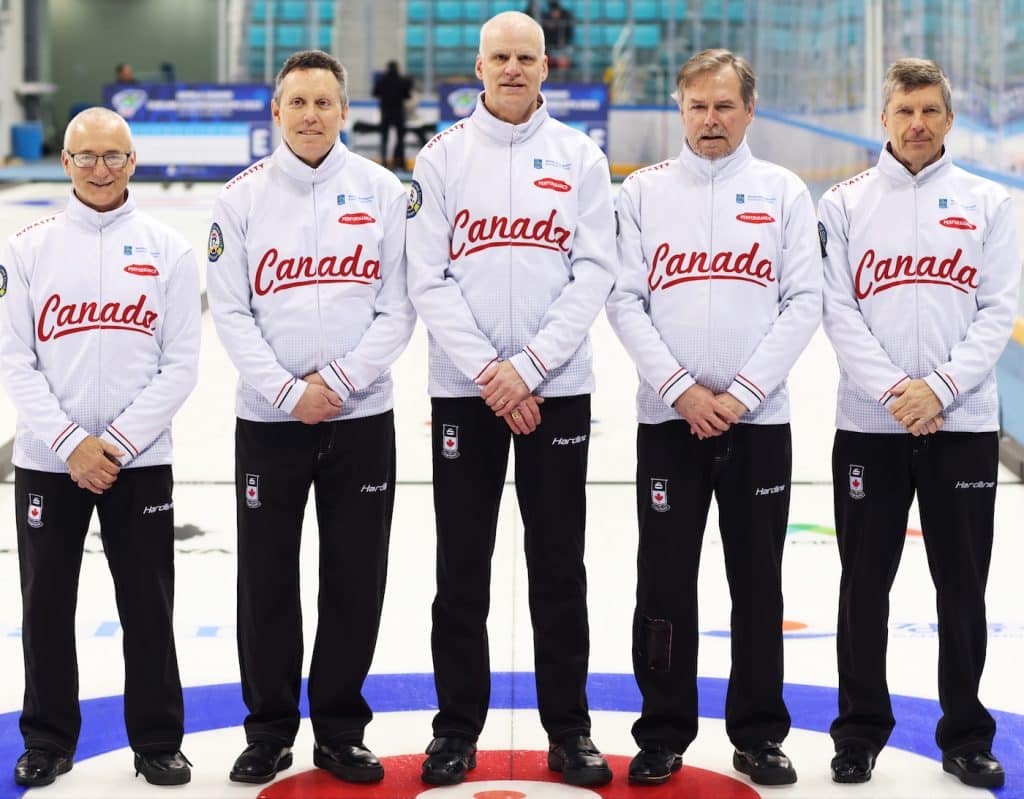 Canadian men cruise to victory in World Seniors opener
It took a couple ends for Canada's Team Howard Rajala to get acclimatized to not only the nerves that naturally accompany a first world championship ambiance, but also the ambiance of a cavernous 10,000-seat arena in Gangneung, South Korea.
But once those two ends were done Friday night at the Gangneung Hockey Centre, Rajala, vice-skip Rich Moffatt, second Chris Fulton, lead Paul Madden and alternate Phil Daniel looked just as comfortable as they do playing the Tuesday Night Cash League on their home ice at the Rideau Curling Club in Ottawa.
Wearing the Maple Leaf for the first time, Team Rajala cruised to a 12-0 win over Denmark's Team Hans Peter Schack, starting its bid to put Canada on top of the senior men's medal podium for the fourth straight time.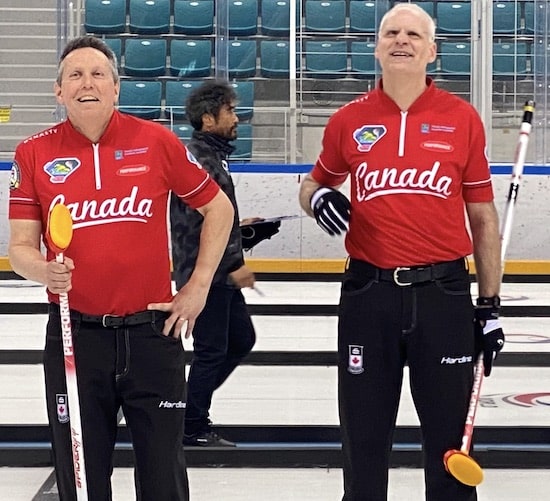 "We didn't make a lot of shots, but we survived them," said a chuckling Rajala, whose team in Gangneung is rounded out by national seniors coach Bill Tschirhart. "And then we got more comfortable. I'm not sure what it was, We just didn't catch on to the speed right away. So after that, it worked out."
Canada had the hammer but spent much of the first two ends in chase mode and unable to generate any offence. But they caught a break late in the second on a couple misses from Schack that allowed Rajala to pull a deuce out of the hat.
"You know, I was trying to play a relatively clean game, but it wasn't working out," said Rajala. "But yeah, it was nice to get that deuce (to take control)."
That's all it took as for the remainder of the game, the Canadians never gave Denmark a sniff and piled on the points with a steal of three in the third end, and stolen deuces in the fourth and fifth ends before another steal of three in the sixth prompted a concession from the Danes.
Wearing the Maple Leaf for the first time on the world stage was an experience Rajala said he'll treasure forever.
"It was super special," he said. "Just seeing our wives and kids and the Canadian fans with the Canada flag waving and hearing them cheering us on? Fantastic."
Team Canada is back on the ice Saturday at noon (11 p.m. Friday ET) against Belgium's Team Stefan Van Dijck.
Women's competition at the 2023 World Seniors kicks off Saturday, with Canada's Team Sherry Anderson (vice-skip Patty Hersikorn, second Brenda Goertzen and lead Anita Silvernagle) from Saskatoon opening its round-robin slate at 4 p.m. (3 a.m. ET) against Japan's Team Team Miyuki Kawamura.
For Team Canada updates, go to www.curling.ca. Follow us on Twitter, Instagram and Facebook.
For the list of teams, draw information and live scoring, visit the event website, worldcurling.org/events/wscc2023/
The French version of this story will be posted as soon as possible at www.curling.ca/?lang=fr