Both Canadian teams win!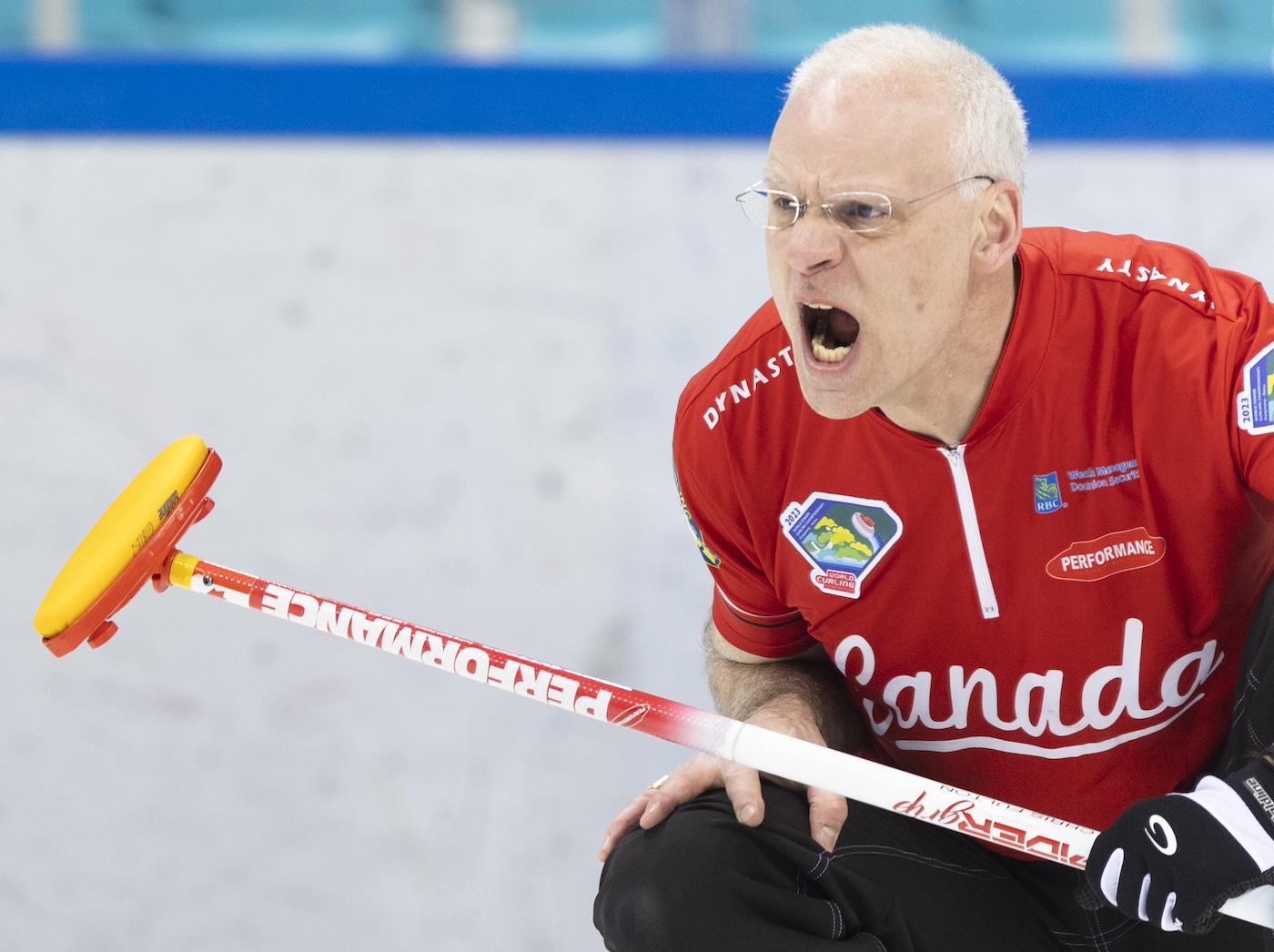 Pair of wins for Canadian teams at 2023 World Seniors
Canada's teams were in winning form Monday at the 2023 World Senior Curling Championships in Gangneung, South Korea.
Team Howard Rajala of Ottawa and Team Sherry Anderson of Saskatoon both picked up their third wins of the tournament, which is being played at the Gangneung Hockey Centre.
But neither win was easy.
Team Rajala got back into the win column with a 7-4 triumph over the Czech Republic's Team Radek Zdarsky (2-2), and did it in reasonably tidy fashion after a disappointing loss to Hungary on Sunday.
"It's nice to be back on the right track," said Team Canada lead Paul Madden, who along with Rajala, vice-skip Rich Moffatt, second Chris Fulton, alternate Phil Daniel and national coach Bill Tschirhart improved to 3-1 — just behind the 4-0 Hungarians, skipped by Gyorgy Nagy. "We kind of took control early and never really gave it up. We were a little rushed towards the end (on the time clock), but other than that, yeah, we played well. We still have some work to do; that last end got a little dicier than it needed to be, but overall, it was a pretty solid effort."
Canada opened the game with Rajala drawing for two in the first end and never looked back, putting the game on ice, for all intents and purposes, with a steal of two in the fourth end when Zdarsky flashed on an open hit.
It was a perfect tonic after losing Sunday on a sheet of ice that has markedly different conditions than the other five thanks to a set of rocks that doesn't match those used on the other five sheets.
"That sheet was totally different than the others and I think it just caught us a little off guard a couple of times," said Madden. "So we were back on more familiar conditions where we'd been more successful and we had our (draw) weight for the most part. It's not like we played terrible (on Sunday); just a few shots here and there."
The Canadian men are back on the ice Tuesday at 4 p.m. (3 a.m. ET) against Poland's Team Damian Herman (1-3).
Team Anderson, meanwhile, was in a struggle all afternoon with Margie Smith's U.S. team — the same team that knocked Team Anderson out of the playoffs at the 2022 World Seniors in Geneva, Switzerland.
Time and time again, the Canadian champs had some good ends percolating, only to see them snuffed out on wonderful shots from Smith.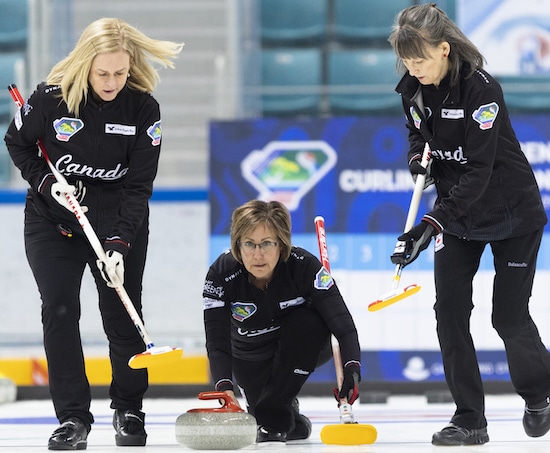 But in the sixth end, Anderson, vice-skip Patty Hersikorn, second Brenda Goertzen, lead Anita Silvernagle and Coach Tschirhart finally got a miss out of Smith, who was heavy on her draw for a single to leave Canada a go-ahead steal of two that would lead to a dramatic 7-6 win.
The U.S. would come back with two in the seventh, but Anderson made a hit for the winning deuce in the eighth end to cap the victory.
"We never give up, you know," said Goertzen after the game. " We're in it to the end, we keep chugging along and doing what we can. We can't let the score get us down; we have to keep fighting."
Goertzen said Smith's stellar play was no surprise considering her past history against Team Canada. So getting the win on Monday provided a little extra satisfaction.
"We've played her before and she's made some big shots against us," said Goertzen. "It's a sigh of relief; it was a good win."
With the victory, Canada remained unbeaten at 3-0, while the U.S. dropped to 2-2.
It'll be a two-game day for the Canadian women on Tuesday; they play Hong Kong's Team Ling-Yue Hung (0-3) at 8 a.m. (7 p.m. Monday ET) and New Zealand's Team Joanna Olszewksi (1-1) at 8 p.m. (7 a.m. ET).
For Team Canada updates, go to www.curling.ca. Follow us on Twitter, Instagram and Facebook.
For the list of teams, draw information and live scoring, visit the event website, worldcurling.org/events/wscc2023/
The French version of this story will be posted as soon as possible at www.curling.ca/?lang=fr