Canada tops Czechs!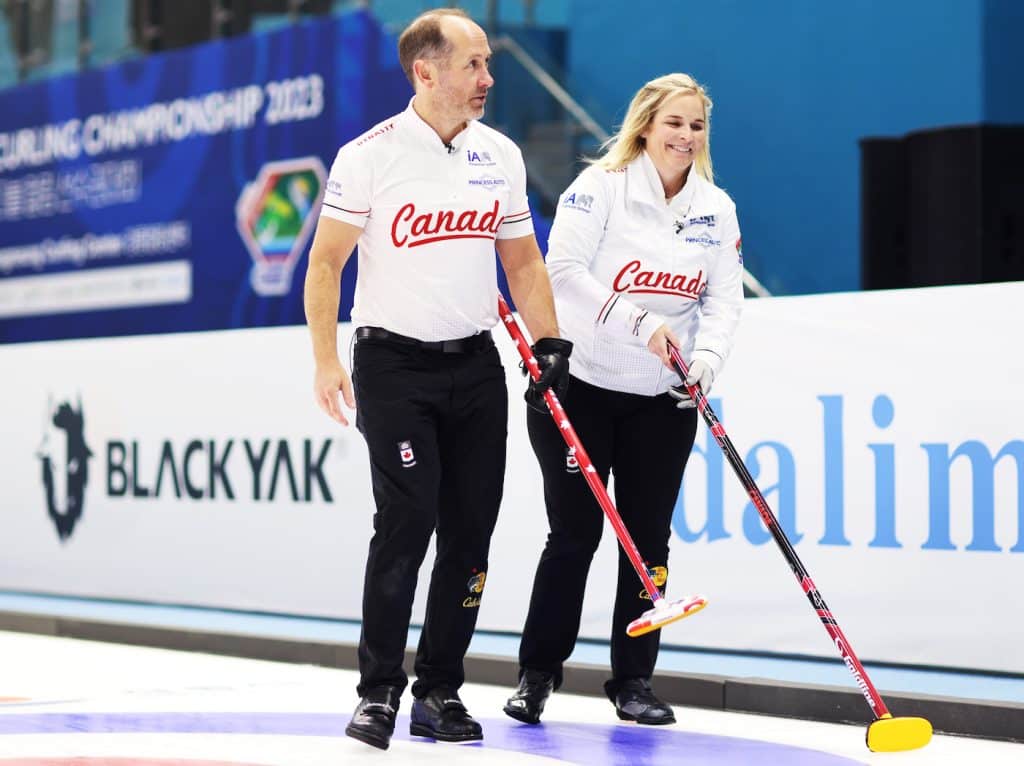 Jones, Laing move closer to securing playoff spot at World Mixed Doubles
Jennifer Jones and Brent Laing aren't looking beyond their next game, but they're very well aware that the stakes are getting higher with each passing day at the 2023 World Mixed Doubles Curling Championship.
The Canadian team from Horseshoe Valley, Ont., won its only game Tuesday at the Gangneung Curling Centre in Gangneung, South Korea, defeating a young Czech Republic entry of 17-year-old Julie Zelingrova and 18-year-old Vit Chabicovsky 8-3.
The win left Jones and Laing, team coach Glenn Howard and national coach Scott Pfeifer with a 5-1 record, tied for first place with Estonia's Marie Kaldvee and Harri Lill in their 10-team round-robin pool, from which three teams will advance, along with three teams from the other pool, to the playoffs, which begin Friday.
"'It's great to know that our playoff destiny is in our hands and we know that if we keep playing well and try to win a couple more games, we should have a chance at the playoffs," said Jones. "That's really what the goal was at the beginning of the week."
But that first-place perk — a bye to the semifinal — is definitely on the minds of Jones and Laing. They would need to finish clear of the Estonians, who beat Canada in their round-robin encounter earlier this week.
"Well, it's an extra game you don't have to play so it's important," said Laing. "The six teams that are going to make the playoffs, I think all six will have a chance to win so if you only have to play two of them instead of three, that's good news. And getting into the semifinal, you're one win away from the final instead of two. And you're guaranteed a medal game. But it's out of our hands at this point (with Estonia needing to lose at least once in its final three games for Canada to have an opportunity to finish first). We just have to take care of our business and make sure we're in the playoffs."
Canada, buoyed by swinger ice conditions after the stones were sandpapered overnight, was in superb form against the Czechs, setting the tone early with a well-crafted deuce in the first end, finished off by an open hit by Jones.
After forcing the Czechs to one in the third, Jones made a wonderful shot in the third to score three, barely catching a sliver of a Canadian stone to push it straight sideways and remove a Czech stone that was sitting second shot.
She made another big-weight dandy to score another three in the fifth end, a precise angle-raise takeout to blast the Czechs' counting stone off the button.
For good measure, she added a double-takeout in the sixth end that neutralized a Czech power play; the Czechs were forced to a single, and they conceded immediately after.
"She's a banger from way back," said Laing with a laugh. "Jen played really well. And I thought we did a good job with our first game after the sanding of the rocks. There was a little more curl, which was fun to see. I thought we played pretty well, all things considered, but Jen was exceptional."
It's a two-game day on Wednesday for Jones and Laing. At 10 a.m. (9 p.m. Tuesday ET), Canada plays Denmark's Jasmin Lander and Henrik Holtermann (2-4). Then, at 6 p.m. (5 a.m. ET), Canada will take on Hungary's Linda Joo and Lorinc Tatar (1-5).
The World Curling Federation's live-streaming platform The Curling Channel will be the only to watch games from the World Mixed Doubles Championship, and all sheets will be shown. More information is available by CLICKING HERE.
For the latest scores, draw and list of teams, visit the event website.
The French version of this story will be posted as soon as possible at www.curling.ca/?lang=fr.