Heading to the playoffs!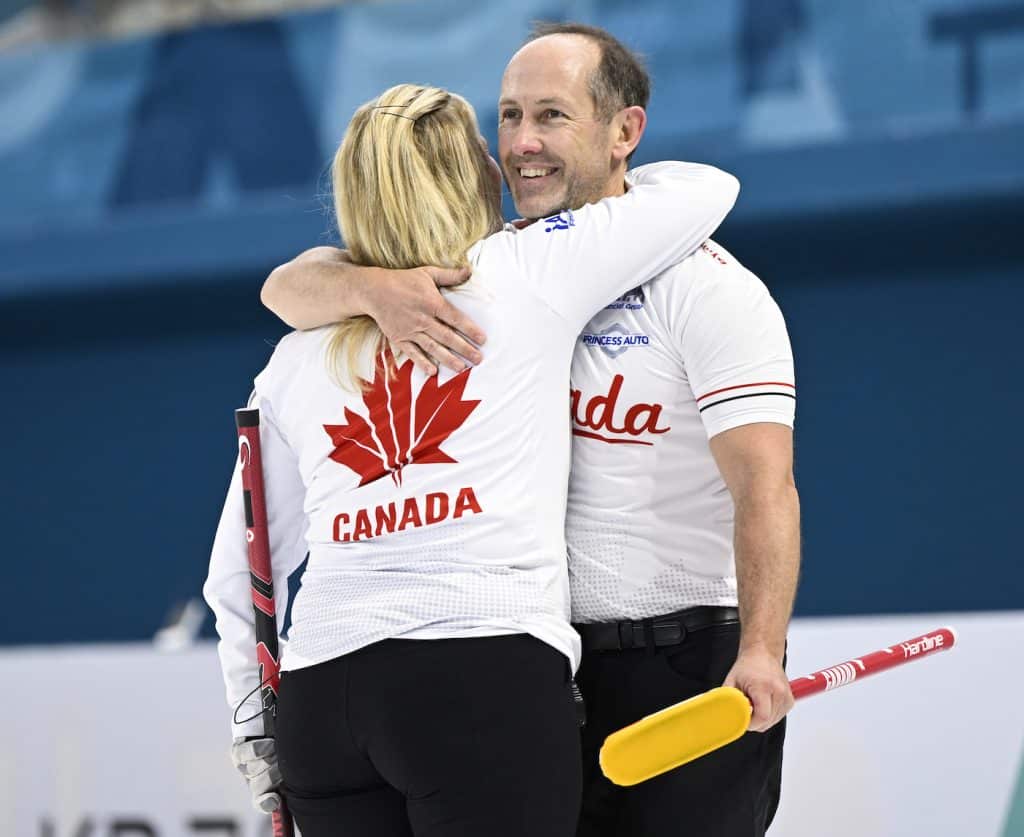 Canada's Jones, Laing secure World Mixed Doubles playoff spot with stolen win over Hungary
It will not get any style points, but it will be a firm reminder of the kind of tenacity that Jennifer Jones and Brent Laing can bring to a sheet of curling ice.
The Canadian champions from Horseshoe Valley, Ont., had an off night Wednesday at the 2023 World Mixed Doubles Curling Championship in Gangneung, South Korea, but there were still enough clutch shots made to steal an 8-7 extra-end win over Hungary's Linda Joo and Lorinc Tatar at the Gangneung Curling Centre.
The win improved Canada's record to 7-1, tied for top spot with Estonia's Marie Kaldvee and Harri Lill, although the Estonians hold the tiebreaker edge based on their win over Canada earlier in the week.
But based on Wednesday night's results, regardless of what happens in the closing draw of Group A round-robin play on Thursday, Canada, Estonia and Scotland's Jen Dodds and Bruce Mouat (6-2) will advance to Friday's playoffs.
The win over Hungary (1-7) capped a two-win day for Jones and Laing, who earlier sailed to an 8-2 win over Denmark's Jasmin Lander and Henrik Holtermann (3-5).
"It was tough," said Jones of the win over Hungary, which hardly looked like a one-win team that has been relegated to the B Division for 2023-24. "It was definitely a grind; they played very well and we had a hard time scoring a multiple end. But we hung in there. Experience helps, and we just had to make some good shots and put some pressure on them."
The Hungarians had taken a 7-5 lead by using a power play to score three in the seventh end.
Canada seemed to have a winning three-ender building in the eighth on its own power play, but back-to-back double-takeouts from Joo and Tatar limited the score to two, forcing the extra end.
In the ninth, Laing set up the win with a wonderful freeze to a pair of Hungarian stones buried behind a centre guard. Two peeled and replaced guards later, it was left to Joo to draw to a tiny piece of the button, and she came up heavy.
"Looking back, it's good to get a little bit of frustration in a game," said Laing. "We haven't had a ton of adversity this week. It's good to have to battle back and have some tight games, see what we're made of, and make some big shots, and we did that. It's fortunate they missed their last, but it was a really tough shot."
Canada completes round-robin play Thursday at 2 p.m. (1 a.m. ET) against the host country, South Korea's Team JiYoon Kim and ByeongJin Jeong (2-6); a win combined with a loss by Estonia to Team Vanessa Tonoli and Wouter Goesgens of the Netherlands (3-5) would give Canada first place and a bye to Friday night's semifinals.
Any other result would mean Canada will finish second in the pool and play in the playoff qualification round on Friday morning against the third-place finisher in Group B, with the winner moving on to the semifinal. The Scots are locked into third place regardless of what happens on Thursday.
"I'd like to put a full game together (on Thursday), a full eight ends and just try to go into the playoffs feeling really confident," said Jones. "We just want to play well; we're having so much fun, so I just want to play as many games as we possibly can."
In the early game, Canada didn't have the first-end hammer for the first time in seven games, but it didn't matter — Jones and Laing stole a point in the first end and never trailed, playing airtight defence along the way.
Canada would steal another single in the fourth end to take a 3-1 lead at the break, and then put the game away with a sixth-end deuce thanks to a precise takeout through a port from Jones, with superb brushing from Laing to hold the line. An end later, with the Danes going all out for a comeback, Canada stole three to end the game.
The World Curling Federation's live-streaming platform The Curling Channel will be the only to watch games from the World Mixed Doubles Championship, and all sheets will be shown. More information is available by CLICKING HERE.
For the latest scores, draw and list of teams, visit the event website.
The French version of this story will be posted as soon as possible at www.curling.ca/?lang=fr