First place clinched!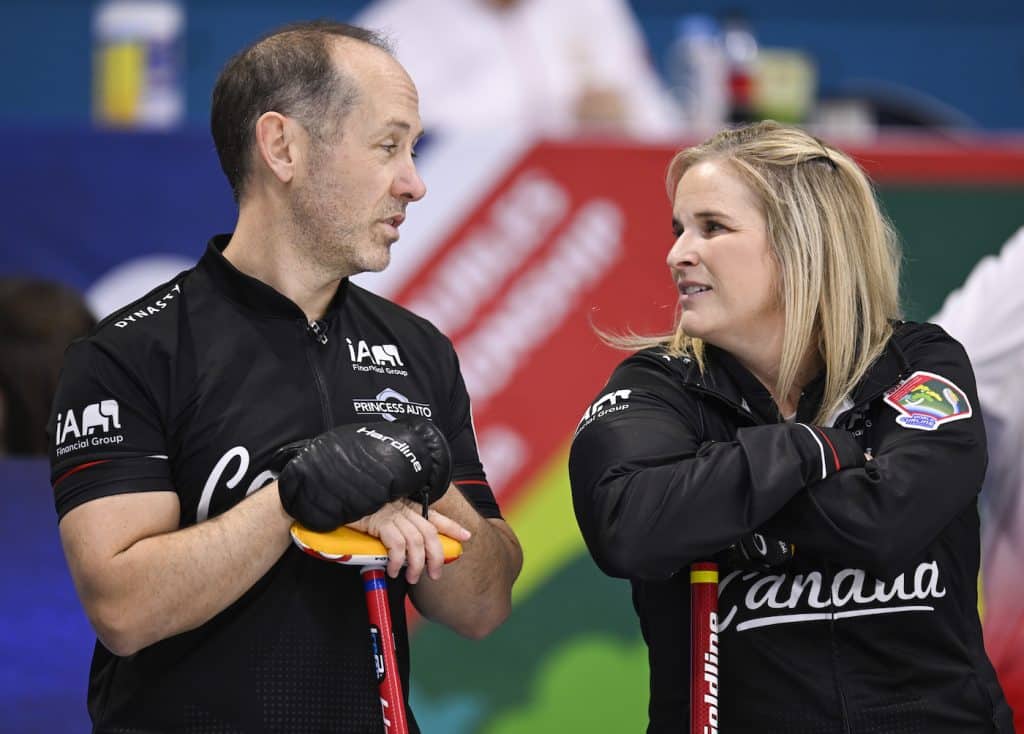 Jones and Laing headed to semifinal at World Mixed Doubles Championship
Jennifer Jones and Brent Laing arrived at the Gangneung Curling Centre early Thursday afternoon fully expecting they would end their round-robin schedule at the 2023 World Mixed Doubles Curling Championship in second place and needing to win a playoff qualifying game on Friday morning.
But to their surprise, they left the arena late Thursday afternoon with first place and a bye to Friday night's semifinals tucked into their back pockets — just two wins away from Canada's first gold medal at this championship.
Jones, Laing, team coach Glenn Howard and national coach Scott Pfeifer took care of their own business Thursday, beating South Korea's JiYoon Kim and ByeongJin Jeong 7-6 to finish with an 8-1 round-robin record.
Two sheets over, the other piece of the first-place puzzle fell into place when Vanessa Tonoli and Wouter Goesgens of the Netherlands (4-5) upset Estonia's Marie Kaldvee and Harri Lill 8-6, dropping the Estonians, who handed Canada its only loss, to 7-2 and into second place.
"That kind of came out of nowhere," said a still surprised Jones after completing the win over South Korea (2-7). "We just wanted to finish the round robin off strong, and obviously with a win, and we were quite content with second place. First place is just an added bonus."
With first place secure, Jones and Laing, from Horseshoe Valley, Ont., can rest up for the semifinal Friday at 6 p.m. (5 a.m. ET) against the winner of the qualifying game between Scotland's Jen Dodds and Bruce Mouat, who finished third in Canada's pool, and Cory Thiesse and Korey Dropkin of the United States, who finished second in the other pool.
Japan's Chiaki Matsumura and Yasumasa Tanida won the other pool to also advance to the semifinal, and await the winner of a qualifying game between Estonia and either Martine Roenning and Mathias Braenden of Norway or Briar Schwaller-Huerlimann and Yannick Schwaller of Switzerland.
The semifinal winners will play for gold Saturday at 2 p.m. (1 a.m. ET) while the losers go for bronze Saturday at 10 a.m. (9 p.m. Friday ET).
Despite the sudden change in circumstances, Laing said not much will change in the way he and Jones get ready for the playoffs.
"It just means I get to sleep in a little bit more and maybe not have breakfast so early," said Laing with a laugh. "Other than that, you prepare the same way."
The Canadians led all the way against South Korea, opening with a first-end deuce thanks to a nice shot by Jones to pick out a South Korean shot rock. They stole one more in the second, and took control with a count of three in the fourth end on another Jones dandy, a short angle-raise takeout.
The South Koreans clawed their way back in during the second half, but Canada withstood the comeback.
"We played not bad," said Jones. "We kind of got caught on a couple of shots and but all in all, I feel like we're making the shots when we need to make them, and we just want to try to make a couple more heading into the playoffs."
"Jen made all the first shots and that's why we never really got in much trouble," added Laing. "I had a couple of question-mark throws or results, but other than that, we're really close to where we want to be.
"Playoff time is always fun; well, the whole week has been fun. I mean, you look around and you see all the other countries' names, that's always a good sign. World championships are hard to get to. So it's been great. Two more wins would make it extra special. We'll do everything we can to do that, but we'll see where it goes."
The World Curling Federation's live-streaming platform The Curling Channel will be the only to watch games from the World Mixed Doubles Championship, and all sheets will be shown. More information is available by CLICKING HERE.
For the latest scores, draw and list of teams, visit the event website.
The French version of this story will be posted as soon as possible at www.curling.ca/?lang=fr