Playoffs up next!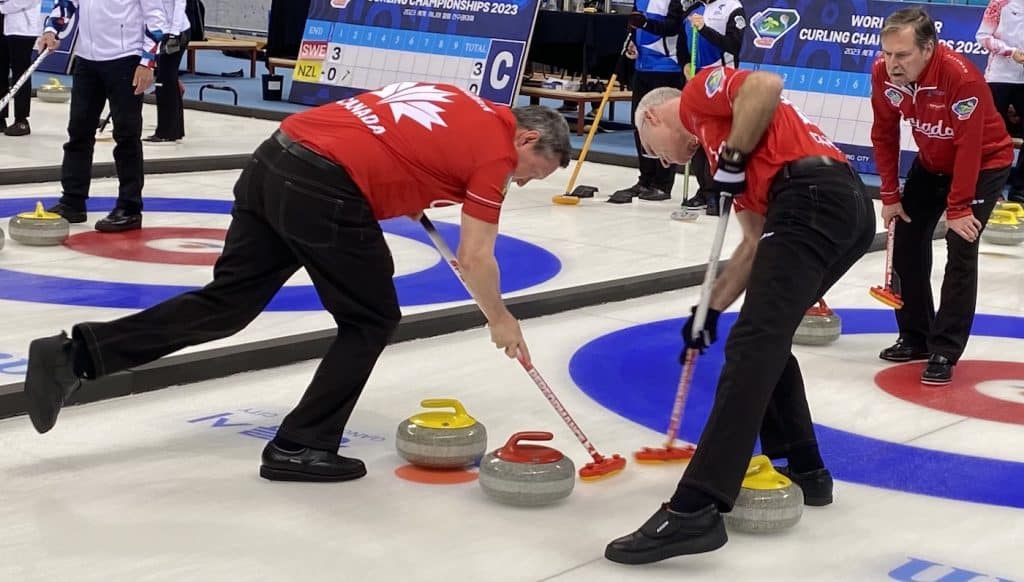 Canadian teams set to begin playoff quest at World Senior Championships
Priority No. 1 has been taken care of by both Canadian teams competing at the 2023 World Senior Curling Championships in Gangneung, South Korea.
Now, the real work begins, as both Team Howard Rajala of Ottawa and Team Sherry Anderson of Saskatoon enter the single-knockout, sudden-death phase of this event, and the pressure will be ramping up significantly at the Gangneung Hockey Centre.
The Canadian men capped their round-robin schedule on Thursday night, rolling to a 10-3 win over Japan's Team Tamotsu Matsumura to finish with a 6-1 record — good enough for second place in their pool behind unbeaten Team Gyorgy Nagy of Hungary (7-0).
With that result, Rajala, vice-skip Rich Moffatt, second Chris Fulton, lead Paul Madden, alternate Phil Daniel and national senior coach Bill Tschirhart will be seeded fourth in the eight-team playoffs, which kick off Friday at 1 p.m. (midnight ET).
Canada will take on fifth-seeded Team Bill Gray of Ireland (6-1) in one of four quarterfinals. The top two teams in each of the three pools, plus the two third-place teams with the best Draw Shot Challenge results, qualified for the quarterfinals.
The four winners will move into Friday night's 7 p.m. (6 a.m. ET) semifinals, and the gold- and bronze-medal games will be played Saturday at 10:30 a.m. (9:30 p.m. Friday ET).
So three wins now separate Canada from a 13th gold medal in the history of the World Senior Men's Championship, but Rajala is keeping his team's focus strictly on the Irish, who also finished with a 6-1 record.
"Well, these are going to be great games," said Rajala. "The other seven teams are really good. But we just love the competition, and we just grind and battle. We love these types of games. (Ireland) went six and one; great team. We have to beat them first."
Against Japan, Canada picked up a second-end deuce, and then took control by scoring three in the fourth end and stealing two more in the fifth. Japan dropped to 3-4 with the loss.
Team Joel Larway of the United States (7-0) will have the top seed for the quarterfinals and will be matched against Team Radek Zdarsky of the Czech Republic (4-3). In the other quarterfinals, Hungary will play Team Christof Schwaller of Switzerland (6-1), and Sweden's Team Mats Wranaa (7-0) will play Team Graeme Connal of Scotland (4-3).
Canada's men's team has played in the gold-medal game in all 19 previous editions of the World Senior Championships, winning 12 of those finals.
Rajala was the alternate on one of those Canadian teams that played a final — Bryan Cochrane's silver-medal team in 2017 at Lethbridge, Alta., losing to Team Wranaa in the final.
Team Anderson, meanwhile, tuned up for the playoffs with a 9-2 win over England's Team Manon Harsch (2-5).
Canada scored five in the first end and never looked back, and will now turn its focus to its playoff opener Friday in the semifinal at 7 p.m. (6 a.m. ET) against the winner of the playoff qualifying game between Sweden's Team Camilla Noreen (5-2) and Switzerland's Team Monika Gafner (5-1). The other semi will feature Scotland's Team Jackie Lockhart (6-0), a former world women's champion, against the winner of the qualifying game between Japan's Team Miyuki Kawamura (6-1) and Ireland's Team Dale Sinclair (4-2).
The top three teams in each of the two women's pools (one pool had eight teams, the other had seven teams) qualified for the playoffs.
Anderson, vice-skip Patty Hersikorn, second Brenda Goertzen, lead Anita Silvernagle and Coach Tschirhart will be looking to win a record third World Senior Women's gold medal, but how much that past experience will help is debatable, said Anderson.
"I mean, it didn't help the first year when we won (in 2018) and we had never been to a world championship," she said with a smile. "I mean, it certainly helps; experience never hurts anything, right? Unless it's bad experiences, I guess. But we do know that you don't want to say that there's a next year. In Canada, and especially in Saskatchewan, we tend to say, oh well, there's always next year. We're getting to the age where maybe there isn't a next year. And we're not coming back to the worlds next year (after not winning the Saskatchewan senior women's title this season). So who knows, this might be our last chance to do it.
"After the way it ended last year (losing out in the first round of the 2022 World Senior Championships playoffs in Geneva, Switzerland), we just want to go in and say OK, we finished with no regrets."
The semifinal winners will play for gold while the losers will play for bronze; both games are set for 10:30 a.m. Saturday (9:30 p.m. Friday ET).
For Team Canada updates, go to www.curling.ca. Follow us on Twitter, Instagram and Facebook.
For the list of teams, draw information and live scoring, visit the event website, worldcurling.org/events/wscc2023/
The French version of this story will be posted as soon as possible at www.curling.ca/?lang=fr.