Four and Oh-So-Good!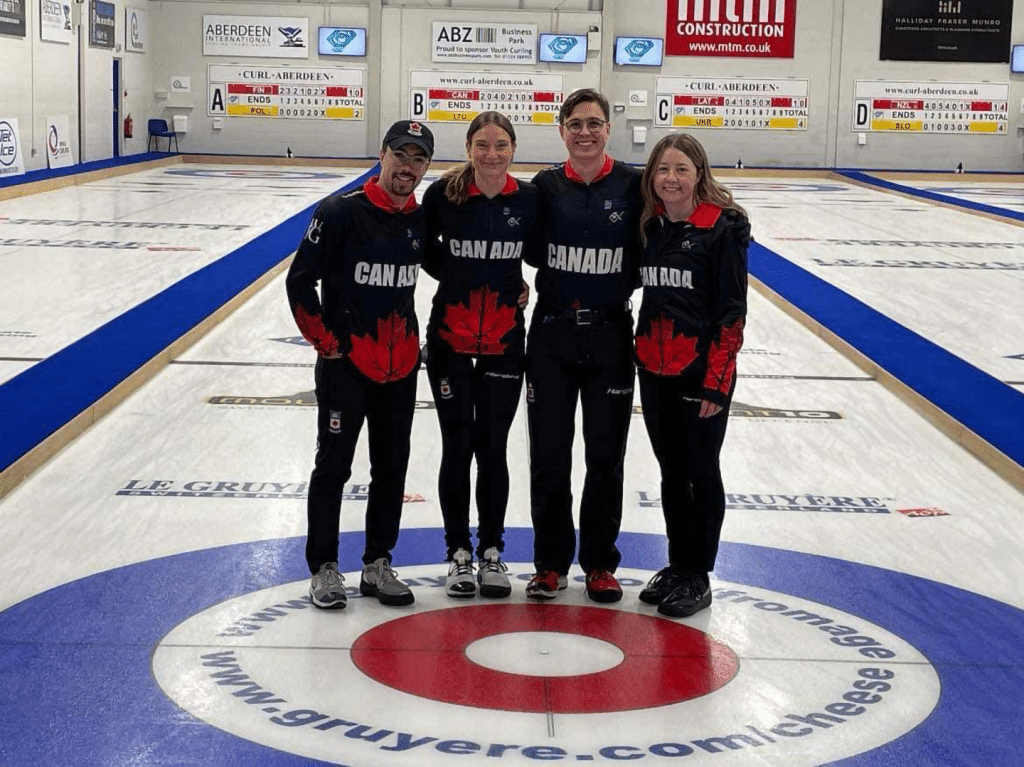 Canada improves to 4-0 in round robin play with 9-5 win over Lithuania at 2023 World Mixed Curling Championship
Through the halfway point of round robin play at the 2023 World Mixed Curling Championship at Curl Aberdeen, Scotland, Team Canada is continuing to gain momentum.
The Maple Leaf stayed atop the pool B standings with another strong showing Monday morning, defeating Team Lithuania (Paulius Rymeikis; 0-3) 9-5, improving to a 4-0 record.
With four games remaining in round robin play, it's early still for Team Canada to think about the playoff picture, but the team, who hail from the Glenmore Curling Club (Montréal) of skip Felix Asselin, vice-skip Laurie St-Georges, second Émile Asselin, lead Emily Riley, and coach Michel St-Georges, is keeping its expectations in check.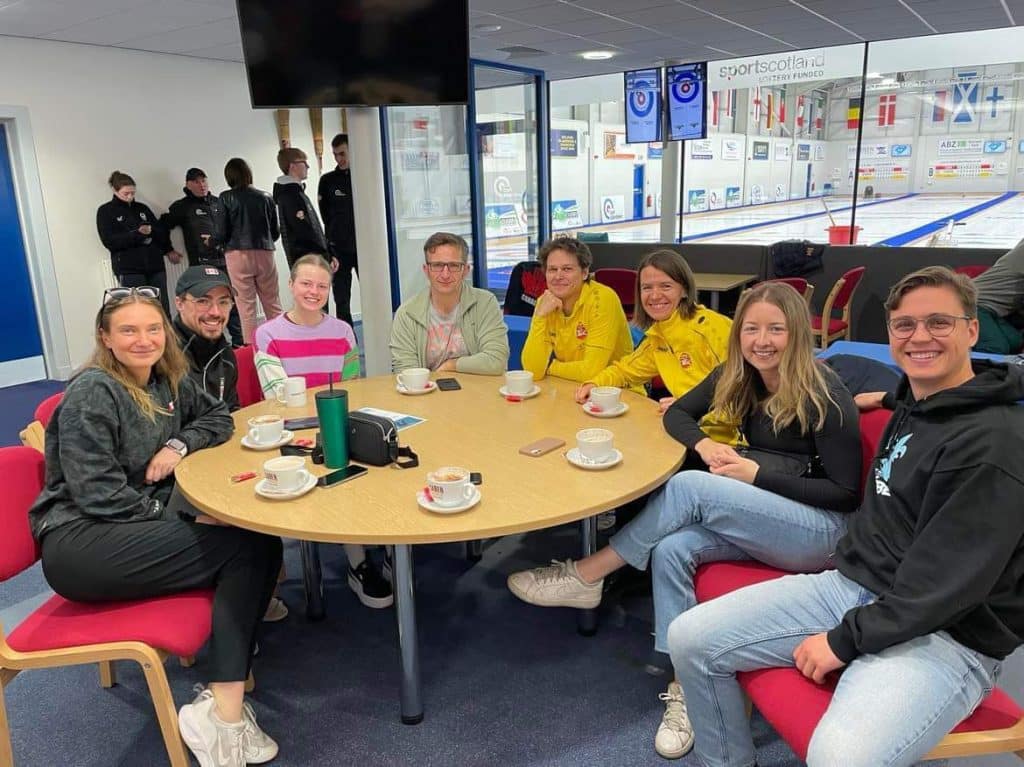 "I think we are all doing a good job not thinking too far ahead and staying in the moment," said second Émile Asselin. "We want to think of this one game at a time and get as many wins as we can."
It's a balanced perspective for Team Canada, and one that will serve it well as the pressures of world championship play continue to ramp up. Lithuania Gave Canada a scare in the second end of its Monday morning matchup, scoring three points with hammer, and leaving the Canadians trailing 3-2. It would mark the first moment of the world mixed championship that Canada had ever trailed in a match.
Canada would respond to the gut-check, however, and take four points of its own right back in the third end, followed by forcing Lithuania in the fourth to maintain a 6-4 lead at the break.
"After the second end, we all made sure we were still confident," said Émile Asselin of his team's attrition. "We had 2 bad misses late in the end that cost us, but we knew that we had played 14 good shots out of 16. We just wanted to stay focused on the process and got good breaks in the third end."
The strong offensive performance for Team Canada shined largely thanks to its ability to capitalize on Lithuanian misses, of which there were plenty. Canada would make the best of Lithuanian miss on skip stones in the fifth to secure another score of two with hammer, before a missed Lithuanian double in the sixth end would result in a steal of one for Canada, marking a 9-4 lead.
"We were really able to capitalize on misses during the game," said Émile Asselin. "We felt like we were the ones putting the pressure on and just had to be patient."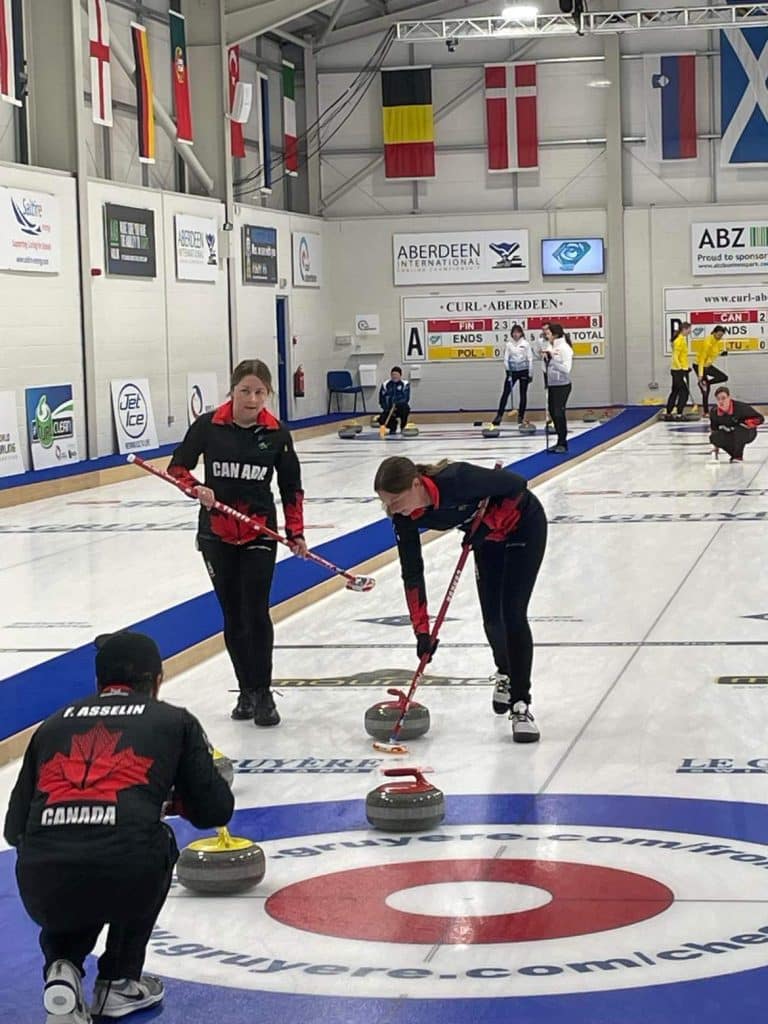 Lithuania would be forced to a single in the seventh end, only to then concede the match, cementing a 9-5 Canadian win.
There's still plenty left to play for as not all playoff berths at the 2023 World Mixed Curling Championship are created alike. At the end of the round robin, all teams qualified for the playoffs are ranked one to 12 in a merged group ranking system. The four group winners advance directly to the quarterfinal games.
Teams who placed second and third in each group will play qualification games on Friday, Oct. 20 to determine the last four teams in the play-offs.
The quarterfinals will take place on Friday at 1 p.m. (all times Eastern).

The winners of the quarterfinals will play in the semifinals on Saturday at 4:30 a.m. The medal games will take place on Saturday at 9:30 a.m.
Canada will turn its attention to a two-game day on Tuesday versus Poland (Andrzej Augustyniak; 2-2) at 3 a.m., followed by facing New Zealand (Dave Watt; 3-0) at 11 a.m.
Live streaming of select matches from the 2023 World Mixed Curling Championship will be available. For more information, click here.