Quarterfinal-Bound!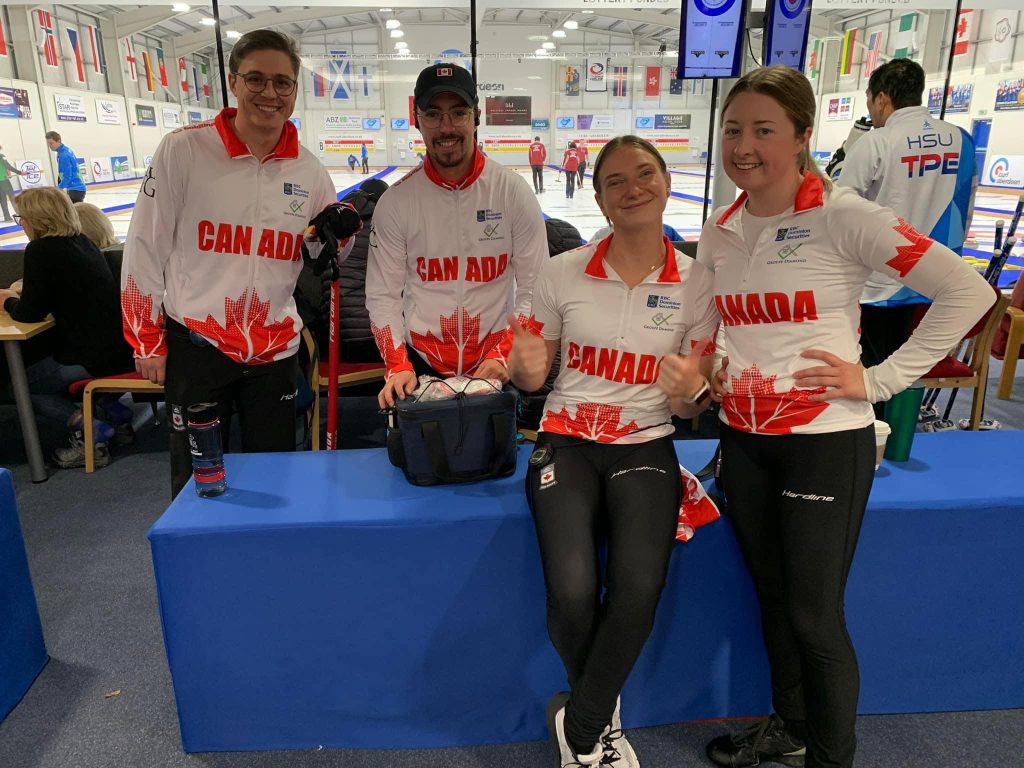 Canada surges late over Slovenia to cement quarterfinal berth at 2023 World Mixed Curling Championship
Team Canada secured a quarterfinal berth on Wednesday defeating Slovenia (Stefan Sever; 3-3) by a 7-5 score at the 2023 World Mixed Curling Championship at Curl Aberdeen, in Scotland.
The win improves Canada's record to 7-0 and guarantees its placement atop pool B, earning it a direct bye to a quarterfinal.
It's welcome news for Team Canada, staffed by skip Félix Asselin, vice-skip Laurie St-Georges, second Émile Asselin, lead Emily Riley and coach Michel St-Georges of the Glenmore Curling Club in Montréal, who has had the playoff picture in its sights.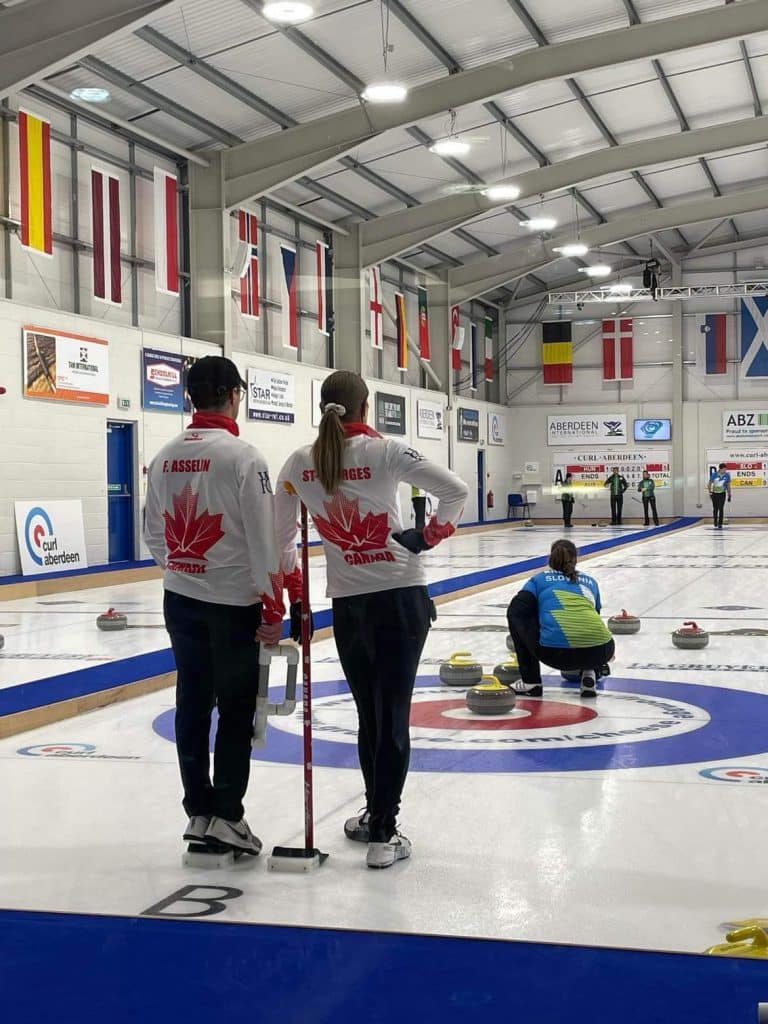 "We are really happy to have the berth to the quarterfinals – our first goal is locked in," said Team Canada lead Emily Riley. "I think we are getting better and better at managing the ice and building confidence as we go. It was a great thing to have a good challenge at this point in the week to give us some confidence for the playoffs. We are ready for some good challenges in the playoffs."
Unlike the majority of Canada's world mixed campaign thus far, Wednesday's win did not come easily, as Slovenia would test the Canadians' resolve.
"Slovenia played a great game and it was great to have that challenge," said Riley. "It was a nice test for our team to have some pressure, be patient, and finish strong."
Slovenia would open the match with a single in the first end before both teams would trade scores of two for the next four ends inclusively, seeing Canada trail 5-4 after the fifth.
Canada would be forced in the sixth end, before cracking the game open with a steal of two in the seventh on a squandered Slovenian hit-and-stay on its final stone.
"Obviously the steal of two in the seventh was a great bonus because it gave us some breathing room in the last end," Riley said. "They had a shot to take their one and we were fully prepared to set up for a two in the last end and to embrace the challenge of a close game."
Sensing a change in momentum, Canada then played a perfect eighth end, stacking the four-foot full of their own stones, complimented by guards up front. Canada would leave Slovenia chasing for the entire end and, ultimately, the pressure applied proved to be too much. Slovenia would concede the match before throwing its final stone, as it had no shot options to score two, marking a 7-5 win for Canada.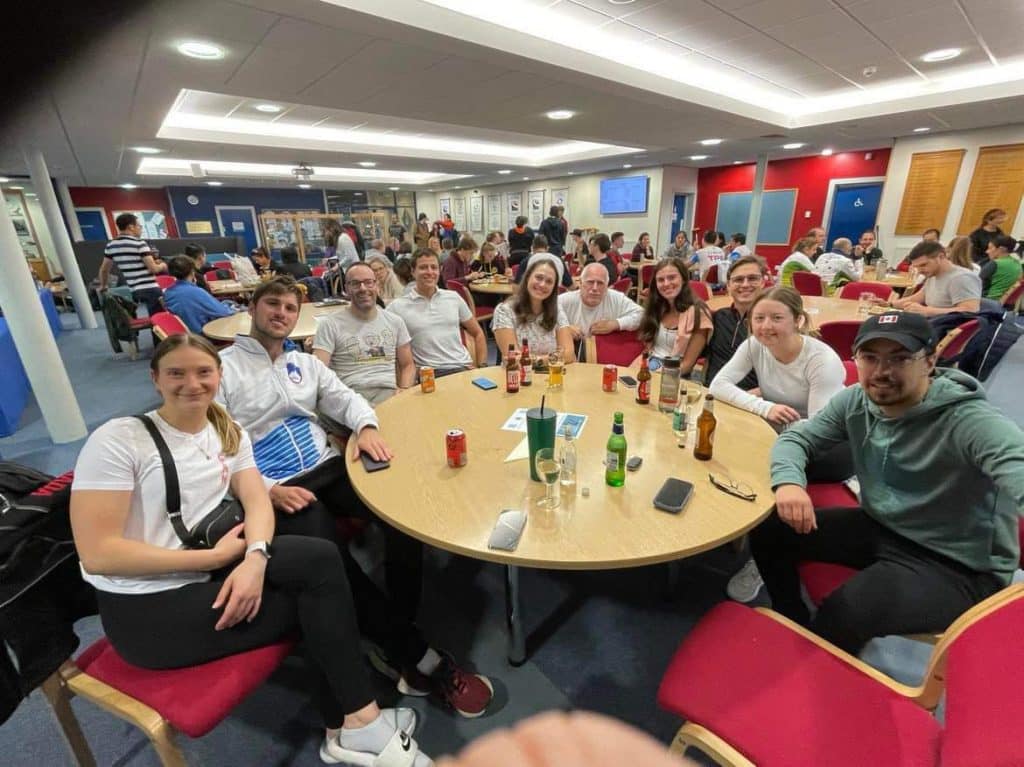 Though Canada is setting its sights on the quarterfinal, it still has one round robin game remaining versus Hungary (Gabor Ezsol; 4-3) on Thursday at 3 a.m. (all times Eastern).
It's a game Canada will approach like any other.
"Going into our last round robin game against Hungary, it's business as usual," said Riley. "It's an opportunity for us to keep building our confidence and carry this momentum into the playoffs. It's also a chance to keep enjoying the moment and keep enjoying the awesome experience we've been having here."
The quarterfinals will take place on Friday at 1 p.m.

The winners of the quarterfinals will play in the semifinals on Saturday at 4:30 a.m. The medal games will take place on Saturday at 9:30 a.m.
The World Curling Federation has live streaming of select matches from the 2023 World Mixed Curling Championship available. For more information, click here.