Successful European Tour!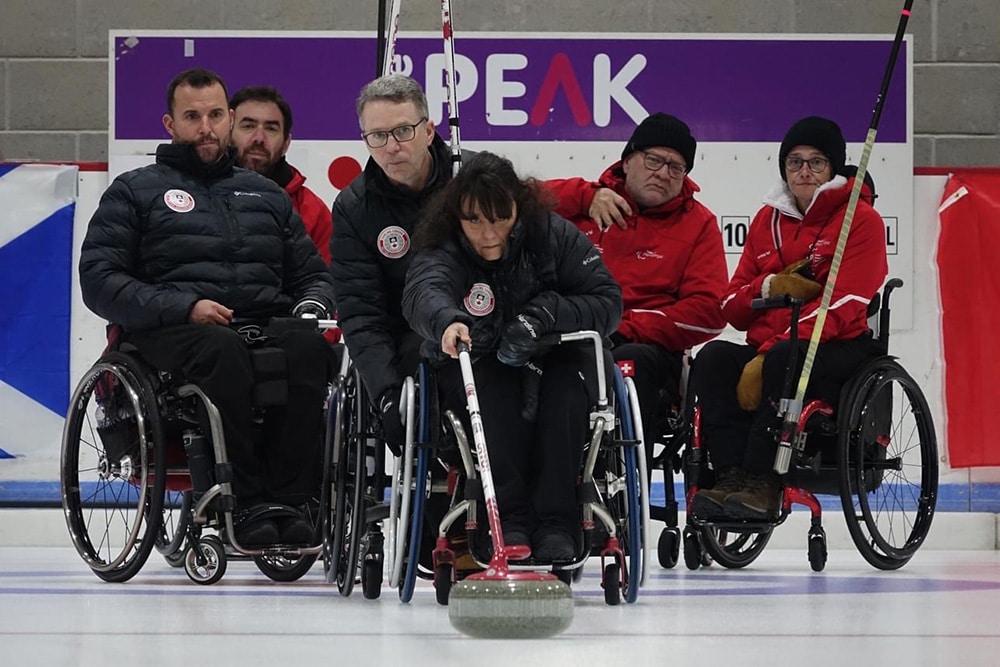 Canada's National Wheelchair Curling Program shines in international bonspiels
The National Wheelchair Curling Program started its competitive season with a bang, heading overseas to compete against some of the world's best teams in three events in Europe.
The first event on the international calendar was the Wetzikon International Wheelchair Curling Tournament in Wetzikon, Switzerland, from Oct. 13-15, 2023. Canada completed the round robin with a 5-0 record and won a silver medal in a well-played final against Slovakia.
Representing the National Program was the team of Jon Thurston, Ina Forrest, Douglas Dean, and Mark Ideson. Their efforts on the ice were supported by Kyle Paquette, Director, National Wheelchair Program; Kyle Turcotte, Strength and Conditioning Coach; and Sari Shatil, Lead Physiotherapist, National Wheelchair Program.
"We are incredibly proud of the team's performance in Wetzikon," said Paquette. "Our goal coming here was to test a few new on-ice tactics and to integrate a new, albeit experienced, player into a well-established lineup. The fact that we were able to accomplish our goals while finishing second in a deep field is a testament to the enhanced standards of performance reached by the athletes in the program. We do realize, however, that we have a tremendous amount of work ahead of us if we aspire to be on the podium at the World Championships in South Korea."
The momentum continued to Scotland, where four more National Program athletes joined the group to form two teams to compete at the Stirling Wheelchair Curling International at the Peak in Stirling, Scotland – the home of the British Curling Academy. The teams were:
Canada 1
Dennis Thiessen
Ina Forrest (skip)
Douglas Dean
Marie Wright
Coach: Kyle Paquette
Canada 2
Jon Thurston
Collinda Joseph
Gilbert Dash
Mark Ideson (skip)
Coach: Dana Ferguson
Both teams made the final four and played each other in the semifinals. It was a double podium performance for Canada, with Canada 2 winning silver and Canada 1 winning bronze. The teams in Stirling were also supported by physiotherapist Alysia Patience, who plays an integral role in helping the athletes to be in top physical condition to compete at their best.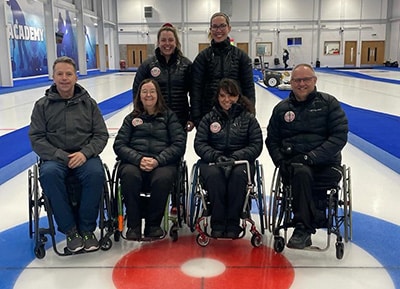 Following that event, four athletes stayed in Stirling to compete in the inaugural British Wheelchair Curling Mixed Doubles event. Canada was represented by Marie Wright and Gil Dash (Canada Red), and reigning World Championship bronze medalists, Collinda Joseph and Dennis Thiessen (Canada White). Dana Ferguson coached both teams to undefeated round-robin records, with the duo of Joseph/Thiessen winning gold in the playoffs, beating the host nation with last rock in the final end by a score of 8-6.
"Coming to Scotland and having a medal performance on both teams was truly amazing. I think it speaks to the work we've all put into being the best we can be and the outstanding support we've received from our coaches and integrated service team," said Joseph, who earned gold and silver during the trip to Stirling. "Both events had strong teams, so performing well was important to us. I learned a lot about the things that I need to improve upon as an individual performer but, more importantly as a teammate. Winning a medal in both events is a thrill and sharing that moment with the other athletes in this program is a joy!"
Altogether, a collective record of 22-6 for five teams across three events marked a successful start to the competitive season. The National Wheelchair Curling Program's impressive results in its first international events of the season are a testament to the commitment and efforts of the athletes and support staff.
Next, the National Team will come together in mid-November for a training camp in London, Ont., in advance of the Ontario Wheelchair Curling Open (Toronto, Nov. 24-26) and the Leduc Mixed Doubles Wheelchair Curling Event (Leduc, Alta., Dec. 6-9).