Opening victory!
Canada's Team Einarson downs Chinese Taipei in Pan Continentals opener
Playing a team it had never faced — in fact, a country that a Canadian women's team has never played — Canada's Team Kerri Einarson opened the 2023 Pan Continental Curling Championships Sunday morning in Kelowna with fairly basic priorities.
Learn the ice. Learn the rocks. And, of course, win.
Einarson, vice-skip Val Sweeting, second Shannon Birchard, lead Briane Harris, alternate Dawn McEwen and national coaches Renee Sonnenberg and Viktor Kjell successfully checked all three boxes at the Kelowna Curling Club, rolling to a 9-2 win over Chinese Taipei's Team Cynthia Lu.
"We're still trying to figure out the ice, but I thought we had a really good handle on it," said Einarson. "The speed is really good, and we're getting some curl."
In fact, while the Pan Continentals are being held in a club — albeit a big 12-sheet club that is among the biggest in the world — the ice conditions were very close to those found in arena events.
"It's really close to (arena conditions)," agreed Einarson, whose team is based in Gimli, Man. "(Chief ice technician) Hans (Wuthrich) and his ice crew have done a really good job with it. It's just a matter of getting the broom in the right spot for those lighter-weight shots."
For the most part, the Canadian team was doing that against a Chinese Taipei team that is entirely based in North America. Skip Lu lives in Campbell River, third Amanda Chou lives in Vancouver, second/vice-skip Heidi Lin is based in Richmond, B.C., lead Naomi Huang lives in Bethesda, Md., and coach Craig Lightbody calls New Westminster, B.C., home.
In fact, it was Chinese Taipei that had first-end hammer, it was Canada stealing a single in the first, and then forcing Chinese Taipei to one in the second. Einarson's hit for a pair in the third rolled out and Canada had to settle for one. But in the fourth, Canada, clearly getting more comfortable with the ice, would start turning up the heat.
It resulted in a stolen deuce in the fourth, three more stolen points in the fifth.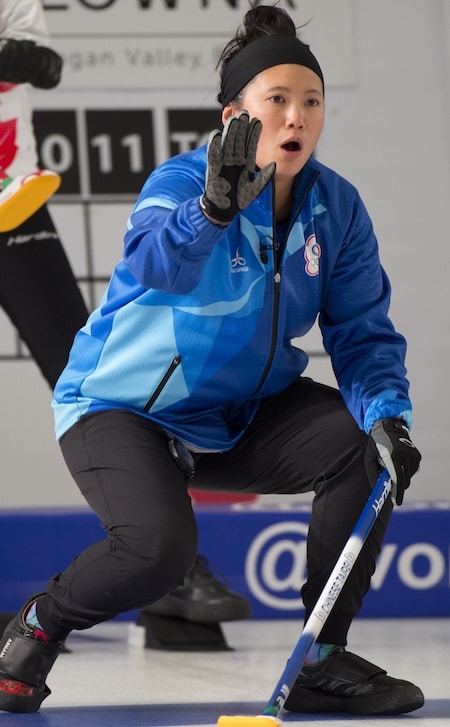 "During the fifth-end break, I said, 'Let's try to be even more precise,' " said Einarson. "We're always trying to learn and figure out the sheet because we have a lot of great games ahead of us."
Chinese Taipei would get a single in the sixth on a nice draw against three by Lu, but Einarson finished the game with a precise raise takeout for two in the seventh to prompt handshakes.
"I think we got a good handle on the paths and the speed of the ice; it feels really good out there," said Sweeting. "It was consistent through the game; we thought it might come down a little bit, but it held up. Overall, a really good first game.
"It's always exciting to put the Maple Leaf on your back and represent your country; we're super honoured to be here and be doing that. We never take it for granted; we just enjoy every moment of it."
In other opening-draw results on Sunday, South Korea's Team Eunji Gim beat Mexico's Team Adriana Camarena 10-1; Japan's Team Satsuki Fujisawa was a 9-4 victor over New Zealand's Team Jessica Smith; and Team Tabitha Peterson of the United States rolled to a 10-4 win over Australia's Team Jennifer Westhagen.
Canada is back in action at 7:30 p.m. (all times Pacific) against Japan.
Brad Gushue's Canadian men's team from St. John's, N.L., makes its Pan Continentals debut Sunday at 1:30 p.m. against South Korea's Team Jongduk Park.
Live scoring, standings and statistics for the 2023 Pan Continental Curling Championships is available by CLICKING HERE.
TSN will be carrying selected Canadian games from the 2023 Pan Continental Curling Championships. CLICK HERE for the full TSN schedule.
Other games are being streamed live on World Curling TV. CLICK HERE for details.
Ticket information for the 2023 Pan Continental Curling Championships is available by CLICKING HERE.
This story will be posted in French as soon as possible at www.curling.ca/category-all-posts-fr/?lang=fr