Opening-day split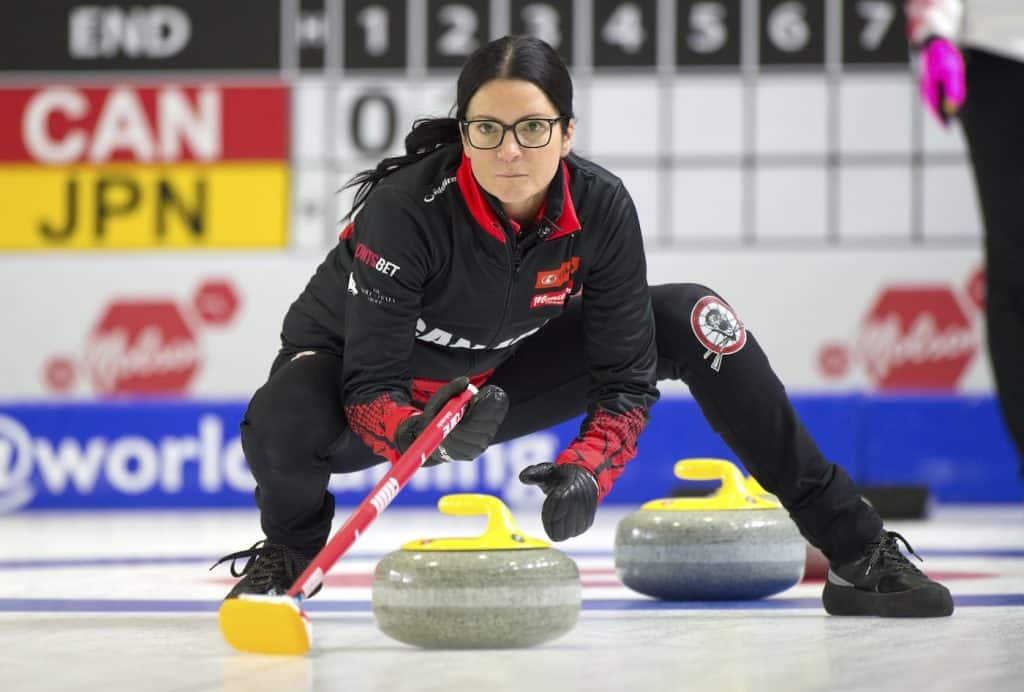 Canada's Team Einarson falls short to Japan at Pan Continental Championships
Canada's Team Kerri Einarson is on even ground after the opening day of the 2023 Pan Continental Curling Championships.
Einarson's Gimli, Man., team — rounded out by vice-skip Val Sweeting, second Shannon Birchard, lead Briane Harris, alternate Dawn McEwen, national coaches Renee Sonnenberg and Viktor Kjell — dropped a disappointing 10-7 decision to Japan's Satsuki Fujisawa (2-0) Sunday night at the Kelowna (B.C.) Curling Club.
That evened Canada's record at 1-1 after opening the Pan Continentals earlier Sunday with a 9-2 drubbing over Chinese Taipei's Team Cynthia Lu.
The Canadians were making most of the shots the first half of the game against Japan — Einarson, in fact, was scored at a perfect 100 per cent over her first nine shots. But on her 10th, the final shot of the fifth end, she missed a raise double takeout that presented a go-ahead steal of two to Japan, making the score 4-2.
Whatever was said at the fifth-end break clearly had an impact as Canadian roared back with three in the sixth to take back the momentum, but the roller-coaster ride continued in the seventh when Fujisawa played a wonderful raise takeout and spun her shooter just enough to get a go-ahead deuce in response.
That shot would prove deflating and decisive. Einarson was light on a draw in the eighth, resulting in another stolen deuce for Japan.
The Canadians would get the deuce back in the ninth after a rare pair of half-shots from Fujisawa, but couldn't generate the needed steal in the 10th.
"I thought their team played really well, and I know for myself, I wasn't super happy with my performance, so I'm looking to turn that around," said Birchard. "A couple shots here and there, and it's a different game. I think we can just take what we learned from this game and improve going forward."
The Canadians will have Monday morning off before returning to action Monday at 2 p.m. (all times Pacific) against Australia's Team Jennifer Westhagen (0-2).
"It's good to get a little bit of rest with a one-game day (Monday)," said Birchard. "(We'll) just refocus and leave today where it is, and take what we know about the ice going forward."
In other Sunday night games, South Korea's Team Eunji Gim (2-0) rolled to a 15-2 win over New Zealand's Team Jessica Smith (0-2); Team Tabitha Peterson of the U.S. improved to 2-0 with a 10-2 victory over Chinese Taipei (0-2), and Mexico's Team Adriana Camarena (1-1) needed an extra end for an 8-7 win over Australia.
The Canadian men (0-1), skipped by Brad Gushue, have a two-game day on Monday. The St. John's, N.L., team plays New Zealand's Team Anton Hood (1-0) at 9 a.m., and then play Team Korey Dropkin of the U.S. (1-0) at 7 p.m.
Live scoring, standings and statistics for the 2023 Pan Continental Curling Championships is available by CLICKING HERE.
TSN will be carrying selected Canadian games from the 2023 Pan Continental Curling Championships. CLICK HERE for the full TSN schedule.
Other games are being streamed live on World Curling TV. CLICK HERE for details.
Ticket information for the 2023 Pan Continental Curling Championships is available by CLICKING HERE.
This story will be posted in French as soon as possible at www.curling.ca/category-all-posts-fr/?lang=fr