They like Mondays!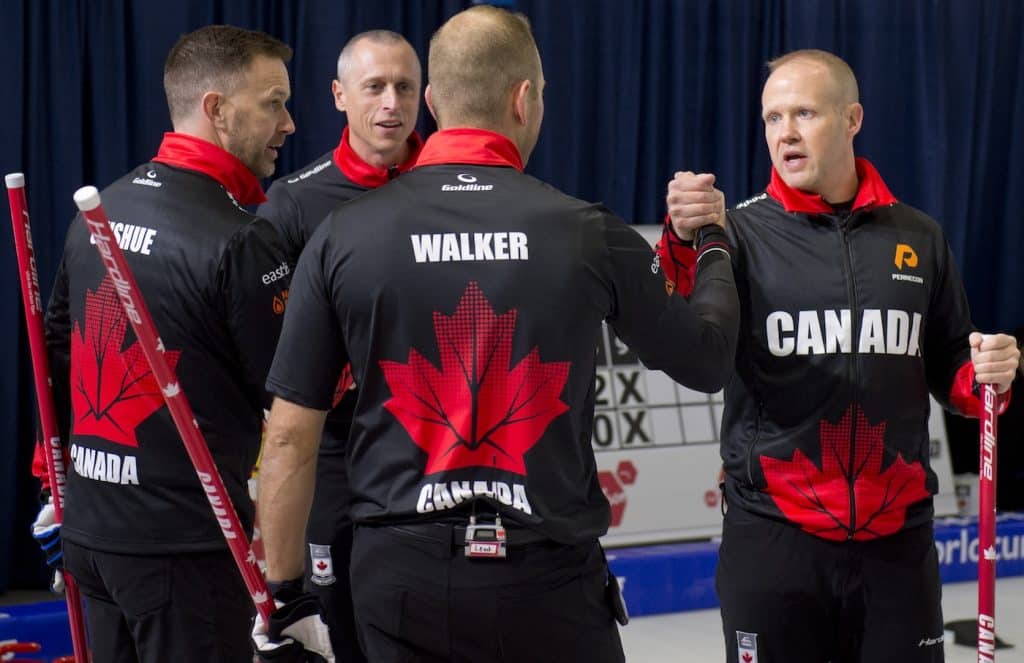 Canada's Team Gushue sweeps Monday games at Pan Continental Championships
A perfect two-win Monday at the 2023 Pan Continental Curling Championships was an ideal start to the week for Canada's Team Brad Gushue.
The St. John's, N.L., unit played its finest game of these championships on Monday night, putting together a thrilling 7-5 extra-end win over previously unbeaten Team Andrew Stopera of the United States in a superbly curled game by both teams.
The result left both teams with 2-1 records in the eight-team round robin, and left Gushue, vice-skip Mark Nichols, second E.J. Harnden, lead Geoff Walker, alternate Jim Cotter, team coach Caleb Flaxey and national coach Jeff Stoughton feeling more optimistic about their next four round-robin games as they look to lock down Canada's berth in the 2024 World Men's Curling Championship.
"I think this is a good character builder," said Harnden, who had his best shooting game of the championships, firing at 93 per cent. "I think we're moving in the right direction. There were some good things out there. We're not quite where we want to be yet, but I think we're close. This should be something we should look at as a positive moving forward."
The Canadians, who beat New Zealand's Team Anton Hood 8-2 in the morning draw Monday, set the tone early — eight perfect shots in the first end, capped by Gushue needing only to touch paint with his last rock to score two and take a lead it would never surrender.
Canada had the U.S. in chase mode for much of the first five ends, and it produced a steal in the third for Canada to go up 3-0, and then Korey Dropkin, who throws fourth for the U.S., needed to draw the button in the fourth end just to avoid giving up three.
Dropkin, though, made the shot of the game in the seventh end with a stunning triple-takeout that snuffed out a big Canadian end; Gushue needed to peel out a U.S. counter to get the blank and carry the hammer into the eighth.
The U.S. carried that momentum into the eighth, stealing the game-tying point, and then forcing Canada to a single in the ninth.
But in the 10th, Canada was able to hold the U.S. to one, and only after a wonderful angle raise from Dropkin on his last.
And in the 11th, double-peels by Harnden and Nichols effectively ended the U.S. steal hopes, and Gushue made an open hit to score the game-winning deuce.
"We hung in there," said Gushue. "We scrapped through nine and then played a great 10th end to force them, and a pretty good 11th end. We had a couple bad ones, but we had a couple good ones to make up for it."
The Canadian men will have the morning off before returning to the ice Tuesday at 2 p.m. (all times Pacific) against Japan's Team Riku Yanagisawa (3-0).
"I think it's just about getting more comfortable here, more comfortable on the ice — I think all of that is a factor," said Gushue. "It's not so much about the win, but more about how you do it and how you're playing. I really want us to play a game where we throw 80 rocks that we give every shot a chance to be made. We're not quite there yet. If we get there, I'll be really happy and I'll like where we're at."
In other games Monday night, the Japanese remained unbeaten with an 11-6 victory over Australia's Team Jay Merchant (0-3); New Zealand (2-1) was an 11-1 victor over Guyana's Team Rayad Hussein (0-3); and South Korea's Team Jongduk Park turned back Chinese Taipei's Team Randy Shen (0-3) 9-6.
Canada's Team Kerri Einarson (2-1) has a pair of games in women's play on Tuesday — against New Zealand's Team Jessica Smith (1-2) at 9 a.m., and against Team Tabitha Peterson (3-0) of the U.S. at 7 p.m.
Live scoring, standings and statistics for the 2023 Pan Continental Curling Championships is available by CLICKING HERE.
TSN+ will be carrying selected Canadian games from the 2023 Pan Continental Curling Championships. CLICK HERE for the full TSN+ schedule.
Other games are being streamed live on World Curling TV. CLICK HERE for details.
Ticket information for the 2023 Pan Continental Curling Championships is available by CLICKING HERE.
This story will be posted in French as soon as possible at www.curling.ca/category-all-posts-fr/?lang=fr