On to the playoffs!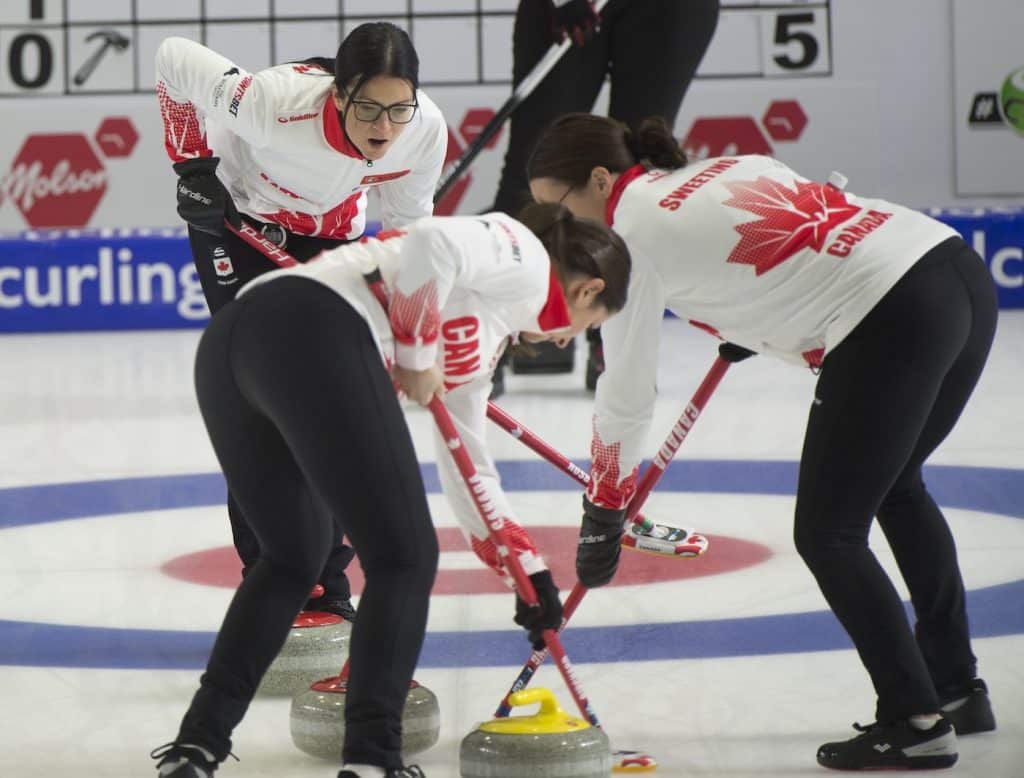 Canada's Team Einarson closes Pan Continentals round robin on a winning note
A well-played and stress-free close-out of Canada's round-robin schedule 2023 Pan Continental Curling Championships was just what the doctor ordered for Team Kerri Einarson.
The four-time defending Canadian women's champions from Gimli, Man., cruised to a 17-1 win over Mexico's shortstaffed Team Adriana Camarena Thursday morning at the Kelowna (B.C.) Curling Club.
With the victory, Einarson, vice-skip Val Sweeting, second Shannon Birchard, lead Briane Harris, alternate Dawn McEwen, and national coaches Renee Sonnenberg and Viktor Kjell finished the round robin with a 4-3 record, and will play South Korea's Team Eunji Gim in the semifinal Thursday at 7 p.m. (all times Pacific).
Mexico, which finished with a 1-6 record, played with only three players as vice-skip Estefana Quintero was out with an injury.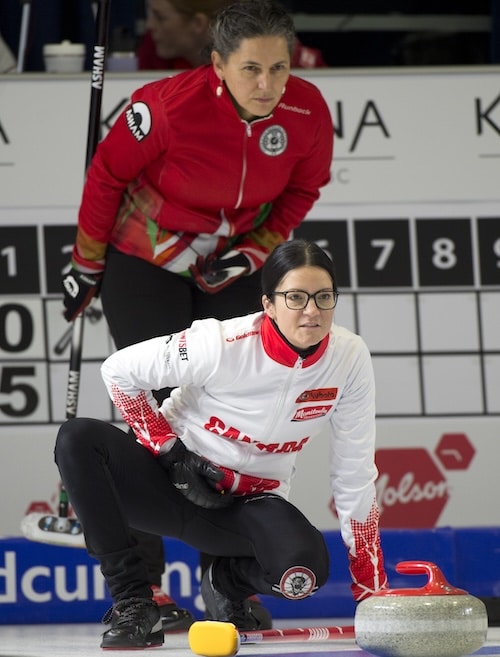 The Canadians took advantage early, scoring five in the first and third ends, and stealing three more in the fourth and fifth ends, and one in the sixth to prompt handshakes from Mexico.
"We made a lot of great shots, put some pressure on them, and had a really good feel for draw weight," said Einarson. "The ice is definitely curling a lot more; it's very nice out there. Just taking what we learned from that game and taking it forward — we're all throwing really well, we're really close."
It'll be a rematch against a South Korean team that beat Canada in devastating fashion on Wednesday. Trailing Canada by one in the 10th, Gim made a wonderful double-takeout-and-roll in the 10th to score a winning deuce. Canada chose not to guard the shot because Einarson and her teammates didn't think it was makeable. That came on the heels of Canada cracking a four in the ninth end to take the lead.
"I thought we fought really hard in that game, and we had a lot of good things happening," said Sweeting. "It was just timing; one of us would have a half-shot or a miss at the wrong time and they would capitalize. So we just have to capitalize going forward and then we'll be in a really good position.
"I think we just want to stick with what we can control, and keep applying pressure. Sometimes they're going to make that shot, sometimes they're not. Nothing you can do about that."
Einarson is 7-2 against Gim through their careers, and while there were some sleepless hours ruminating on the missed opportunity on Wednesday, the four-time Scotties champ is confident her team will be ready for Thursday night's game.
"This team has so much grit and resilience," she said. "We just don't let things really bother us. We just have to push forward, move on and learn from those mistakes."
South Korea, Japan's Team Satsuki Fujisawa and Team Tabitha Peterson all finished with 6-1 records, and South Korea won the first-place tiebreaker based on the pre-game Draw Shot Challenge stats.
Japan and the U.S. will play in the other semifinal; the semifinal winners play for gold Saturday at 10 a.m., while the losers will play for bronze Friday at 2 p.m.
South Korea closed out with a 10-3 win over Chinese Taipei's Team Cynthia Lu (2-5); Japan was a 10-4 winner over Australia's Team Jennifer Westhagen (1-6); and the U.S. defeated New Zealand's Team Jessica Smith (2-5) 8-3.
The results mean New Zealand will get the fifth and final berth into the BKT Tires World Women's Curling Championship, March 16-24 in Sydney, N.S., joining host Canada and the three other playoff teams.
Meanwhile, Australia will be relegated to the B division for the 2024 Pan Continental Championships, and will be replaced by the B division winner, which will be decided Saturday.
Brad Gushue's 5-1 Canadian men's team from St. John's, N.L., will complete its round-robin schedule Thursday at 2 p.m., against Guyana's Team Rayad Husain (0-6).
A Team Canada win, combined with a win by Japan's Team Riku Yanagisawa (5-1) over South Korea's Jongduk Park (5-1), would clinch first place for the Canadians. If South Korea, which beat Canada to open round-robin play, beats Japan, Canada will finish second.
Live scoring, standings and statistics for the 2023 Pan Continental Curling Championships is available by CLICKING HERE.
TSN.ca and the TSN App will be carrying selected Canadian games from the 2023 Pan Continental Curling Championships. CLICK HERE for the full schedule.
Other games are being streamed live on World Curling TV. CLICK HERE for details.
Ticket information for the 2023 Pan Continental Curling Championships is available by CLICKING HERE.
This story will be posted in French as soon as possible at www.curling.ca/category-all-posts-fr/?lang=fr