Unbeaten at mixed!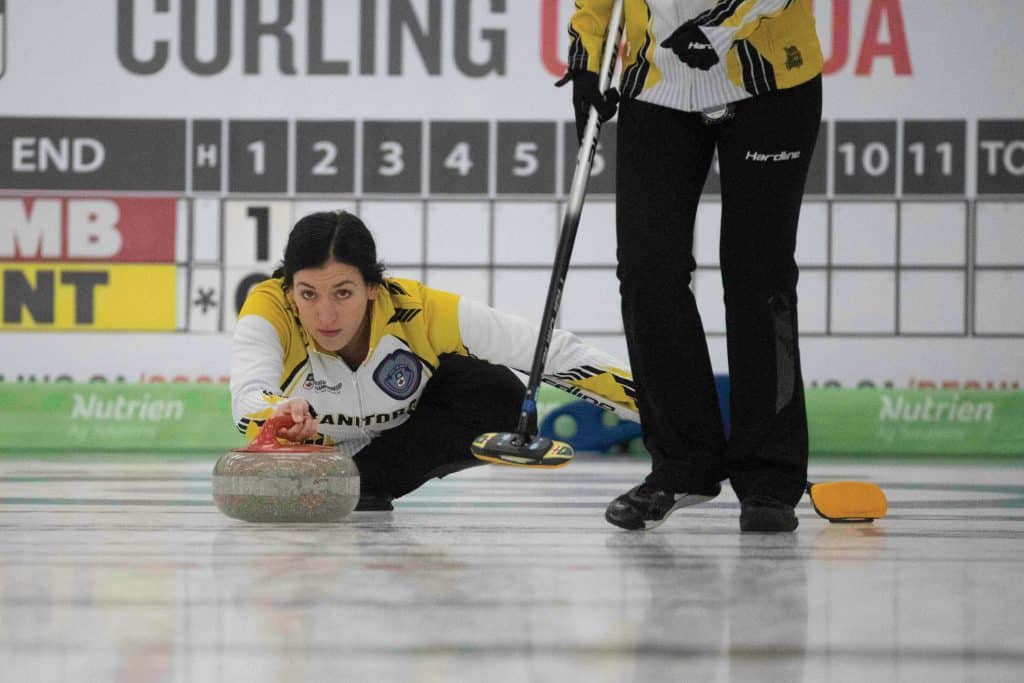 Manitoba stays perfect with 9-4 win over the Northwest Territories at 2023 Canadian Mixed Curling Championship
Sparks flew on Tuesday afternoon as pool B's only remaining undefeated teams clashed at the 2023 Canadian Mixed Curling Championship from the Swift Current Curling Club in Saskatchewan.
Both Manitoba's Kyle Kurz (Winnipeg) and the Northwest Territories' Jamie Koe (Yellowknife) boasted perfect 3-0 records entering their draw 7 head-to-head match, with the winner earning sole possession of pool B's interim top spot.
And while Team Manitoba, composed of skip Kyle Kurz, vice-skip Beth Peterson, second Ian McMillan, and lead Melissa Kurz of the Fort Rouge Curing Club in Winnipeg, took home what looked like a comfortable 9-4 win, the scoreboard paints a deceptive picture of just how close the match could have been.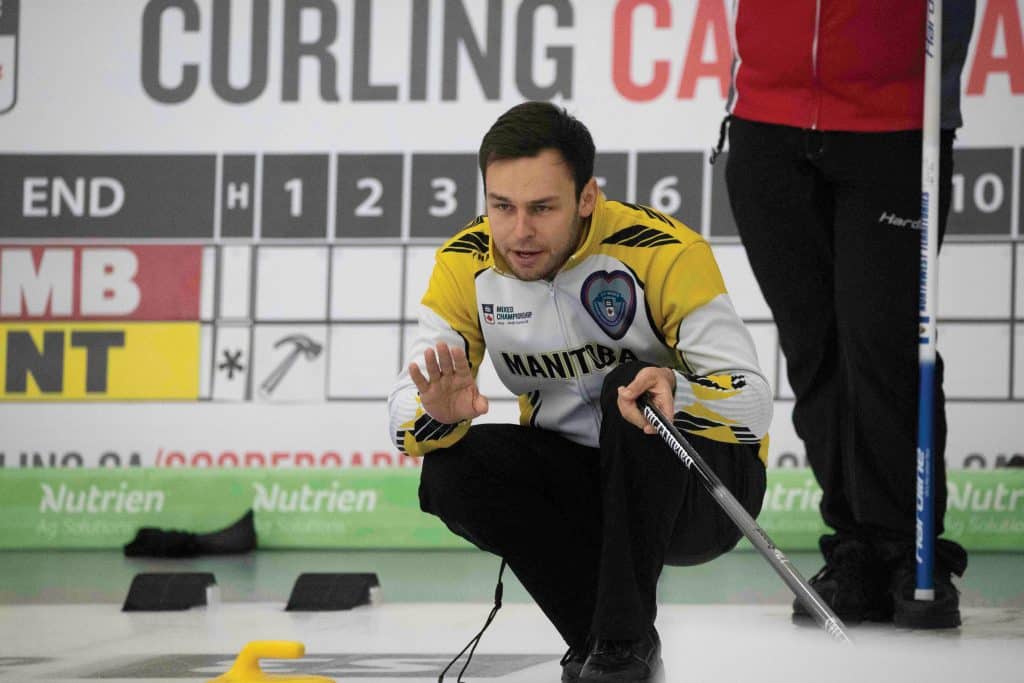 Momentum swings were abundant as both teams applied pressure with the hammer in the early goings. It wasn't until the fourth end when Team Northwest Territories looked to be cooking up multiple points before Manitoba skip Kyle Kurz would put the end on ice with a gentle tap-and-roll draw shot on his own stone in the top of the four-foot. The shot was perfect, chopping away what could have been a fruitful angle for the Northwest Territories, forcing it a single and a 4-4 tie at the break.
The force would prove to be the wind that Team Manitoba's sails needed as it began to create space on the scoreboard as Team Manitoba drew play to the wings in the fifth, garnering an easy score of two and a 6-4 lead.
Trailing but still within striking distance, the game quickly went sour for the Northwest Territories. Skip Jamie Koe's draw weight seemingly evaporated in the sixth end, resulting in back-to-back missed draws and a steal of two for Manitoba in the sixth, marking an 8-4 lead.
The Northwest Territories would never find the scoreboard again and conceded the match in the seventh end, marking a 9-4 final.
"Solid Start," said Manitoba skip and 2015 World Junior Men's Curling Champion Kyle Kurz of his team's 4-0 campaign at the 2023 Canadian Mixed Curling Championship thus far. "The team has been playing pretty well. When one person misses, we've been pretty good to bounce back with a made shot after it. It's still early in the event so we still want to pick up our socks and play a little bit better."
While Kurz is satisfied with the win against the Northwest Territories, it's a match he and his team knew would be a challenge entering the event.
"We definitely circled this one right when we saw the schedule," Kurz said of the Tuesday afternoon game. "We know Jamie is known to be one of the top-dogs at this event, so we had it circled"
Kurz's older brother, Colin, is a former World Mixed Curling Champion himself, winning the world mixed crown in 2019 representing Canada at Aberdeen, Scotland. He offered current Manitoba skip Kyle a few sage pieces of advice before the event. 
"Colin gave me some insight, but not so much for the curling," said Kurz. "Just to make sure we had fun at this event. He had a lot of fun and he said that made the event go much smoother. Keeps everyone relaxed."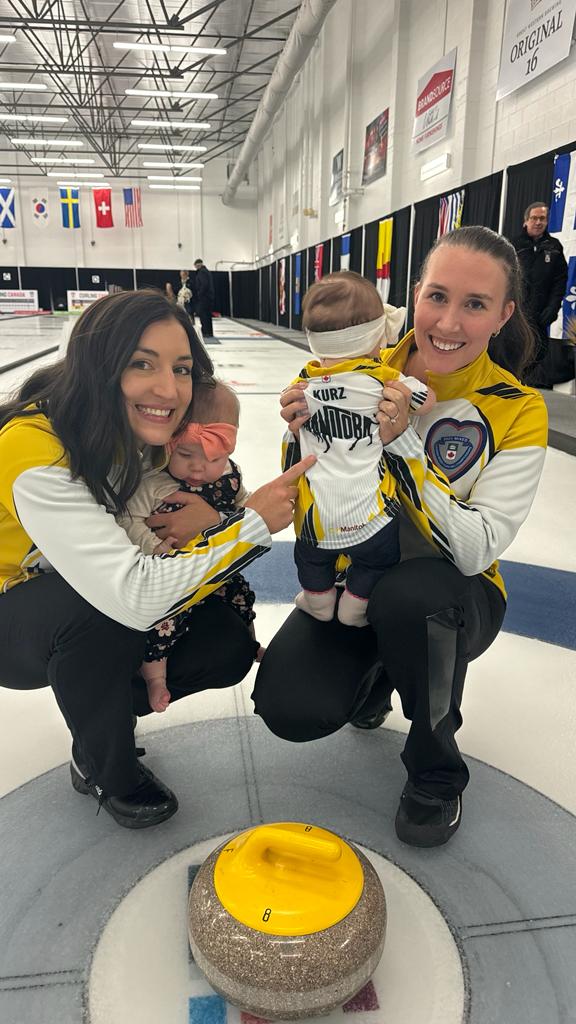 With two world championship titles in the family, it can be easy to let a little brotherly rivalry bubble up.
"I always feel pressure to match what he did." Kurz said. "(Colin) has held it over me for a few years now. Actually, that year that they won, to get to our provincial, there were playdowns and he actually beat us in that. He holds that game over our heads as well."
The overarching family theme runs deep with team Manitoba at the 2023 Canadian mixed. Vice-skip and 2021 Scotties Tournament of Hearts participant Beth Peterson and lead Melissa Kurz both gave birth over the summer, born on the exact same day across the hall from each other at the hospital.
Thankfully, the Manitobans have a strong support network with them in Swift Current at the 2023 Canadian mixed.
"That's the biggest thing we've got to figure out is how to manage that," said Kurz about floating a team with two new-born babies. "We've got lots of help here. They've been great. Our grandparents and stuff are here."
Action at the 2023 Canadian Mixed Curling Championship continues Tuesday evening at 6 p.m. (all times Central).
Live-streaming coverage of the 2023 Canadian Mixed Curling Championship will be available on Curling Canada's streaming platform, Curling Canada +. All sheets will be available to stream, with select draws to feature commentary.
For the event, team and draw information, visit the event website.
Draws and live scores are available on Curling Canada's scores page.