On A Heater!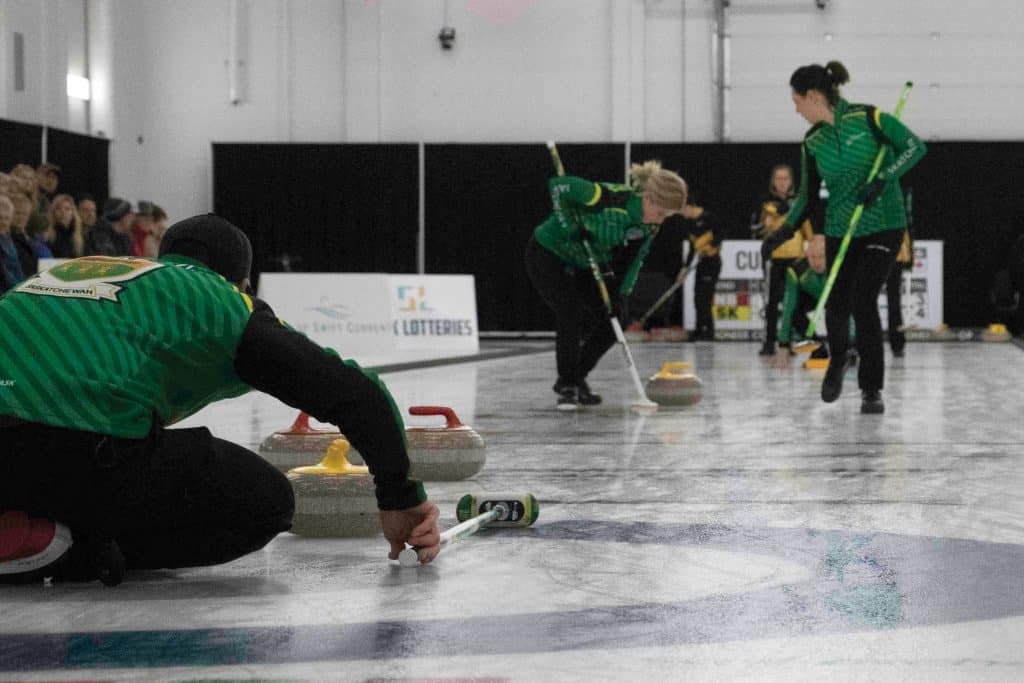 Saskatchewan and Manitoba carry multi-game winning streaks at 2023 Canadian Mixed Curling Championship
Hometown hero Team Saskatchewan stayed hot on Thursday, winning its seventh consecutive match at the 2023 Canadian Mixed Curling Championship from the Swift Current Curling Club, in Saskatchewan.
The Swift Current Curling Club collective representing Saskatchwan, composed of skip Shaun Meachem, vice-skip Kelly Schafer, second Chris Haichert and lead Teejay Haichert, doubled up Team Alberta's Evan Van Amsterdam (5-3; Edmonton), claiming an 8-4 win in seven ends. 
Though it was a tightly contested match in the early goings, Saskatchewan had garnered the majority of the momentum by playing keen defense as well as effective offense. For every Team Alberta opportunity? Saskatchewan seemingly had an answer.
"The ice is good, and I think that's what helps," said vice-skip Kelly Schafer of her team's shot-making. "You know how to make shots. Just about every shot is in the book that you can play, so it's good. Once you make a few, you learn from that, and you know you can make them again."
The most notable example came in the sixth end where Team Saskatchewan, without hammer, chased a single, mostly buried, Team Alberta stone out of the back of the four-foot on its final stone with a finesse hit, leaving four Saskatchewan counters in the house. Alberta would then be heavy on its final stone, surrendering a steal of four.
It would prove to be the big blow that Saskatchewan needed to put its seventh consecutive win on ice.
"We kept putting pressure on," said Schafer of the game-defining steal of four. "(Alberta skip Evan Van Amsterdam) made some great first shots and he had to kind of nail them with his second one as well. When you put the pressure on, you've got to make every single one to score. Every team is good here."
It's a statement win that keeps an ever-improving Team Saskatchewan near the top of the Championship Pool standings with a 7-1 record.
Schafer says that the comfort level on the team is extremely high.
"We know each other too," Schafer said. "There's no guess work. If someone isn't having a great game, the next person kind of steps it up. It just feels comfortable, I think. It feels easy."
The only squad currently besting the team in green in the standings is fellow prairie neighbours Team Manitoba, who boast a pristine 8-0 record after downing Nova Scotia's Paul Flemming (6-2; Halifax) by a 5-3 score Thursday evening.
The win keeps Manitoba as the only undefeated team and firmly in possession of first-place in the Championship Pool.
Though Manitoba managed to win a tight one versus the bluenosers after largely commanding each of its games thus far, it wasn't always a comfortable ride.
"That was the first time we definitely didn't have control and were kind of on the wrong side of the inch most of the game," said Manitoba vice-skip Beth Peterson. "They had a couple unforced errors that we took advantage of, so that was good, but it wasn't our best and they played really well."
Despite navigating the tumultuous match, Manitoba emerged unscathed, completing its goal of a two-win day.
"We wanted to come out on top today with both our games," Peterson said. "It's going to be a real tight finish here in the last two (games)."
In other Championship Pool matches Thursday evening, the Northwest Territories' Jamie Koe (6-2; Yellowknife) bested Prince Edward Island's Tyler Smith (2-6; Crapaud) by a 7-2 score while Ontario's Scott McDonald (6-2; St. Thomas) squeaked past New Brunswick's Charles Sullivan (3-5; Saint John) by a 6-5 score.
Action resumes at the 2023 Canadian Mixed Curling Championship on Friday at 12:30 p.m. (all times Central).
The Championship Pool concludes on Friday and will be followed by two semifinals on Saturday, Nov. 11, at 10 a.m., pitting 1 vs. 4 and 2 vs. 3 in the Championship Pool standings. The two winners then advance to the gold-medal final on Saturday at 2:30 p.m. while the two losing teams meet in the bronze-medal game simultaneously.
Live-streaming coverage of the 2023 Canadian Mixed Curling Championship will be available on Curling Canada's streaming platform, Curling Canada +. All sheets will be available to stream, with select draws to feature commentary.
For the event, team and draw information, visit the event website.
Draws and live scores are available on Curling Canada's scores page.