COACHING LEGEND HONOURED!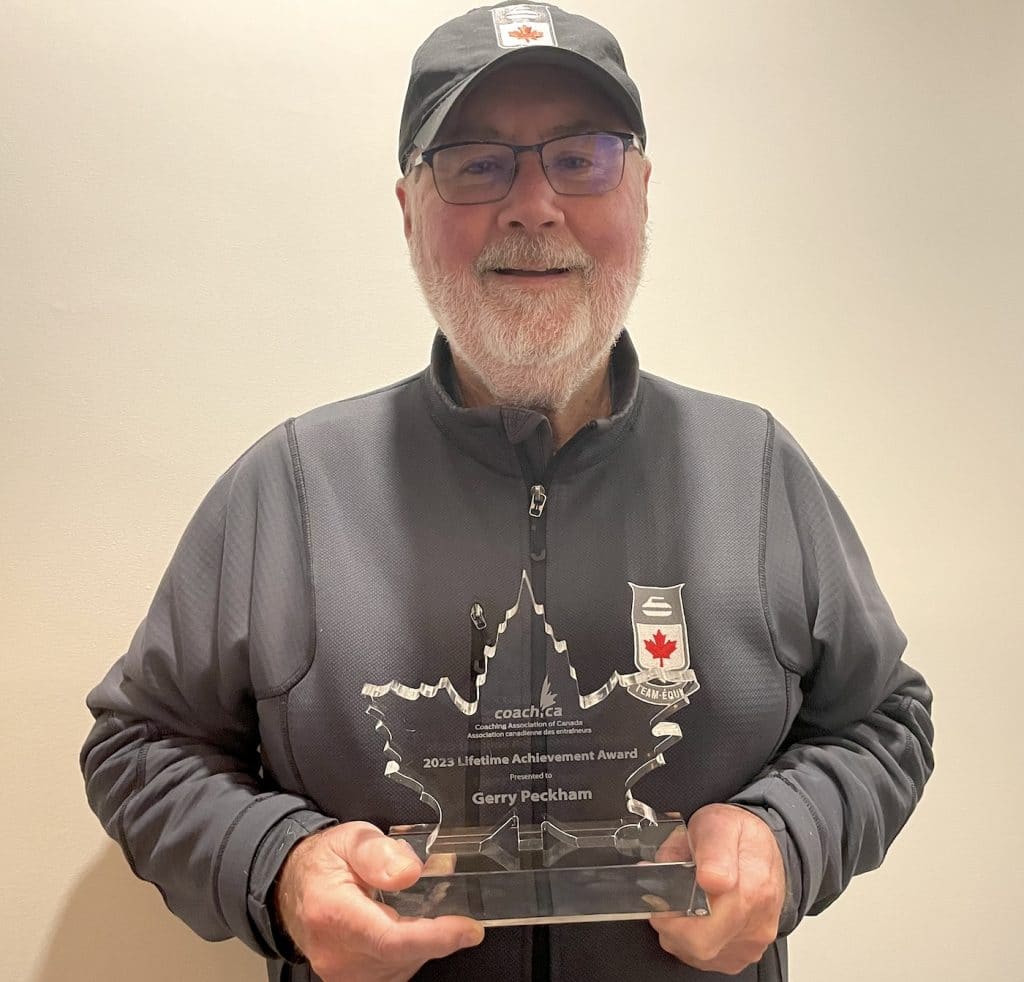 Gerry Peckham receives Lifetime Achievement Award
There are no rigid guidelines when it comes to judging who are the best coaches and/or administrators in sports.
But there is little doubt that Gerry Peckham was a giant in both during his 33 years as Curling Canada's High Performance Director. All he did while at the helm was keep Canada a world curling powerhouse year after year with his visionary leadership.
That leadership and his outstanding success developing champions and other coaches was rewarded recently when Peckham, 72, was presented the prestigious Coaching Association of Canada's Petro-Canada Sport Leadership Lifetime Achievement Award in Calgary.
The annual gala honours coaches who exemplify the values and competencies of the National Coaching Certification Program (NCCP) and their positive impact within the sport system of Canada.
"The Lifetime Achievement Award for Gerry could not be more appropriate and no better exclamation point to his distinguished career," said Elaine Dagg-Jackson, Curling Canada's Women's Program Manager. "Gerry has spent his entire life making curling, and sport, a better place."
Peckham was unable to attend the event and Dagg-Jackson accepted the award in his place.
"I was certainly there in spirit," said Peckham, who was able to watch the ceremony on close-circuit. "I can honestly say it caught me by surprise. I did not see it coming and was pretty humbled by the whole experience."
Dagg-Jackson, a legendary mentor in her own right, said that Peckham's imprint is on every aspect of coaching within the Canadian curling system.
"His legacy is a country full of knowledgeable and qualified coaches and athletes."
Peckham, who retired in March but still does some consulting work for Curling Canada, went about his job with little flair but profound insight into what it took to succeed. It showed in Canada's performance on the world stage. He set a world-leading record for the production of international medals for Canada, including world championships: 26 for men (15 gold), 28 for women (11 gold), 54 for M/W U-21 (26 gold), six wheelchair curling (three gold) as well as multiple medals for mixed, seniors, and mixed doubles. He has also overseen the Olympic/Paralympic program that produced 12 Olympic medals and five Paralympic medals, with podium finishes in every quadrennial since he joined the program.
During his career as director, which began in 1990, he oversaw the training of more than 33,000 coaches who benefited from specialized NCCP instruction at more than 128,000 training events.
"Gerry's lifetime commitment to coaching, coach education and the National Coaching Certification Program is exceptional," said Paul Carson, chair of the CAC board of directors.
"He has impacted generations of athletes and coaches throughout his professional career. It is an honour to recognize his contribution on behalf Canadians from coast to coast to coast."
Peckham said he was particularly proud of helping to build and grow a tremendously successful coaching and athletes system.
"Over the years we built a very strong community involving all kinds of fabulous people," he said. "I am sitting here today knowing that system will continue under the leadership of (new director) David Murdoch who is also geared that way."
It was a big night for Curling Canada's coaching ranks, a testament to the quality within the organization. Four other coaches received important Petro-Canada Coaching Excellence Award honours, including Dana Ferguson, Mick Lizmore, Reid Carruthers and Caleb Flaxey.
Many other non-curling sports coaches were also honoured at the event.