Award winners, all-stars announced at Tim Hortons Brier
Members of the Canadian Curling Reporters (CCR) selected the first and second all-star teams for the 2015 Tim Hortons Brier, presented by SecurTek Monitoring Solutions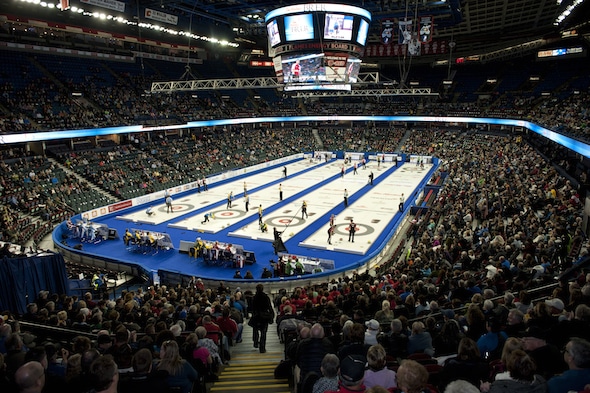 The winners were presented at the Tim Hortons Brier Closing Reception on Sunday afternoon.
First All-Star Team
Skip:
Brad Jacobs, Northern Ontario
Third:
Ryan Fry, Northern Ontario
Second:
Carter Rycroft, Team Canada
Lead:
Colin Hodgson, Manitoba
Second All-Star Team
Skip:
Brad Gushue, Newfoundland/Labrador
Third:
Marc Kennedy, Alberta
Second:
Brent Laing, Alberta
Lead:
Ben Hebert, Alberta
Ross Harstone Award
The Ross Harstone Trophy is presented each year to the player chosen by his peers as the curler in the Tim Hortons Brier who best represents Ross G.L. Harstone's high ideals of good sportsmanship, observance of the rules, exemplary conduct and curling ability.
2015 winner: Jim Cotter
, British Columbia
Paul McLean Award

Named in honour of the highly-respected TSN Producer of curling, CFL football, world juniors hockey, etc., who died of cancer at the age of 39 in December of 2005. The Award was presented for the first time in 2007 by the Canadian Curling Reporters and TSN to a media person behind the scenes who has made a significant contribution to the sport of curling.
2015 winner: Jim Young
, longtime camera man for TSN's curling broadcasts. Young has been a camera man for 37 years, and worked alongside Vic Rauter on curling broadcasts for 26 years, and is favourite of many players for his skills as well as his enthusiasm for the sport. He's attended nine Olympics, and shot every sport imaginable for TSN.
Volunteer of the Year Award
Based on the nominee's contributions from the previous curling season.The winner receives an all-expense-paid weekend trip for two to the Tim Hortons Brier to be recognized by Curling Canada during one of the playoff games.
2013-14 winner — Harvey Lyons
. When failing ice conditions at the curling club in Lorette, Man., started driving membership down, longtime member Harvey knew it was time to go to work. His efforts to fix the ice and get membership back on track led to a healthy increase in revenue, an improvement that saved the club.