Ford World Men's Curling Championship begins Saturday in Halifax
Global men's curling supremacy will be on the line when the 2015 Ford World Men's Curling Championship gets underway on Saturday at the Scotiabank Centre in Halifax.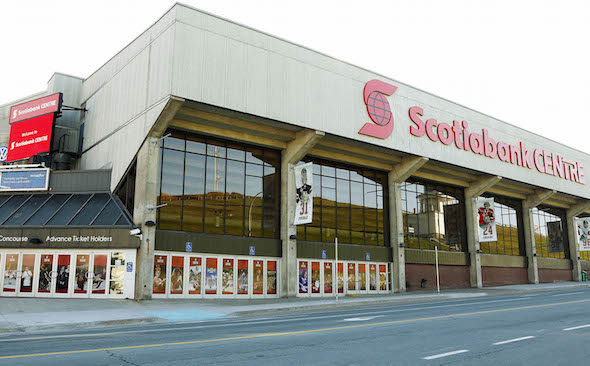 The official opening ceremonies are scheduled for noon (all times Atlantic), and will be followed by the first draw in the 12-team round-robin competition at 2:30 p.m. The home-country team from Calgary, skipped by Pat Simmons and rounded out by third John Morris, second Carter Rycroft, lead Nolan Thiessen, alternate Tom Sallows, team coach Earle Morris and national coach Rick Lang, will make its debut on Saturday at 7:30 p.m. against John Shuster of the U.S. Canada will be looking to win a leading 35th world championship in the 56-year history of the World Men's Championship, in addition to bringing a fourth title to Canada in six years. Kevin Koe won gold in 2010 at Cortina d'Ampezzo, Italy; Jeff Stoughton triumphed in 2011 at Regina and Glenn Howard prevailed in 2012 at Basel, Switzerland. Last year, Koe's team finished fourth in Beijing. In addition, Canadian teams have reached the podium 49 times in those 56 previous world championships, collecting nine silver and six bronze to go along with the gold medals. Canada hasn't gone three years without a world championship gold medal since an infamous seven-year dry spell that lasted from 1973 to 1979. But there will be some stiff competition in the way for the Simmons foursome, and the main stumbling block will be defending world champ Thomas Ulsrud of Norway. Also in the field is 2013 world champ Niklas Edin of Sweden, albeit with a different lineup in front of him — three of the players, in fact (third Oskar Eriksson, second Kristian Lindström and lead Christoffer Sundgren) who lost last year's World Championshjp gold-medal game to Ulsrud. Edin defeated Ulsrud in the European championship final last December in Champéry, Switzerland. The Scots will have some familiar faces, led by skip Ewan MacDonald, who's bidding for his fourth World Championship gold medal, which would place him in a select group that includes only Ernie, Sam and Arnold Richardson, along with Randy Ferbey and Glenn Howard. The alternate for the Scots will be Olympic silver-medallist David Murdoch, whom MacDonald defeated in the Scottish final. A potential dark horse is the Japanese team skipped by Yusuke Morozumi, which went 7-4 last year in Beijing and reached a playoff tiebreaker — by far that country's best result at the World Men's Championship. The field is rounded out by China's Jialiang Zang, Jiří Snítil of the Czech Republic, Finland's Aku Kauste, Italy's Joel Retornaz, Russia's Evgeny Arkhipov (silver-medallist at the 2013 World Juniors and 2015 Universiade) and Switzerland's Marc Pfister. The 2015 Ford Worlds mark the 22nd time that Canada has played host to the world men's championship, and the fourth time it will be played in Atlantic Canada. Moncton, N.B., hosted in 2009 (won by Scotland's David Murdoch) and 1980 (won by Canada's Rick Folk), while Saint John, N.B., hosted in 1999 (won by Scotland's Hammy McMillan). Dartmouth, across the harbour from Halifax, played host to the 1986 World Junior Men's Championship. The Scotiabank Centre also has played host to some major domestic curling competitions. The Tim Hortons Brier was played there in 2010 (won by Koe), 2003 (won by Alberta's Randy Ferbey) and 1995 (won by Manitoba's Kerry Burtnyk), as well as the 1992 Scotties Tournament of Hearts (won by Manitoba's Connie Laliberte). Also, the 2005 Tim Hortons Roar of the Rings Canadian Curling Trials were played at the Halifax Metro Centre, with Russ Howard winning the men's title and Shannon Kleibrink claiming the women's title. The 2015 Ford Worlds mark the 21st consecutive year of the Ford Motor Company of Canada serving as the title sponsor for Canadian-hosted world men's and women's championships. Round-robin play will continue until Thursday, with the top four teams advancing to the Page playoffs, which see the first-and-second place teams playing for a berth in the April 5 gold-medal game (4 p.m.). The loser of the one-two game drops to the semifinal (April 4, 7:30 p.m.) against the winner of the Page three-four game. The semifinal loser and Page three-four loser will play for the bronze medal on April 5 at 10 a.m. TSN/RDS2, the official broadcast partners of Curling Canada's Season of Champions, will provide live coverage of Canada's round-robin games, in addition to all playoff games.
Click here
for TSN's broadcast schedule.
Click here
for the list of teams competing in Halifax.
Click here
for the full schedule.