Canadian Mixed Curling Championship underway Sunday
There will be no shortage of compelling storylines when the 2020 Canadian Mixed Curling Championship kicks off on Sunday night at Foyer des loisirs et de la culture in Saguenay, Que.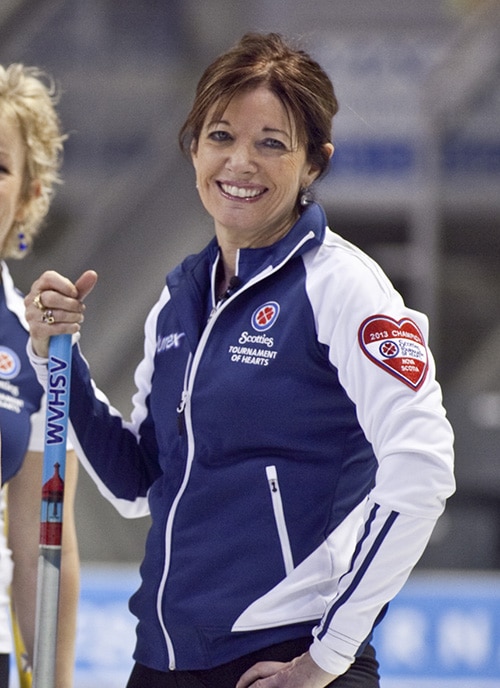 There will be family connections galore, along with a healthy smattering of past Canadian and world champions, and even a past Olympian, in the field in Saguenay for national four-player mixed championship.
In terms of curling success over a career, it will be hard to beat the resumé of Nova Scotia's Colleen Jones, will be throwing third rocks for skip Peter Burgess; Jones is a six-time Scotties Tournament of Hearts Canadian women's champion, a two-time world women's champion, a world senior women's champion and, oh yes, a two-time champion at the Canadian mixed.
This time around, she'll have the bonus of having her son, Luke Saunders, on board as the Team Nova Scotia second.
There are plenty of family connections throughout the 14-team field, including the likes of the Northwest Territories back-end tandem of skip Jamie Koe and vice-skip Kerry Galusha (twin siblings), the two-married couple quarter of Team Ontario (skip and third Wayne Tuck Jr. and Kimberly Tuck, along with front-enders Jake Higgs and Sara Gatchell; competing together in their fourth Canadian mixed since 2002); the husband-wife Saskatchewan front end of Chris Haichert and Teejay Haichert (who won gold at the 2015 Canadian mixed playing for Max Kirkpatrick), as well as the husband-wife-son-fiancée Yukon squad, featuring Thomas Scoffin at skip, his mom Helen Strong at vice-skip, his dad Wade Scoffin at second and his wife-to-be Kim Brown at lead.
As always, there will be an abundance of talent on the ice in Saguenay, including a pair of recent world junior champions.
Cameron De Jong's B.C. team features second Alex Horvath, who captured Canadian and world junior gold last season throwing lead rocks for Tyler Tardi's team.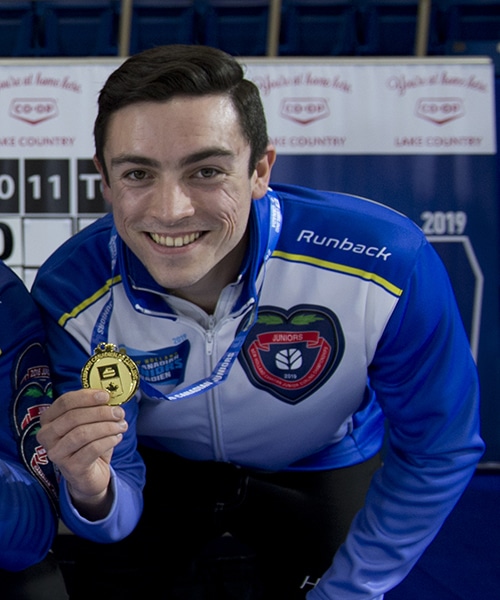 And Burgess's Nova Scotia team features another of those family connections — Peter Burgess's niece Lindsey Burgess is playing lead; the same position she played for Kaitlyn Jones en route to Canadian and world junior women's gold in 2018.
Also, Saskatchewan vice-skip Kelly Schafer is a two-time Olympian and a former world women's championship silver-medallist — all while competing for her native Scotland. She was declared eligible to compete for Canada prior to this season (she moved to Saskatchewan not long after competing at the 2010 World Women's Championship in Swift Current, Sask.), and will be holding the broom for skip Shaun Meachem.
The championship features 14 teams (10 provinces plus Northern Ontario, Northwest Territories, Nunavut and Yukon) seeded and separated into two pools of seven teams each. The teams first play a round robin within their pool. At the conclusion of the round robin, the top four teams in each pool advance to the Championship Pool, when the teams play the teams from the opposite pool, carrying forward their full win-loss records. Meanwhile, the bottom three teams in each pool will go to the Seeding Pool, where they will compete against the three teams from the opposite pool to determine the final standings and set up the seedings for the 2021 Canadian Mixed Championship.
The Championship Pool concludes on Friday and will be followed by two semifinals Saturday, Nov. 9 at 9:30 a.m. (all times Eastern), pitting 1 vs. 4 and 2 vs. 3. The two winners then advance to the gold-medal final Saturday afternoon at 2:30 p.m. while the two losing teams meet in the bronze medal game at the same time.
The winner of the gold-medal game will wear the Maple Leaf at the 2020 World Mixed Curling Championship next October (dates, location TBC by the World Curling Federation). There, Team Canada will be in pursuit of a third consecutive world title; in 2018 at Kelowna, B.C., Mike Anderson's Ontario team won gold, while two weeks ago in Aberdeen, Scotland, Colin Kurz's Manitoba team claimed the gold medal.
All games throughout the competition are eight ends. Also, no tiebreaker games will be played at the conclusion of either round. Instead, any unsolvable ties for position after head-to-head results will be determined by accumulated Draw Shot results.
It will be the fourth time Quebec has hosted the Canadian Mixed Curling Championship. Most recently, Ontario's Cory Heggestad won the 2013 Canadian Mixed at Mount Royal; in 1990, Alberta's Marv Wirth prevailed at Rimouski, while Saskatchewan's Larry McGrath won the 1967 Canadian Mixed in Quebec City.
Only one Quebec team has won the Canadian Mixed — Jean-Michel Ménard skipped Quebec to victory in 2001 at Weyburn, Sask.
Various ticket packages for the 2020 Canadian Mixed are available by CLICKING HERE.
Live-streaming coverage of the 2020 Canadian Mixed will be available at cbcsports.ca and on the CBC Sports app for iOS and Android devices.
CBC Sports' broadcast and streaming schedules are POSTED HERE. As well, fans can set up calendar alerts to notify them of CBC Sports' streaming coverage here and can follow the latest news from the curling world on the dedicated curling page at cbcsports.ca.
For event, team and draw information, visit www.curling.ca/2020mixed/. Draw scores/standings will be immediately available on Curling Canada's scoring website.