Still Perfect In Saguenay!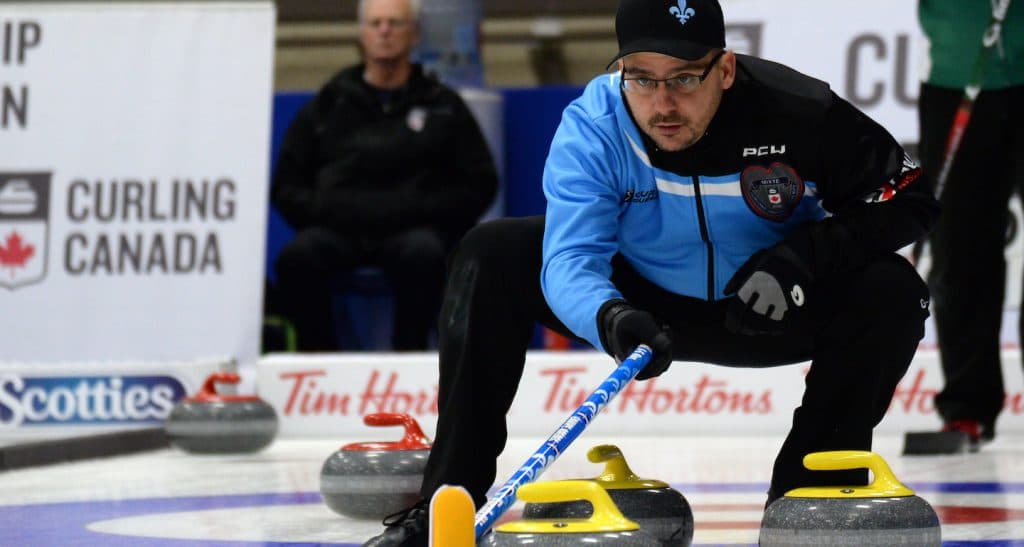 Playoff berth in sight for host Quebec at mixed nationals
Unbeaten round-robin records aren't exactly uncommon at the Canadian Mixed Curling Championship — in fact, it's a feat that's been accomplished three times in past four editions of the event.
But doing it in your home province, with the accompanying hopes and expectations, would be another matter entirely, and Quebec's Jean-Sébastien Roy and his team representing the Des Collines and Etchemin Curling Clubs is making people believe that it's entirely possible at the 2020 Canadian Mixed Championship, being staged this week at Foyer des loisirs et de la culture in Saguenay, Que.
Roy, backed up by vice-skip Amélie Blais, second Dan deWaard and lead Brenda Nicholls, made a cold draw to the four-foot, looking at two opposition counting stones, to score the decisive point in a 6-5 victory over Ontario's Wayne Tuck on Thursday afternoon.
With the win, Quebec improved to 7-0 and one one shy of nailing down a spot in Saturday morning's semifinals.
Interestingly, Tuck's team from Ilderton, Ont., was one of those unbeaten squads in recent round-robin play. Tuck's Ontario team was 10-0 in the 2017 round robin at Yarmouth, N.S., before losing in the semifinal (his team would go on to win bronze.
More recently, another Quebec team, skipped by Robert Desjardins (who is the president of the host club in Saguenay for this year's event) was 10-0 and reached the gold-medal game in 2018 at Swan River, Man., before losing to Ontario's Mike Anderson.
And in 2016, Alberta's Mick Lizmore ran the table at Toronto to win the Canadian mixed title with an unblemished record.
The Quebec win over Ontario was part of the first round of Championship Pool play, featuring the top four teams from each of the seven-team preliminary pools, with their records carrying over.
The top four from Pool A will play the top four from Pool B Thursday and Friday, which will determine the four teams that qualify for the semifinals Saturday at 9:30 a.m. (all times Eastern).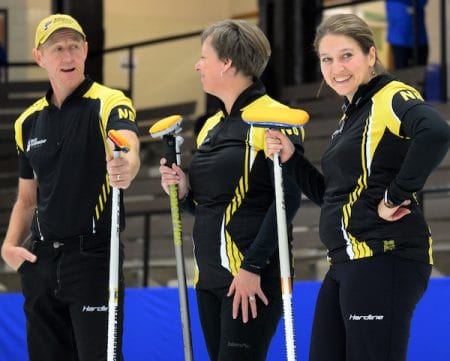 In other Championship Pool play on Thursday, New Brunswick's Grant Odishaw (6-1; Moncton) maintained his hold on second place with a 5-4 win over Saskatchewan's Shaun Meachem (4-3; Swift Current), stealing the winning point in an extra end; Jamie Koe's Northwest Territories team (5-2; Yellowknife) extended its winning streak to five with a 6-5 victory over B.C.'s Cameron de Jong (3-4; Victoria); and Manitoba's Corey Chambers (4-3; Miami) was a 7-5 victor over Newfoundland/Labrador's Cory Schuh (4-3; St. John's).
The teams that didn't reach the Championship Pool are playing Seeding Pool games, which will determine the final standings and the seedings for the 2021 event.
In Seeding Pool action Thursday afternoon, Alberta's Warren Cross (4-4; Edmonton) downed Northern Ontario's Sandy MacEwan (1-7; North Bay) 5-4.
Saturday morning's semifinal will feature 1 vs. 4 and 2 vs. 3. The two winners then advance to the gold-medal final Saturday afternoon at 2:30 p.m. while the two losing teams meet in the bronze-medal game at the same time.
Various ticket packages for the 2020 Canadian Mixed are available by CLICKING HERE.
Live-streaming coverage of the 2020 Canadian Mixed will be available at cbcsports.ca and on the CBC Sports app for iOS and Android devices.
CBC Sports' broadcast and streaming schedules are POSTED HERE. As well, fans can set up calendar alerts to notify them of CBC Sports' streaming coverage here and can follow the latest news from the curling world on the dedicated curling page at cbcsports.ca.
For event, team and draw information, visit www.curling.ca/2020mixed/. Draw scores/standings will be immediately available on Curling Canada's scoring website.