Rea earns HOF honour
Wheelchair curling coach named to Canadian Paralympic Hall of Fame
The lights were off at the Prince George Golf and Curling Club and Joe Rea had finished his league game. His teammates and fellow curlers left the rink or went upstairs to the bar, but Rea stayed on the ice. He placed a chair onto a piece of carpet in the middle of the sheet, sat down and used a borrowed delivery stick to throw some rocks down the sheet.
It was 2003 and this was Rea's first experience with wheelchair curling. There was no handbook on the sport at the time and unbeknownst to Rea, he was starting to write it. Sixteen years later, Rea has been inducted into the Canadian Paralympic Hall of Fame at a ceremony in Vancouver on Nov. 19. The wheelchair curling coach – only one of only five coaches across the country to be inducted – has come a long way since his first foray into the sport.
"I sat out there in the dark and threw a bunch of rocks sitting down and thought, I'm not really sure if this is the right way to do it, but I'll have a go at it," Rea said.
Rea, a competitive curler and accomplished coach at the provincial and national level, was about to teach a wheelchair curling clinic for the first time and he was trying to gain as much first-hand experience as he could. Acclaimed curling commentator Linda Moore was the Curl BC executive director at the time and asked Rea if he was interested in teaching. While neither knew much about the sport at the time, they saw its potential to develop world-class athletes in the province.
Rea started developing British Columbia's wheelchair curling program and hosted the province's first wheelchair curling bonspiel in his hometown of Prince George, B.C. Eventually he coached at the national level and guided his team to the Canadian wheelchair curling final in 2004.
Gerry Peckham, Curling Canada's Director of High Performance, invited Rea to join the national wheelchair curling team at the 2005 world championship. In 2006 Peckham named Rea the national coach of the wheelchair curling program, which propelled him into an unprecedented era in wheelchair curling in this country.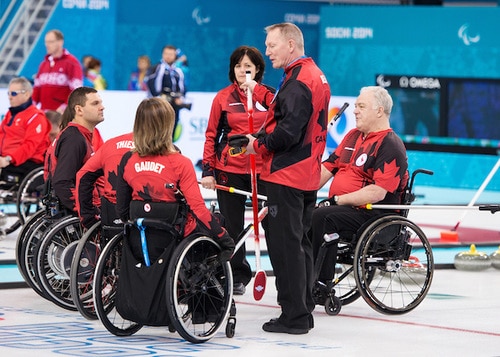 From 2006 through 2014, Rea was the head coach of Canadian teams that won three consecutive Paralympic gold medals (2006, 2010, 2014) and three world wheelchair curling championships (2009, 2011, 2013). Some highlights from those golden years include a Paralympic Games victory on home soil at Vancouver 2010, and an undefeated 11-0 run at the 2011 world championship – the largest unbeaten run in World Wheelchair Curling Championship history.
"He has lots of competitive IQ, he was drawn in by the wheelchair community and made solid contributions to what we were doing technique-wise and strategy-wise," Peckham said.
Rea quickly learned the able-bodied version of the sport couldn't simply be transferred to the wheelchair version. A precise freeze shot is not aided by sweepers in wheelchair curling, so Rea built his strategy around coaching Canadian players to play within a five- to 10-foot range that would force opponents into more difficult and precise shots.
He installed a pole on the wheelchair of three-time Paralympic gold-medallist Sonja Gaudet, which allowed her to develop more power when throwing a rock and helped her shoulders square. It's a device that's commonly used by all nations now.
"Each athlete's abilities was different and Joe made sure to spend individual time needed to help each athlete throw the rock most efficiently as possible," Gaudet said.
Rea also worked with academics to determine the ideal length of delivery stick for optimum performance.
"There were lots of subtle differences that Joe was able to pick up on," Peckham said. "There was all kinds of aspects from chair positioning, the angle of attack, techniques for hitting and producing additional rock speed, techniques for drawing – but certainly lots of impact on strategy because you have to adapt all aspects of the game into the wheelchair domain in order for the athletes to have maximum success. He was always focused on making adjustments that allowed the athletes to play to their potential."
Over the years Rea handled the technical side of the game and received advice from his coaching mentor Elaine Dagg-Jackson. Rea was joined by team leader Wendy Morgan, who he says was crucial when it came to coaching and rallying the team, and mental performance consultant Laura Farres. Together, they made a dynamic trio that met all of the athletes' needs over the years. That strong coaching tandem, combined with exceptional on-ice performances from an array of wheelchair curlers – including Jim Armstrong, Ina Forrest and Gaudet – led to an on-ice Canadian product that was nearly unstoppable.
Rea's commitment to the sport has not gone unnoticed and it did not come at the expense of other aspects of his life. Despite facing high expectations of gold-medal performances, Rea remained true to his grassroots nature in Prince George, while also dutifully reporting to work at CanFor Northwood Pulp and being engaged with his family. He and his wife Colleen provided care to over 28 foster children over the years, treating each child as their own.
"The most important thing you need when you're a coach is that you have that family support. My wife was completely supportive of me to do this," Rea said. "If the home life isn't good then there isn't any chance that this succeeds. I can honestly say that my home-life and work-life were positive and allowed me to travel and work."
His players took notice of his dedication to not just the sport, but everyone in his life. Gaudet sometimes thinks about how blessed she was to be part of journey with him.
"He wants to make a difference in people's lives and we were fortunate enough that he chose to do that in the area of wheelchair curling," Gaudet said. "We see that in his life with the kids that he and Colleen have adopted and supported and loved. He just wants to make a difference."
When Peckham was looking for a national head coach of the wheelchair curling program, he wanted an individual who knew not only the technical aspects of the game, but had the soft skills to connect with the team. They needed to be able to deal with a variety of personalities and know when to be firm and fair or compassionate and understanding. Peckham knew Rea was the person for the job.
"He had the menu covered," Peckham said. "Joe's one of those guys if you ever get the chance to stop and get to know not just Joe the coach, but Joe the man, Joe the family man, Joe the proud citizen of Prince George, Joe the active member of Prince George Golf and Country Club. He's just an all-around difference maker."