British Columbia & Alberta Eye Repeats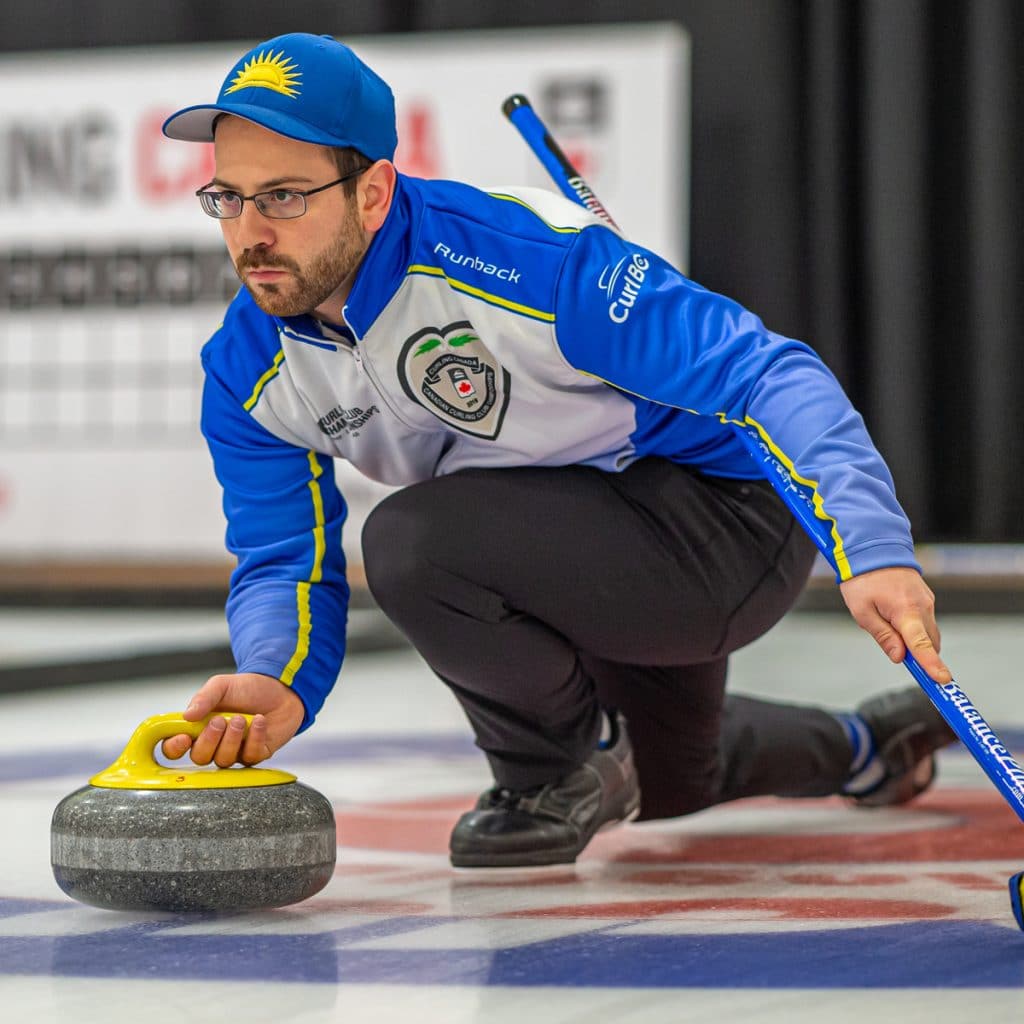 Canadian Curling Club Championships Underway in Leduc
Cody Johnson was one shot away from becoming a national champion and ten years later he hopes to get another shot. Johnston will try to bank on the recent success of British Columbia men's teams at the Canadian Curling Club Championship and lead his New Westminster team through a tough field in Leduc, AB this week.
Johnson, vice-skip Will Sutton, second Bruce Currie, lead Christopher Summers and alternate Adam Grossi were dealt a setback in their opener at the 2019 Canadian Curling Club Championships with an 8-6 last rock loss to Yukon on Monday afternoon.
The team from Whitehorse applied heavy pressure to the B.C. team through the first six ends. Yukon skip Tyler Williams, vice-skip Kevin Yost, second Matt Johnson and lead Trent Derkatch led 6-2 before giving up four points to B.C. in the seventh end. Johnston made a perfect draw on his final stone in the eighth end but not before Yost executed a short in-off takeoff to secure the Yukon win.
Johnston is no stranger to national championships, having played in two junior championships in the previous decade. The skip from the Royal City Curling Club played vice-skip for Northern Ontario at the 2009 Canadian Junior Championship where his rink fell to Prince Edward Island's Brett Gallant in the 10th end of the championship final.
The national curling stage may not be new to Johnston but it is unfamiliar territory for most of his teammates, "I get the chance to help some of these guys that aren't competitive curlers to a national championship and that is pretty exciting," Johnston said on Monday.
British Columbia (Vic Shimizu) captured back-to-back titles at the Canadian Curling Club Championship a year ago in Miramichi, N.B. Johnston joked that adds a bit of extra-pressure, "Well, everyone back home is saying if we don't win, we can't come home. No, we're here for fun and we'll try to make playoffs and see what happens after that."
Lethbridge's Nanette Dupont is in a similar situation on the women's side of the annual event. The Alberta skip is attempting to defend the women's title after Morgan Muise's rink from Calgary won in 2018.
Dupont, who skipped Alberta to a 2010 title at the Canadian Curling Club Championship, says she doesn't feel any added pressure to defend. "Actually being in Alberta is really nice this time with no time change to worry about and lots of family and friends," Dupont said.
Dupont, vice-skip Kendra Nakagama, second Samantha Davies, lead Avice DeKelver, alternate Shirley Kohuch and coach Bill Kohuch open play on Tuesday morning at the Leduc Curling Club.
Elsewhere in women's opening draw action, Ontario downed New Brunswick and Newfoundland & Labrador dropped their opener to Nova Scotia. In the other men's game in the opening draw, it was Newfoundland & Labrador stealing the win from Saskatchewan.
Each team at the championship is allowed only one player who has played in a provincial/territorial Juniors', Men's (Brier), Women's (Scotties) or Seniors' championship in the current or previous four curling seasons, or participated in a full-field Grand Slam event in the current or previous four curling seasons.
The 14 men's and 14 women's teams will be split into two seven-team round-robin pools. After a single round-robin, the top three teams in each pool will make the modified double-knockout playoffs, which begin Friday, Nov. 29, at 9 a.m. (all times Mountain).
The championship semifinals are scheduled for Saturday, Nov. 30, at 9 a.m., and the semifinal winners will play for gold, and the losers will play for bronze, Saturday, Nov. 30, at 2 p.m.
Selected games from the 2019 Canadian Curling Club Championships will be live-streamed at www.curling.ca/2019clubchampionships.
Scores and standings from the event will be available at www.curling.ca/scoreboard.