The heat is on in Leduc!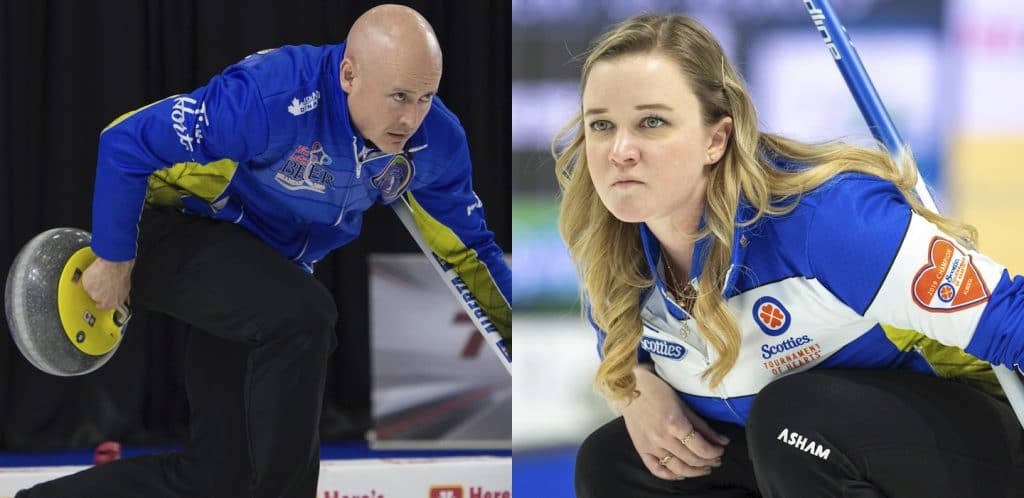 2019 Home Hardware Canada Cup begins Wednesday in Leduc, Alta.
The road to Beijing for Canada's best four-player curling teams starts Wednesday, the opening day of the 2019 Home Hardware Canada Cup, presented by Pioneer.
Seven men's and seven women's teams will not only be chasing big money at Sobeys Arena in Leduc, Alta.; they'll also be pursuing what be the biggest prize in Canadian curling — the coveted berth into the 2021 Tim Hortons Roar of the Rings that will go to the winning men's and women's teams in Leduc. The Tim Hortons Roar of the Rings will decide Canada's four-player men's and women's curling teams for the 2022 Winter Olympics in Beijing.
The 15th Home Hardware Canada Cup also will offer huge cash purse, with the men's and women's champions collecting $40,000 winner's cheques (increased from $14,000 last year). And the final perk that will go to the winning teams will be the opportunity to be a part of Team Canada for the 2020 OK Tire & BKT Tires Continental Cup, presented by Service Experts Heating, Air Conditioning and Plumbing, Jan. 9-12 in London, Ont.
The talent on array in Leduc will be significant, to say the least. Both reigning Canadian champions are in the field — Calgary's Kevin Koe won the Tim Hortons Brier last March while fellow Calgarian Chelsea Carey prevailed at the Scotties Tournament of Hearts in February.
Also in the hunt will be the defending champions of the Home Hardware Canada Cup — Brad Jacobs of Sault Ste. Marie, Ont., and Winnipeg's Jennifer Jones captured the men's and women's titles respectively 12 months ago in Estevan, Sask.
The local hopes will be carried by Edmonton's Brendan Bottcher, the silver-medallist at the past two editions of the Tim Hortons Brier. The men's field is rounded out by Brad Gushue of St. John's, Toronto's John Epping, Matt Dunstone of Regina and Glenn Howard of Penetanguishene, Ont.
The women's field, meanwhile, also features Ottawa's Rachel Homan, Robyn Silvernagle of North Battleford, Sask., Kerri Einarson of Gimli, Man., Tracy Fleury of East St. Paul, Man., and Casey Scheidegger's team from Lethbridge, Alta., which will be skipped by Cheryl Bernard; Scheidegger is due to give birth to her second child this month.
The 2019 Home Hardware Canada Cup media guide, including rosters and player biographies, is available for download by CLICKING HERE.
All 14 teams will have a practice session on Tuesday. CLICK HERE for the practice schedule.
On the closing weekend of the 2019 Home Hardware Canada Cup, two new members of the Canadian Curling Hall of Fame will be formally inducted. During the men's semifinal on Saturday afternoon, longtime Edmonton journalist Terry Jones will be saluted, and during the women's semifinal on Saturday night, longtime curling official Rae Kells of Calgary will be saluted.
TSN and RDS2 will provide complete coverage of the Home Hardware Canada Cup, from the opening draw on Wednesday at 9 a.m. (all times Mountain) through to and including the women's (noon) and men's (5 p.m.) finals on Sunday. CLICK HERE for the broadcast schedule.
The Home Hardware Canada Cup format calls for the men's and women's teams to play a three-day round robin, with the first-place teams advancing to their respective finals on Sunday, while the second- and third-place teams meet in semifinals on Saturday, after any required tiebreakers, to determine the other finalists. CLICK HERE for the full draw.
The runner-up teams will each take home $25,000 while $15,000 goes to the third-place team. As well, each team that competes in Leduc will get a $7,500 travel subsidy.
Since its inception in 2003, the Canada Cup has been won by some of the country's most successful curling teams. On the men's side, Edmonton's Kevin Martin is the only four-time men's winner (2005, 2006, 2009, 2011), while Edmonton's Randy Ferbey (2003, 2004, 2007) is a three-time champion and Koe (2008, 2015) has won twice. Howard (2010), Winnipeg's Mike McEwen (2014) and Winnipeg's Jeff Stoughton (2012) have also emerged victorious.
On the women's side, Jones (2007, 2011, 2016, 2018) leads the way with four victories, while Saskatoon's Stefanie Lawton (2008, 2010, 2012), who now plays vice-skip for Team Silvernagle, is a three-time winner. Shannon Kleibrink of Calgary (2005, 2009) has won twice, while the other winners were Sherry Middaugh of Coldwater, Ont., (2003), Colleen Jones of Halifax (2004), Cathy King of Edmonton (2006), Val Sweeting of Edmonton (2014) and Homan (2015).
The Canada Cup was staged in Kamloops, B.C., from its inception in 2003 through 2008. In 2009, it was played in Yorkton, Sask., while Medicine Hat, Alta., staged the 2010 renewal, followed by trips to Cranbrook, B.C., in 2011, Moose Jaw, Sask., in 2012, Camrose, Alta., in 2014, Grande Prairie, Alta., in 2015, Brandon in 2016 and Estevan last year. The Home Hardware Canada Cup isn't contested in Olympic seasons.