Early break nets Homan win!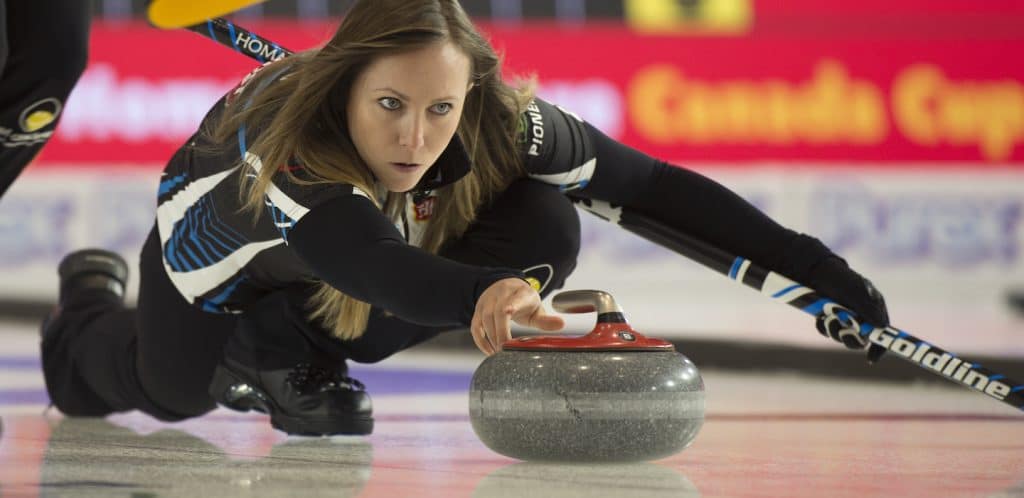 EARLY STEAL LEADS TO TEAM HOMAN TRIUMPH AT THE HOME HARDWARE CANADA CUP
LEDUC, Alta. – Sometimes you have to be lucky to be good.
Rachel Homan of Ottawa caught an early break to take sole possession of first place in the women's draw of the 2019 Home Hardware Canada Cup, presented by Pioneer.
A steal of three in the second end paved the way for Team Homan's 8-3 win over Lethbridge, Alta.'s Casey Scheidegger, substitute-skipped by Cheryl Bernard.
That improved the event's 2015 winner into sole possession of first place with a 3-1 record after her team's two-win day.
In other Draw 5 Thursday afternoon action at Sobeys Arena: Team John Epping (2-1; Toronto) beat Brad Gushue (1-2; St. John's, N.L.) 6-4 ; Jennifer Jones (1-2; Winnipeg) stole a pair in the 10th to beat Robyn Silvernagle (0-4; North Battleford, Sask.) 9-7; Brendan Bottcher (3-0; Edmonton) edged Matt Dunstone (0-4; Regina) 5-4 and Glenn Howard (1-2; Penetanguishine, Ont.) trimmed Kevin Koe (2-1; Calgary ) 9-6.
Team Homan's break came early on when Bernard's last-rock takeout attempt crashed on a guard, shifting momentum back to Homan's team, which started the game without hammer. After another steal in the third end, it came down to protecting a 4-0 lead.
"Ten ends is a long game," said Homan's third Emma Miskew, part of a supporting cast that includes second Joanne Courtney and lead Lisa Weagle on a team coached by Marcel Rocque.
"We got a break in the second end but there was still a lot of game left. We were just trying to stay tough, putting our rocks in good positions making sure we could score when we had hammer. We did a good job managing it from there."
Homan's team the first to win three games and sat in sole possession of first place heading into Thursday's evening draw.
"No lead's comfortable in the five-rock game, so we had to keep our foot on the gas," said Miskew. "This is a real good field. Every team here deserves to be here. Every team is a great calibre. We have two tough games tomorrow just like we've had the first two days.
"We're hoping if we can come out sharp, like we did today, we have a sniff a couple of wins. We're just going to keep on what we're doing."
Bottcher remains the only undefeated team on the men's side after his scheduled Thursday night opponent, Koe, took his first loss. Bottcher had to create a 10th-end deuce to escape with a win against a winless Team Dunstone.
"It wasn't our best game, for sure, but it's nice to win the games you don't play 100 per cent," said Bottcher, whose team ran its win streak to eight games dating back to its World Curling Tour win last weekend in Penticton, B.C.
"We gave ourselves a good shot at the end and we were able to come through."
The 2019 Home Hardware Canada Cup continues with a draw Thursday at 7 p.m. (all times MST).
TSN/TSN2 and RDS2 will provide complete coverage of the Hardware Canada Cup. CLICK HERE for the complete schedule
The Home Hardware Canada Cup format calls for the men's and women's teams to play a three-day round robin, with the first-place teams advancing to their respective finals on Sunday, while the second- and third-place teams meet in semifinals on Saturday, after any required tiebreakers, to determine the other finalists.
For ticket information, as well as team lineups and the full event draw for the 2019 Home Hardware Canada Cup, go to www.curling.ca/2019canadacup/
The French version of this story will be posted as soon as possible at www.curling.ca/2019canadacup/?lang=fr