Stymied in Switzerland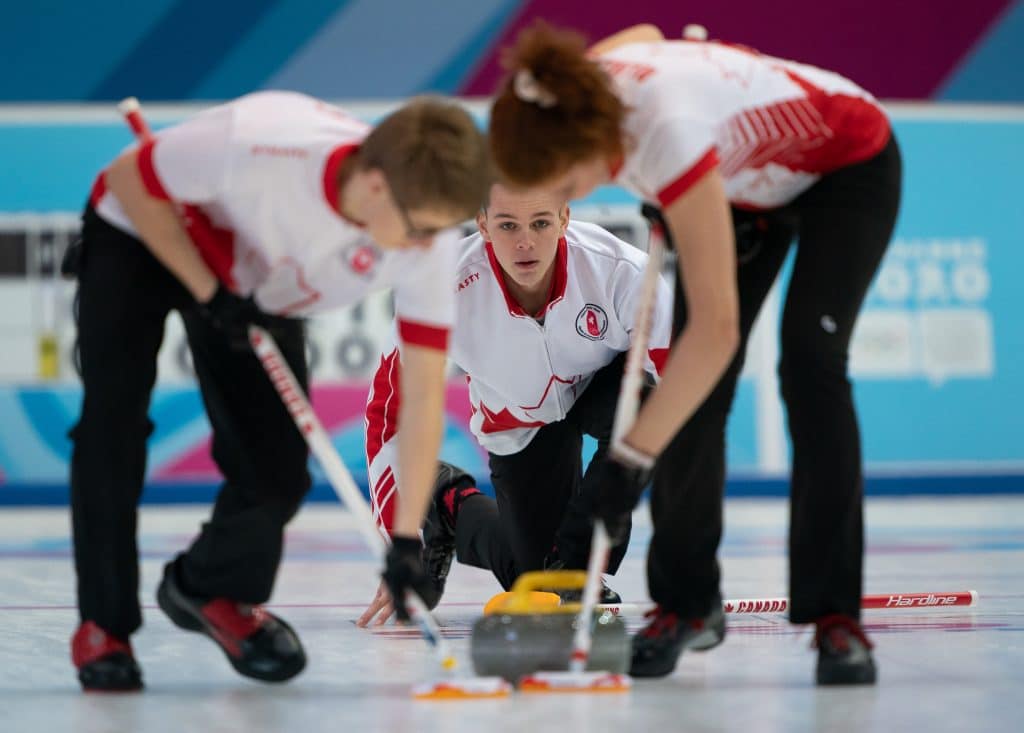 Canada's mixed medal hopes fall short at 2020 Winter Youth olympic games
Canada's run in the Mixed portion of the 2020 Winter Youth Olympic Games came to an end on Wednesday with a gritty quarter-final performance versus Japan which saw the Canadians felled by a score of 5-4 in an extra end.

After being the 2016 Winter Youth Olympic Games Gold Medalists in 2016, Canada will fail to see the podium in 2020 in Mixed play.

"As you can tell by the score, it was a pretty tight game" quoted Newfoundland's Nathan Young, skip of Team Canada. "We were all tied up after 8 ends. You make some shots, you lose some shots. There's more here to experience overall than just this loss. It's been incredible to represent Canada and wear the maple leaf"

Young and his crew of Emily Deschenes, Jaeden Neuert and Lauren Rajala maintained a perfect 5-0 record through group play before being stymied by Japan in the quarters. The score had been 1-1 after 4 ends of play with both teams showing palpable tension and extremely clean play under the circumstances.

Canada would take a single in the 5th with hammer before Japan would respond with a deuce in the 6th end thanks to a miscue from Young and a perfectly executed double takeout from Japanese Skip Takumi Maeda.

With hammer in the 7th and a 3-2 score favouring Japan, Canada would have a chance at a big score of three but would settle for a score of two instead. Up a single point headed in to the 8th end, Canada would apply pressure to the Japanese foursome without hammer. The end would feature a mess of rocks biting the four-foot and require four separate rocks to be measured to determine which was shot. Once the dust had settled, Japan would be awarded a single point making the score 4-4, forcing an extra. 

In the extra frame and Canada with hammer, Young would keep the house fairly clean hoping to have an easy draw to the house on his final stone. A pair of long guards, one center and one corner, managed to survive the end without being peeled with a single Japanese stone laying shot rock. 

"We wanted to keep it as open as possible so I could have a draw to the button," quoted Young when asked about how the team wanted to play the extra end.

Young would have to manage a difficult port to draw on his final stone, which he subsequently would miss by wrecking on the corner guard, giving Japan the 5-4 victory. Japan would then go on to defeat New Zealand in the semi-finals and will face Norway in the finals January 16th at 6:00 AM (all times Eastern) while Canada is eliminated.

Young felt his team gave him the best possible opportunity to win the game: " You play every game to have that draw to the button for the win. We did that. I thought that was pretty good. I had been struggling with that in-turn draw running straight all week. On that shot, it stayed straight again."

Gracious in defeat but these young athlete's medal hopes in Curling are not quashed just yet at these 2020 Winter Youth Olympic Games. The Mixed Doubles portion of the event, which will see all teams scrambled and assigned teammates of other nations based on their Mixed results, will begin January 18th at 4:00 AM.

Draw schedule and details are available here.