Three times a champ!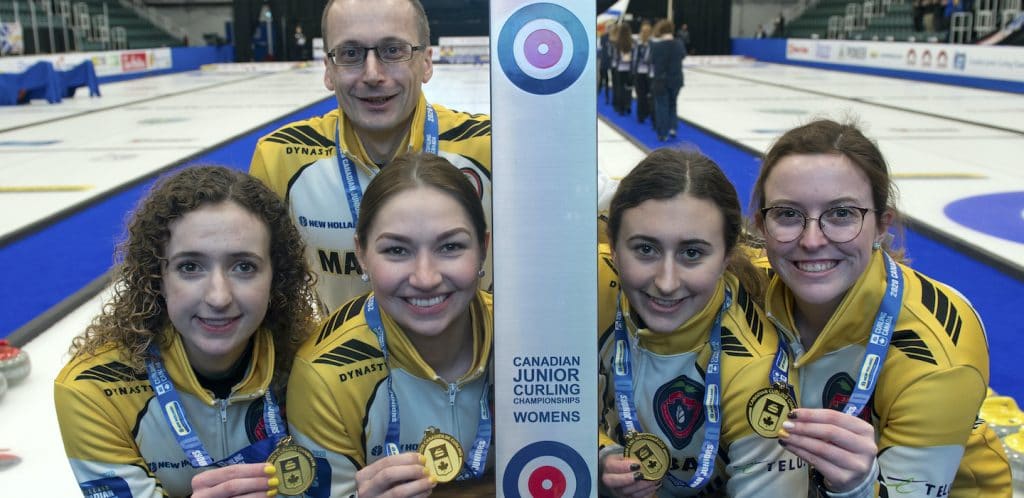 Manitoba's Burgess claims third women's gold medal at New Holland Canadian Juniors
TOWNSHIP OF LANGLEY, B.C. — The smile couldn't be wiped from Karlee Burgess's face after making history on Sunday morning at the George Preston Recreation Centre.
The 21-year-old third for Mackenzie Zacharias's Manitoba team became the first player ever to win three women's gold medals at the New Holland Canadian Junior Curling Championships; she'd won two previously with Nova Scotia (2016, skipped by Mary Fay; 2018, skipped by Kaitlyn Jones), and a 10-3 win Sunday over Alberta's Abby Marks gave her an unprecedented third.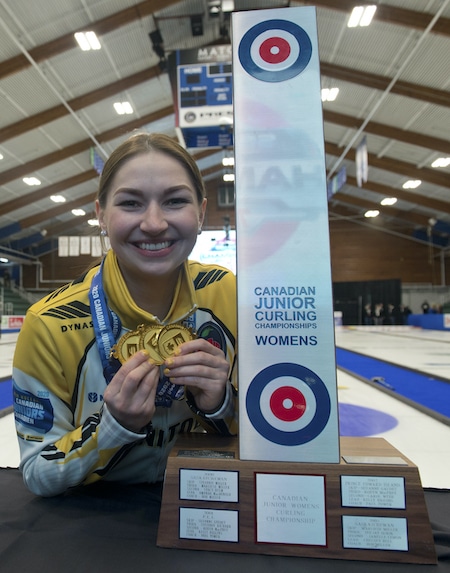 "This could be one of the best Canadians I've won, too," said Burgess, who was joined by Zacharias, second Emily Zacharias, lead/vice-skip Lauren Lenentine and coach Sheldon Zacharias in a wild on-ice celebration. "It's pretty special; I moved halfway across Canada to play with these girls and coming out with a win here is pretty exciting. I can't believe it actually."
Burgess left her Nova Scotia home this past summer to move to Manitoba, to pursue her education and be closer to her boyfriend Jacques Gauthier, who will skip Manitoba #2 in the men's gold-medal game later on Sunday; the two met while playing at the 2017 Canadian Juniors.
"I've been super lucky to have teammates who put in the work and want to win," said Burgess, who also has a Youth Olympics gold medal to her credit (2016, playing with Fay, Tyler Tardi and Sterling Middleton) along with two Canadian Juniors bronze medals (2014, 2019). "I've just been really fortunate to have girls beside me who have the same work ethic as I do. To be right here, right now, I can't say thank you enough to the girls I've curled with this year."
It was a tight game through seven ends as the Alberta team, featuring two members of the 2019 Canadian champs skipped by Selena Sturmay (Marks and second Paige Papley played third and lead respectively last year), hung tough against a favoured Manitoba team that entered the gold-medal game with 10 straight wins.
But in the eighth, Manitoba delivered the crushing blow — a precise angle takeout to drive an Alberta stone through a hole and score four to put Manitoba into an insurmountable 8-3 lead
"It hasn't sunk in completely yet; it'll probably take a couple days," marvelled Mackenzie Zacharias, 20, whose team hails from Altona. "I still can't believe that my name is going to be on the back of a Canadian jacket. That's been my dream forever, and I can't believe it's really coming true."
The silver-medal Alberta team was rounded out by vice-skip Catherine Clifford, lead Jamie Scott and coach Doug Marks.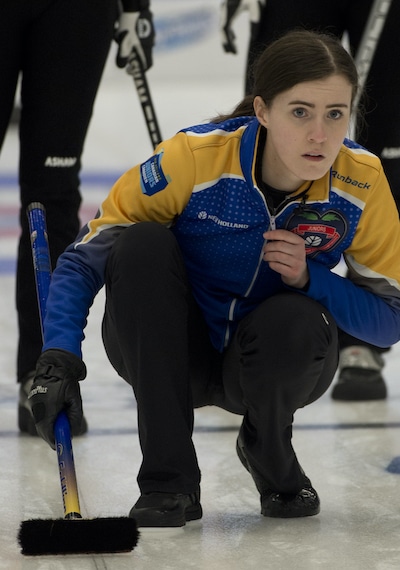 It was Manitoba's 10th Canadian junior women's championship, matching Alberta's total, which is one back of leading Saskatchewan with 11, and Manitoba's first women's gold since Kaitlyn Lawes won back-to-back titles in 2008 and 2009.
"There are so many amazing curlers in Manitoba, and to be able to win this Canadian championship and prove that we're also some of the best in Manitoba as well is just really amazing," said Zacharias.
With the win, the team will trade Manitoba jackets for Canadian jackets that will be worn at the 2020 World Junior Curling Championships, beginning Feb. 15 in Krasnoyarsk, Russia.
"Wow — I tried not to think about it too much before this game because I didn't want to get ahead of myself, but it's just incredible," said Zacharias. "I still don't believe that it's actually happening. It feels incredible that we're going to be able to go to Russia and represent Canada."
Nova Scotian's Taylour Stevens, backed up by vice-skip Lindsey Burgess (Karlee's cousin), second Kate Callaghan, lead Cate Fitzgerald and coach Mary Mattatall, will go home with a bronze medal.
The men's final, set for 2 p.m. PST (TSN), will feature Manitoba #2, skipped by Gauthier, taking on Newfoundland/Labrador's Daniel Bruce. Newfoundland/Labrador turned back Saskatchewan's Rylan Kleiter 9-8 in the semifinal earlier on Saturday.
For event information, visit www.curling.ca/2020juniors.
This story will be posted in French as soon as possible at www.curling.ca/2020juniors/?lang=fr.