Next stop: Kingston!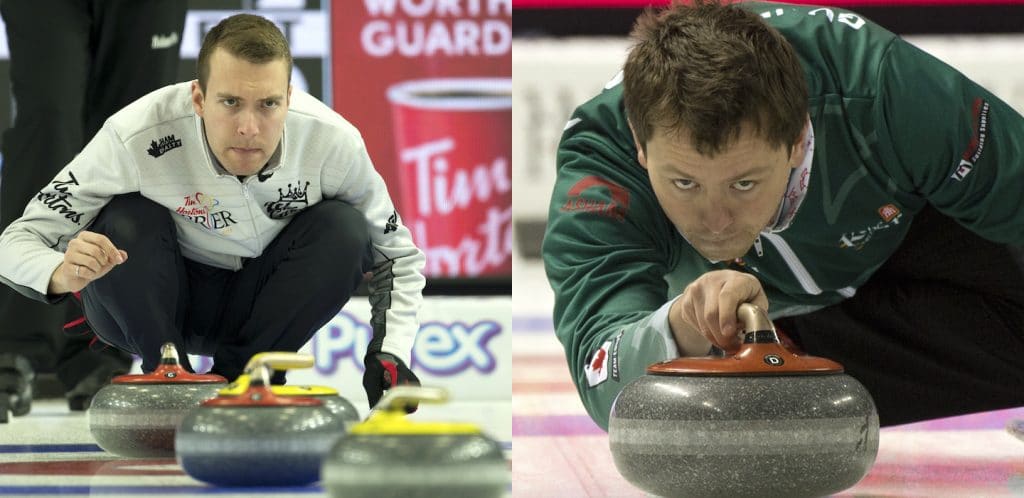 Field, pools set for 2020 Tim Hortons Brier in Kingston, Ont.
Two hungry teams nailed down the final direct-entry berths into the 2020 Tim Hortons Brier, presented by AGI, on Sunday.
Brendan Bottcher of Edmonton captured the Alberta championship while Jason Gunnlaugson of Morris won the Manitoba championship to qualify for the 2020 Tim Hortons Brier, which is scheduled for Feb. 29-March 8 at the Leon's Centre in Kingston, Ont.
Bottcher's team (vice-skip Darren Moulding, second Brad Thiessen, lead Karrick Martin) has placed second at the past two Tim Hortons Briers and will be looking to ascend to the top step of the podium in Kingston.
Meanwhile, Gunnlaugson — backed up by third Alex Forrest, second/vice-skip Adam Casey and lead Connor Njegovan — captured his long-awaited first Tim Hortons Brier Purple Heart on Sunday.
With those results, the field for the 2020 Tim Hortons Brier has 15 of the 16 available slots filled, with only the Wild Card team yet to be determined.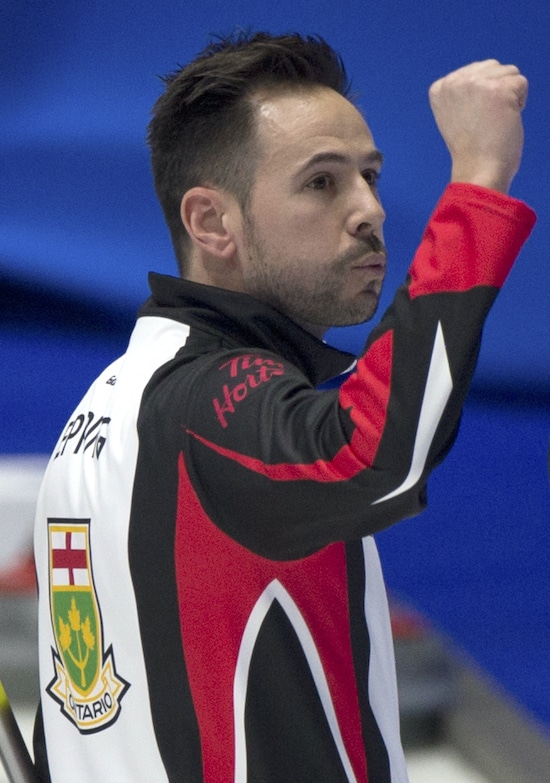 The home Ontario team, skipped by Toronto's John Epping, faces a test coming out of the gate, taking on defending champion Kevin Koe and Team Canada in the opening draw on Feb. 29 at 2 p.m. (all times Eastern). Koe is attempting to win his record fifth Tim Hortons Brier as a skip.
Ontario will be in action twice on Sunday, March, 1, taking on B.C.'s Steve Laycock in Draw 4 at 2 p.m. and the Yukon's Thomas Scoffin at 7 p.m.
Tuesday, March 3, stacks up as an important day for the Ontario champs, who play Saskatchewan's Matt Dunstone in the afternoon draw at 2 p.m. followed by an evening draw clash with Team Wild Card.
Other notable early matchups include a tantalizing opening evening draw on Feb. 29 featuring Alberta taking on Northern Ontario's Brad Jacobs, while Gunnlaugson's Manitoba champs will make their Tim Hortons Brier debut against two-time champ Brad Gushue of Newfoundland/Labrador.
CLICK HERE to check the schedule for the 2020 Tim Hortons Brier.
Casey joined the record books with his win on Sunday, matching a feat that was achieved by Ontario vice-skip Ryan Fry a week ago — the first players ever to represent four different provinces/territories at the Tim Hortons Brier. Casey had previously played in the Tim Hortons Brier for Saskatchewan, Newfoundland/Labrador and his native Prince Edward Island. Fry, meanwhile, previously represented Northern Ontario, Newfoundland/Labrador and his native Manitoba.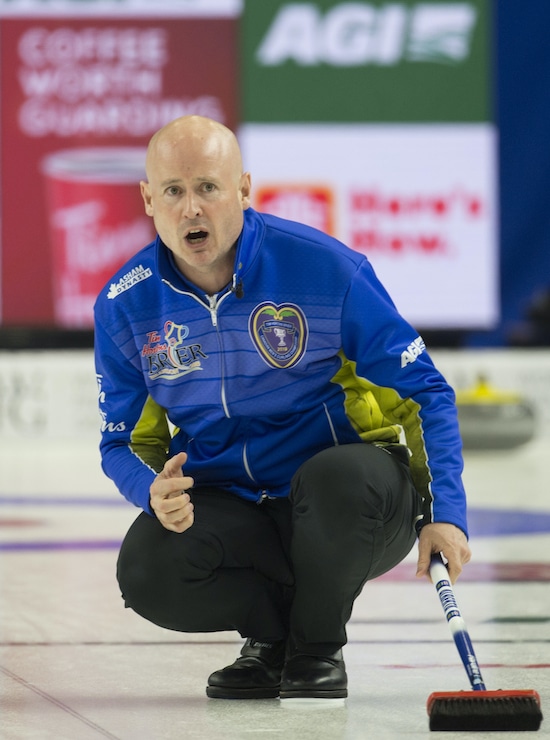 The 16th and final qualifier for the 2020 Tim Hortons Brier will be decided on Friday, Feb. 28, as the Wild Card game (7 p.m., TSN/RDS2) at the Leon's Centre will feature the top two non-qualified teams from the Canadian Team Ranking System (CTRS) — Winnipeg's Mike McEwen, who bowed to Gunnlaugson in Sunday's Manitoba final, and Glenn Howard of Penetanguishene, Ont.
Admission to the Wild Card game is free, with donations to the Curling Canada Foundation, supporting youth curling across Canada, being accepted at the door.
The play-in game winner will be known as Team Wild Card during the Tim Hortons Brier.
The 16 teams have been split into two pools of eight. The top four teams from each pool after the preliminary round robin will then advance to a championship pool that will determine the final four playoff teams.
The pools are set based on the teams' position on the CTRS as of Dec. 31; the winner of the Wild Card game will automatically have a No. 3 seed.
Here's a look at how the two pools set up:
(teams listed according to seeding, and listed in order of skip, vice-skip, second, lead, alternate, coach/High Performance Consultant; hometown)
Pool A
1. Northern Ontario, Brad Jacobs (Marc Kennedy, E.J. Harnden, Ryan Harnden, Lee Toner, Rick Lang; Sault Ste. Marie)
4. Alberta, Brendan Bottcher (Darren Moulding, Brad Thiessen, Karrick Martin, Patrick Janssen, Don Bartlett; Edmonton)
5. Newfoundland/Labrador, Brad Gushue (Mark Nichols, Brett Gallant, Geoff Walker, Jeff Thomas, Jules Owchar; St. John's)
8. Manitoba, Jason Gunnlaugson (Adam Casey [throws second], Alex Forrest [throws third], Connor Njegovan; Morris)
9. Nova Scotia, Jamie Murphy (Paul Flemming, Scott Saccary, Phil Crowell, Kevin Ouellette, Bruce Lohnes; Halifax)
12. Quebec, Alek Bedard (Louis Quevillon, Émile Asselin, Bradley Lequin, Daniel Bedard; Lacolle/Boucherville/Glenmore)
13. Prince Edward Island, Bryan Cochrane (Ian MacAulay, Morgan Currie, Mark O'Rourke, Ken Sullivan; Cornwall)
16. Nunavut, Jake Higgs (Dale Kohlenberg, Christian Smitheram, Ed MacDonald, Sheldon Wettig, Quentin Vanderschaaf; Iqaluit)
Pool B
2. Ontario, John Epping (Ryan Fry, Mat Camm, Brent Laing, John Morris, Jim Wilson; Toronto)
3. Team Wild Card
6. Team Canada, Kevin Koe (B.J. Neufeld, Colton Flasch, Ben Hebert, Ted Appelman, John Dunn; Calgary)
7. Saskatchewan, Matt Dunstone (Braeden Moskowy, Catlin Schneider, Dustin Kidby, Adam Kingsbury; Regina)
10. British Columbia, Steve Laycock [throws third] (Jim Cotter [throws last], Andrew Nerpin, Rick Sawatsky, Brad Wood; Vernon/Kelowna)
11. New Brunswick, James Grattan (Paul Dobson, Andy McCann, Jamie Brannen, Chris Jeffrey; Oromocto)
14. Yukon, Thomas Scoffin (Trygg Jensen, Brett Winfield, Joe Wallingham, Wade Scoffin; Whitehorse)
15. Northwest Territories, Jamie Koe (David Aho, Shadrach Mcleod, Cole Parsons, Matthew Ng; Yellowknife)
Tickets are selling extremely well; a variety of ticket options, however, are still available:
Preliminary Round Single draw tickets start at $20.20.
Thursday Championship Pool draws are $35 and Friday draws are $39.75.
Saturday Page Playoff games are $47.25, Sunday's semifinal is $35 and the Championship Final on Sunday is $59.75.
Youth aged 17 years and under tickets are $15. (valid for dDraws 2 through 17).
Day packages for Monday through Thursday start at $59; however, due to high demand all other packages are no longer available.
Some draws may be down to single seats online. For additional options including tickets in the Suite Level Platform, fans should contact the box office directly at (613) 650-5078. In these situations, fans are also encouraged to check back regularly as a few seats may open for walk-up sale as the event.
All ticket packages (other than youth tickets) are subject to standard facility and ticket service fees, and will be available online through Ticketmaster or curling.ca/tickets, at the Leon's Centre box office or (613) 650-5078.
The Ontario government is supporting the 2020 Tim Hortons Brier through the Celebrate Ontario Blockbuster program.
"Ontario is open for business and open for athletes. I am proud to welcome fans, coaches and athletes from across Canada to Ontario for the 2020 Tim Hortons Brier," said Lisa MacLeod, Minister of Heritage, Sport, Tourism and Culture Industries. "Ontario offers the world in one province, and with support from our government, Kingston will once again host one of the world's most famous curling championships — boosting the economy as our curlers compete on the national stage, cheered on by their families and friends. Thank you to the organizers and volunteers, and best of luck to all competitors!"
TSN/RDS2 will provide complete coverage of every draw at the 2020 Tim Hortons Brier. CLICK HERE for the complete broadcast schedule.