Wild Card Winner!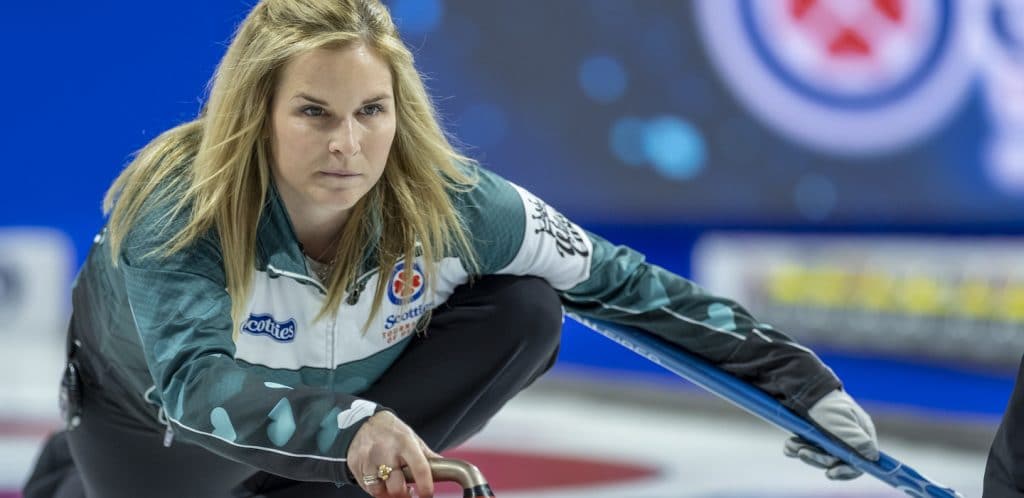 Team Jones wins Wild Card showdown to earn Scotties berth
The dream of a seventh heaven for Jennifer Jones is, despite a late scare, alive and well.
Even if she had parked the opportunity to make history back in the shadows in the actual doing.
"Seven?" asked Jones when asked about the significance of the number to her already-unrivalled legacy in the nine days ahead.
Then, realizing, she smiled.
"No. It's a tough week. A real grind. But it's fun. And it's fun to play in a venue where I believe the fans are going to come out and it's going to be a rockin' environment.
"So we're pretty excited about that."
Still, a last-rock draw for an edgy 8-7 victory over provincial Tracy Fleury in Friday's Wild Card game now gives Jones the the opportunity to pass Colleen Jones and secure a record seventh Scotties Tournament of Hearts triumph, in this, her 15th appearance at the national women's championship.
"It's the first one my dad's not here, so … I know he's looking down,'' said Jones, her voice cracking ever so slightly; her father, Larry, passed away last year. "
"I never, ever dreamed I'd be in one. Never mind 15. So it's pretty crazy."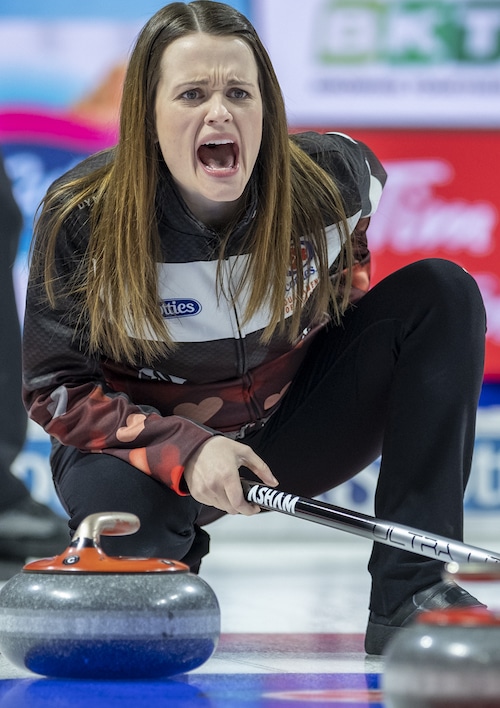 She has now worn Canada red, Manitoba yellow and Wild Card teal at the national playdowns.
"Whatever colour,'' parried Jones of her uncharacteristic route to these Scotties. "I like the colour. It's Saskatchewan green so maybe we'll pick up a few fans."
As Team Wild Card, she and compatriots Kaitlyn Lawes, Jocelyn Peterman, Dawn McEwen and coach Viktor Kjell open their official account on the Saturday late draw (6:30 p.m. CT) in a mouth-watering clash versus Rachel Homan and Ontario.
In securing the win, Jones and Co. evened the seasonal series vs the Fleury foursome (the team is rounded out by vice-skip Selena Njegovan, second Liz Fyfe, lead Kristin MacCuish and alternate Jill Officer) at four wins apiece in their most important head-to-head-match up.
A hit-and-stick for two in the eighth end had apparently allowed the most decorated women's curler in Canadian history all the breathing space she needed, holding a 7-4 lead.
But refusing to buckle under, Fleury drew for three in the ninth to send the game into the 10th all square and ultimately force Jones execute her final shot — a draw to bite the four-foot.
"I'm really proud of how we hustled to get three in the ninth there,'' said an understandably disappointed Fleury. "That was big for us.
"They got a a three-ender out there (in the fifth end), so I'd say that's where the momentum switched. We struggled with the ice a little bit early and didn't get a handle on it early enough, I'd say."
Following a blanked first, Jones, in control of the hammer, Fleury counted one in the second end when the six-time Canadian champ flashed another blank attempt wide on her final stone to hand the Albertans' an early surprise lead.
The skips traded draws for deuces on ends three and four.
In the fifth, Jones displayed the delicate touch of a jeweller to nudge a yellow stone out of the way and count three to assume a 5-3 advantage.
After forcing Fleury to accept a single on the sixth, Jones was forced to blank after a double by her rival skip on her first stone got the East St. Paul, Man., skip out of a potential mess of trouble.
The 2020 Scotties Tournament of Hearts officially opens on Saturday with draws at 1:30 p.m. and 6:30 p.m. (all times CST). The Opening Ceremony is set for noon, and is free admission with a Draw 1 ticket.
Live scoring, standings and statistics for the 2020 Scotties Tournament of Hearts are available at www.curling.ca/scoreboard/
TSN and RDS2 (streamed on ESPN3 in the United States) will provide complete coverage of the 2020 Scotties Tournament of Hearts. CLICK HERE for the complete schedule.
For ticket information for the 2020 Scotties Tournament of Hearts, go to www.curling.ca/2020scotties/tickets/
This story will be available in French as soon as possible at www.curling.ca/2020scotties/nouvelles/?lang=fr